Feeling Conflicted
With Simone Biles out, the U.S. just won the most polarizing silver medal in Olympic history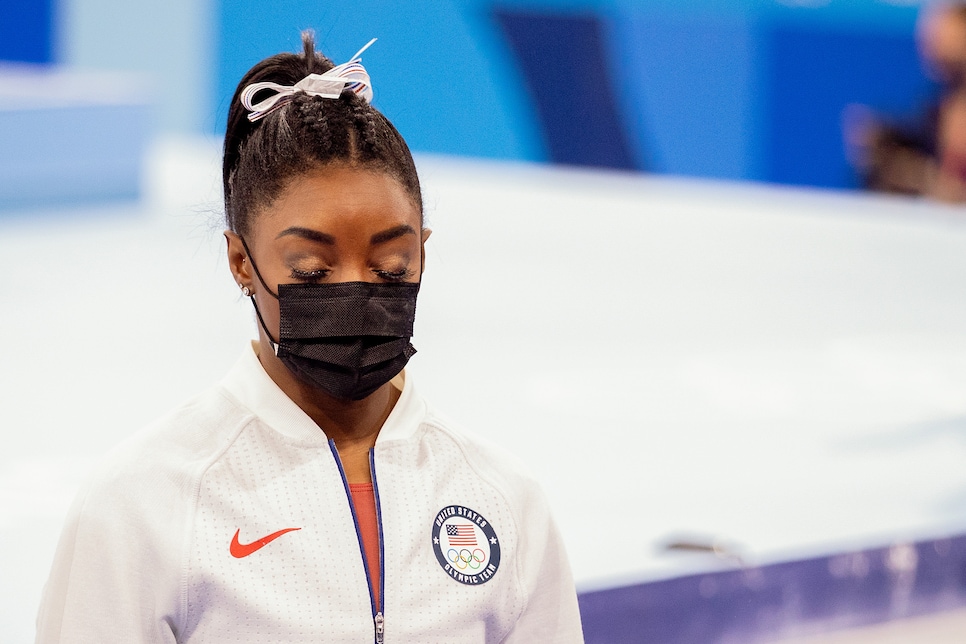 There is a lot to say about what just happened in the Women's Gymnastics Team Final, but also, there's very little to say: Simone Biles pulled out after one event (an uncharacteristically poor vault) for reasons that are still a bit foggy but appear to be more mental than physical, and with her gone, the Americans simply didn't have the firepower to keep up with the Russians ... or, um, the "Russia Olympic Committee." They took silver instead of gold, and you can try to squint your eyes and see that as a positive if you want, but the truth is that only two countries had a shot at the gold medal, the Americans were the heavy favorites, and in this case the silver can't be spun as anything but a massive disappointment.
Where we get into the weeds is in the tricky case of what happened with Simone Biles, what to make of it, and what to say about it. Of course, not everybody approaches things in that order, and right now Twitter is littered with the usual polarized takes. At the moment, you're either in Camp "this is self-care, good for you!" or Camp "you let your whole country down!" Both of which lack nuance, but then again, we don't really know anything yet, and painting with broad strokes is the price you pay for spouting off before there's any good information to process.
Not that that will stop us!
All we can really conclude, right now, is that this is a pretty profound failure for U.S. gymnastics, and while it's tempting to say that it's exactly what they deserve for letting down hundreds of young women by letting the monster Larry Nasser sexually abuse them for 18 years, the unfortunate truth is that the bulk of the pain from this particular disappointment will fall on the head of Simone Biles, who was one of Nasser's victims, had massive pressure on her shoulders, and definitely does not deserve the scorn that's sure to come her way.
The sum total of this situation, for which the acronym FUBAR nicely applies (Google it if you don't know), is that everything about it sucks for the Americans. There have been some bad silver medals in U.S. team history—from the Soviet basketball screwjob to Lindsey Jacobellis—but this one has to take the cake as the most frustrating, disappointing, and, as it pertains to Biles, the most cosmically unjust.
As I'm writing this, news just came out that Biles will still compete in the individual all-around and event finals, which is only going to make the whole thing worse and more confusing, and you can argue that the post-event presser didn't do anybody any favors, either:
It's a complete mess, and the most you can do is pity Biles and her team for a day they've been working toward for four years, and that didn't go anything like they planned. They'll all take home silver medals, and not one of them will be happy about it. That's the crushing pressure of being a U.S. gymnast in 2021.