Icons of Sport
The 11 greatest Olympians (*of this past weekend)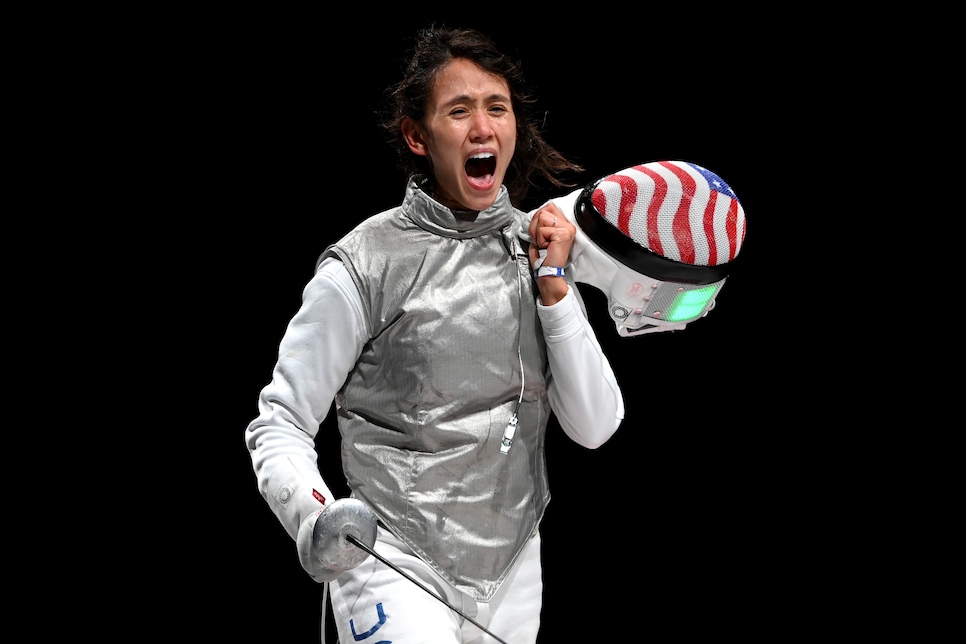 There is no better time to be alive as a sports fan than the summer Olympics, and it's important every now and again to commemorate the greatest Olympians of all time...of the past 48 hours or so. Here they are, counting down from "very great" to "the greatest I've ever seen, in the past two days."
11. Luis Alvarez, the bandanna archer
Almost every archer, male or female, wears a bucket hat. Why? I don't know. I truly, absolutely do not know, but you cannot escape it and it's starting to drive me crazy. Which is why I loved Luis Alvarez, the Mexican archer who dared to wear a different piece of headgear. And man, he looked great:
Alvarez won the bronze medal in the mixed team event, but I have a feeling his greatest influence on the sport will be seen in the 2024 Olympics, when everyone from Kenya to Canada is sporting the bandanna.
10. An San, Korean archer who could murder you from a mile away
Did I pick South Korea to win the mixed archery in an Olympic pool with 50 other people? You better believe it! They're geniuses at the craft, and An San managed to win both a mixed gold and a women's team gold in two days in Tokyo, while also setting an Olympic record in the individual qualifying rounds. Here she is clinching mixed gold:
9. Naohisa Takato, first Japanese gold medalist
Look, I'm not going to pretend to know what happens in the judo video below (even the judo people in the replies seem confused), or why, or how, but Takato won the first gold for the host nation, and that has to count for something. Right?
8. Any skateboarder who actually landed a trick
It's been about 20-30 years since skateboarding was truly in its rebellious stages, but it still has a veneer of cool. Which is what makes it so shocking that uniquely among Olympic sports, it's super boring to watch. Also, a ton of people fall...like, too many, for how good they're supposed to be. Watch it for five minutes, and you're going to see something like this:
A Japanese skater eventually won, it was anticlimactic and not that cool, but you have to give him a nod for actually staying on his feet.
7. Kristian Blummenfelt, the vomiting triathlete
I'm sorry, but in Olympic triathlon, if you don't vomit at the end of your race, I have to question how hard you tried. Blummenfelt gave it his all, made a massive kick at the end to shrug off his last tails, and took gold with a brilliant performance...and then paid the price. I will not embed this tweet, but if you're a weirdo, you can see it here. Hint: Don't click that link. It's a dude vomiting. You can't say I didn't warn you.
6. Chase Kalisz and Jay Litherland, American pool gods
Kalisz won the first gold of the Olympics for America, but I have to shout out the insane closing stretch by Litherland in the 400m IM:
5. Dusan Bulut, 3-on-3 Serbian hoops king
Why have I become obsessed with a Serbian 3-on-3 star, and why has the New York Times done so as well? Don't know, but I guess this is what happens when the Americans flame out in quallies and don't even make the Olympics. Also, he can do things like this:
He's the goat of a very weird sport, and I recommend both that you watch this highlight video package and that you watch him try to win gold early this week.
4. Ahmed Hafnoui, the shocking Tunisian water rocket
What do you get when an unknown 18-year-old dude starts an event at +5,000 on the odds board, barely qualifies for the final in lane 8, and then wins the gold medal? A Tunisian stunner, is what. Watch Hafnoui shock the swimming superpowers from the far lane in the 400m freestyle:
3. Anna Kiesenhofer, the disappearing cyclist
This Austrian hero won a gold medal in the women's road race, and you know why? Because everyone forgot about her! Or never knew she was in the lead! This is is not an exaggeration: One of the gold medal favorites, Annemiek van Vleuten, thought she had won the gold medal when she crossed the line in second place. Here she is telling one of her coaches, "I was wrong. We got nothing."
And here's Lizzie Deignan, the bronze medalist, thinking she's the silver medalist and congratulating the actual silver medalist on winning gold:
Kiesenhofer isn't even a member of a pro team, and in fact works as a mathematician. To call this an "upset" is just a massive understatement. It's one of the great sports deceptions ever.
2. Ariarne Titmus and her insane coach
It pains me to do this, because I wanted Katie Ledecky to win the 400m freestyle Sunday night, but Titmus is a tough cookie, and her coach is a verified lunatic:
Australians are truly a different breed, man.
1. Lee Kiefer, American swordswoman, American pioneer
Remember how an American had never won a medal in women's foil? Remember that? No? Well, remember it quickly, and then forget it, because Lee Kiefer just took down the Russian no. 1 fencer to make that first American medal a gold. This whole match was actually strangely fun to watch, and here's the final blow:
And they said America was a gun country!