The Loop
Shane Beamer gets doused in a giant tub of mayo after South Carolina wins bowl game
Traditionalists often shun college football's expanded, 40-some-odd bowl game schedule. There are too many damn bowl games, they say. Well, a new tradition has entered college football lore: Dousing the winning coach of the Duke's Mayo Bowl in a water cooler of mayonnaise.
Shane Beamer led the South Carolina Gamecocks to a huge victory over Mack Brown and North Carolina in Charlotte on Thursday, the program's first bowl win since 2018. The highlight of the game came afterward when Beamer was sat down and had four and a half gallons of condiment poured all over him.
Beamer was a good sport: Duke's Mayo took over as the title sponsor last year, and folks on social media were disappointed when Wisconsin coach Paul Chyrst wasn't subject to the mayo bath. Beamer is no party pooper -- he said: Bring on the mayo ... even after having his players dump Gatorade all over him as time expired.
Here's the glorious video of Beamer's mayo bath:
Give someone on the Duke's Mayo marketing team a raise for the viral social media moment.
Let this moment live on for generations: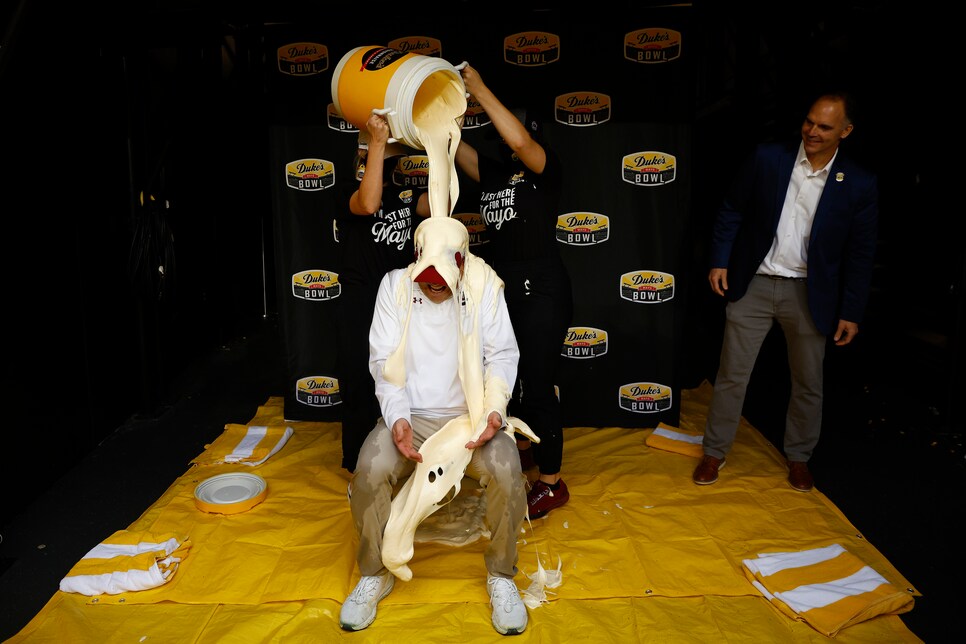 The Badgers actually dropped the Duke's Mayo trophy last year after their victory over Wake Forest. The flawless mayo celebration went off flawlessly.
Eat your heart out, traditionalists. College football has a new tradition.