Majors
PGA of America CEO Seth Waugh looking for civility at Oak Hill, but remains a LIV Golf skeptic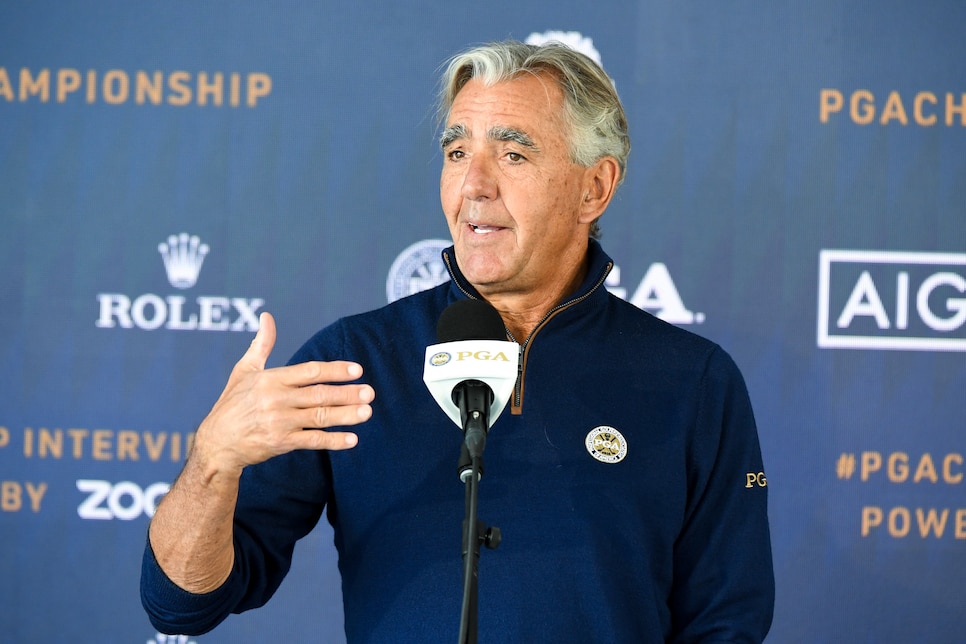 Montana Pritchard/PGA of America
Seth Waugh, the CEO of the PGA of America, has made his feelings known for a while now about LIV Golf and the disruption the upstart league has brought to the professional game. Two years ago during the PGA Championship at Kiawah Island, when the Saudi-backed circuit was still only in the "talking" stages, Waugh asked players to be mindful of the decisions they make.
"Money is money, right, and so money needs to have a return and have all those things that are associated with it. But some money is better than other money," Waugh said at the time. "I've talked to a bunch of them [players]. As you can imagine, you look them in the eye and you just say, 'Be careful what you wish for, because short-term gain feels good for a little while, but long-term gain is what makes lives.'"
And last year at Southern Hills, with the first LIV tournament to be announced just days after Justin Thomas claimed the Wanamaker Trophy, Waugh again displayed pessimism about the venture, referring to it as "flawed."
"We're a fan of the current ecosystem and world golf ranking system and everything else that goes into creating the best field in golf," Waugh said, when asked if the PGA of America will embrace those who go to play in the LIV series. "Right now we really, I don't know what it'll look like next year. We don't think this is good for the game and we are supportive of that ecosystem."
"They can fund it for as long as they want to," Waugh told The Times, "but no matter how much money you have, at some point burning it doesn't feel very good. I don't see they are accomplishing much."
Despite Waugh's ongoing personal feelings, the PGA of America was open to allowing LIV golfers who met the qualification criteria for the PGA Championship at Oak Hill entry into the championship. Eighteen players originally were announced as part of the field, with 2010 PGA winner Martin Kaymer having withdrawn late last week. The exemptions included special invitations to all LIV players who were inside the top 100 in the Official World Golf Ranking, a number that's dwindling each week given that LIV events don't award World Ranking points.
Paul Casey, ranked No. 131 in the OWGR, also earned an invite, in part because he was in last year's field at Southern Hills but had to pull out due to an injury.
In The Times article, which you can read here in full, Waugh said he hopes the tone at Oak Hill this coming week between PGA Tour and LIV players—and the reception from fans—will mirror what was seen at the Masters last month, where there seemed to be little in the way of animosity between the two sides.
"The good news is the Masters went first and set the stage for, frankly, civility," he said. "That's the tone we want—nobody died, right? I lived in a world of disruption my whole business career and disruption is generally healthy. It makes you better, and the game is better."
However, Waugh also noted that the tension LIV Golf's emergence has brought to the game is not without its drawbacks. "I don't think division is good for the game," he says. "Hopefully, it's good for those individuals that have made whatever decisions they have, but the game has moved on. It's amplified those who have stayed and the ones who have left have largely disappeared from the landscape—in terms of an exposure perspective."
Waugh, who is scheduled to speak to the media on Tuesday at Oak Hill, also has questioned the format that LIV has adopted, specifically the importance of the team aspect of the competition. LIV officials believe they can sell the team franchises that have been created to not only recoup the millions that have already been spent, but ultimately turn a profit.
"Their logic about the team play being something significant that people can get behind I think is flawed," Waugh said. "I don't think people really care about it. And I don't see how it's a survivable business model."
It also appears to be a stumbling block, at least in Waugh's mind, regarding LIV's hopes of being able to offer World Ranking points at some point in the future. LIV applied for OWGR accreditation last July, and their application is currently under review. The four heads of the men's majors—Waugh, USGA CEO Mike Whan, R&A CEO Martin Slumbers and Augusta National's Will Jones—who are all on the OWGR board, will ultimately make a final decision on the matter, with PGA Tour commissioner Jay Monahan and DP World Tour's Keith Pelley and Keith Waters having recused themselves from the decision-making process.
"There are certain parts of their structure that can be solved by math, but there may be some pretty fundamental things that are harder," Waugh said. "There's the potential conflict with the team aspect and then access—how do you get relegated and promoted?"
Waugh said OWGR officials sent questions to LIV earlier this year seeking clarification on a few matters but has yet to hear back. "They have made a bad assumption that this will be a quick process. It never has been. Every application has taken a year-plus as far as I'm aware."
"At the end of April, we received a letter from OWGR which asked for us to further clarify some points that we have already addressed, as well as some additional queries they have pertaining to the financials of our business model. We have asked them to clarify why they need that information and they haven't responded that email or our queries.
"We have also been categorial that we are willing to make adjustments, but to this point, they have not provided any direction. The last letter we received states they are still in 'further deliberations' regarding our application, with no clear path forward."