News
Seth Waugh, new CEO of PGA of America, is bringing a mandate: To grow the game and improve lives of organization's 29,000 members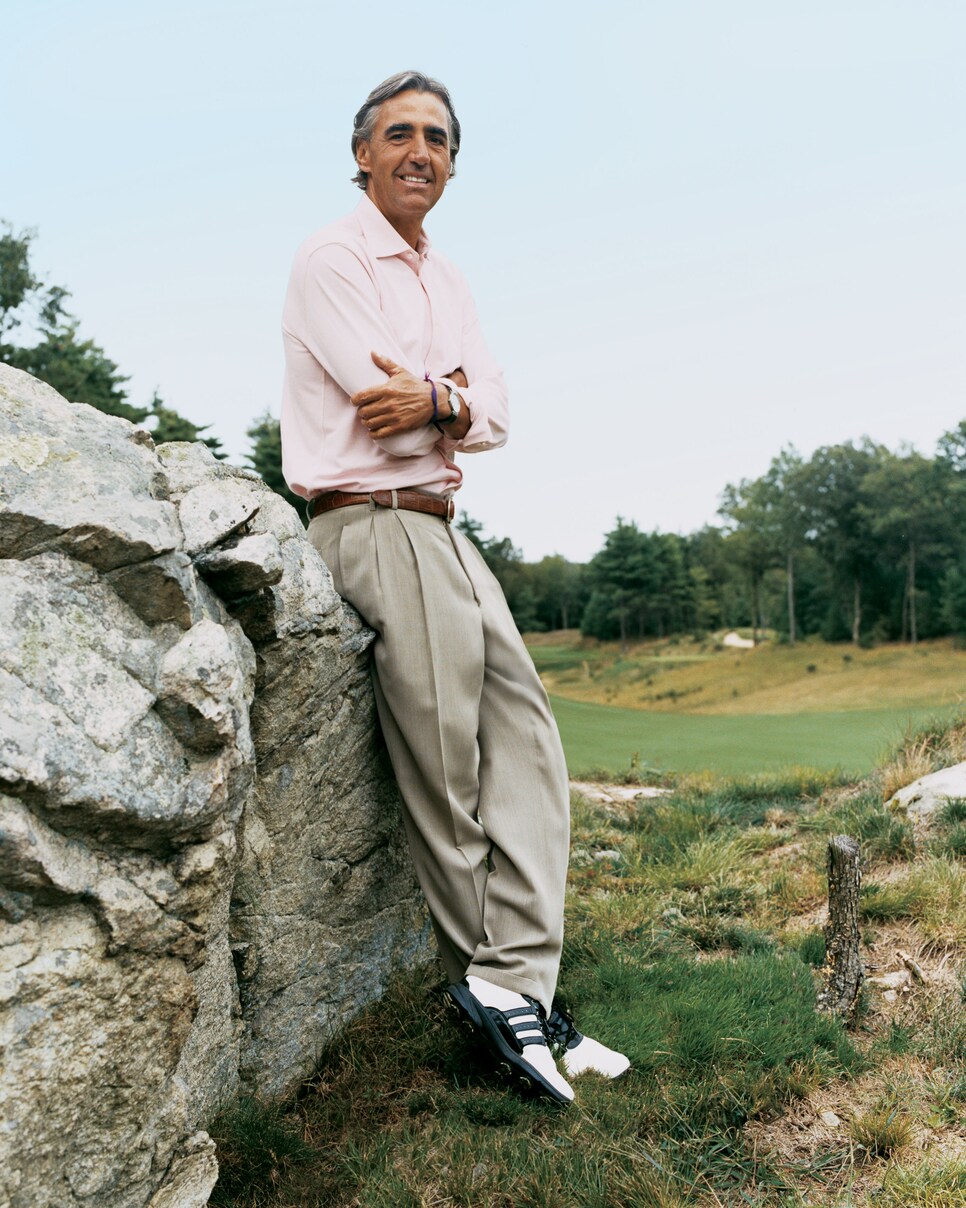 In accepting the position to lead the PGA of America, Seth Waugh figures his life is coming full circle. An unqualified success in the world of finance, Waugh and his four brothers grew up in a household in which both parents worked as teachers. His father also was a coach.
"When I graduated college, I had three jobs, two of which were coaching and teaching. The other was trading commodities," Waugh recalled. "I made the decision to go into the business world because I figured I'd go back to teaching and coaching at some point, and that it's probably easier to go from business to teaching instead of teaching to business. And here I am some 35 years later, feeling very fortunate knowing my path is connecting with an organization of 29,000 club professionals who are business people but also, really, teachers."
Former CEO of Deutsche Bank Americas, Waugh comes to the head of the PGA with impeccable business credentials, a later-in-life immersion in—and love for—the game, a close-knit relationship with many of the sport's power brokers, and five years in the organization as an independent member of the board of directors and as a member of an advisory board to Bevacqua.
He also comes in with a personal mission to improve the lives of the organization's 29,000 members.
"We all have our stories, the pros that we grew up with, the ones we met later in life who had an impact on us," Waugh told Golf Digest during a 20-minute telephone interview Tuesday afternoon. "It's a noble profession. The average club pro is probably not seeing a lot of the benefits of the growth of the game at this point. You think of the business side, which has created great benefits for the association, but how do you pass that on and create value for the member? I think that's the biggest problem that we have.
"I'd like to sit back 10 years from now and say, 'We really made some lives better, made their livelihoods better.' That turns me on. That's how I'm wired. And that's the largest reason why I want to do this."
Waugh, who lives in North Palm Beach, Fla., is a native of Ayer, Mass., and a graduate of Amherst College, where he earned degrees in English and economics. His son Clancy, who played golf collegiately at Wake Forest and SMU, recently turned professional and is entered in one of the three Web.com Tour pre-qualifying tournaments that begins Wednesday. Waugh met his wife, Jane, about 2½ years ago on a practice range in Eugene, Ore., while caddieing for Clancy in an amateur event.
He was with Deutsche Bank Americas for 13 years, including 10 as CEO, during which time he oversaw the creation of the Deutsche Bank Championship, the PGA Tour's FedExCup Playoff event in Boston now known as the Dell Technologies Championship. The tournament, which begins Friday, is in its final year as the tour transitions into a schedule that will allow the playoffs to conclude by this time next year, before the start of college and NFL football.
"When I say that the game matters and that I want to give back to it, that's because it has meant a lot to me and has given me so much," said Waugh, a member at Seminole Golf Club and Cypress Point, among other clubs, who carries an 8.9 handicap index. "Somehow, it's become a huge part of my life, even though I came to it much later in life than a lot of people. My son's game, and the time we've spent playing, caddieing for him, the Deutsche Bank Championship … threw myself into that. I've gotten very entrenched in the game. And if I think about the last 25 years … the best relationships have come from golf."
One of those relationships is with IMG vice chairman Alastair Johnston, whose organization worked with Waugh to get the Deutsche Bank Championship off the ground.
"I have known Seth for a long time, and I can certainly understand why the PGA of America would select him as its new chief executive," Johnston said. "First of all, he brings to the table amazing respect within the golf industry. His business acumen and understanding of how the various institutions and federations within the golf world integrate and relate to one another will be paramount to the ongoing status of the PGA Championship and with broader horizons, the Ryder Cup.
"There will be some people who say he doesn't really understand the membership," Johnston added. "But in my opinion, Seth's selection will also benefit the grassroots membership of the PGA of America as more and more of the club professionals seek support at HQ in terms of their own business ambitions."

Johnston pointed out that not only does Waugh enjoy a close relationship with PGA Tour commissioner Jay Monahan after working together at the Deutsche Bank Championship—Monahan was executive director of the event for two years—but he also is fast friends with Martin Slumbers, the chief executive of the R&A. They were colleagues at Deutsche Bank for several years.
In addition, Waugh has known Fred Ridley, chairman of Augusta National Golf Club, for more than 20 years, and he reached out to Ridley for advice before accepting the PGA job and leaving his post—not an easy decision—as managing director at Silver Lake, a technology investment firm. He will continue to assist the firm as a senior advisor.
"Already Seth has been a big part of the progress in that organization the last several years, and I think he'll come in and he'll continue the great work that Pete has done," Monahan told Golf Digest during a phone interview Tuesday. "I have great respect for Seth as a leader, but, more importantly, as a person who is a really thoughtful and caring guy who loves this game and who is now in a position to make a big impact. He has a way of relating to people and inspiring people that is remarkable. He has an ability to move things to a better place—even if they're already in a great place."
Waugh certainly will have to hit the ground running. His first official day is Monday of Ryder Cup week in Paris. Television negotiations for rights to the PGA Championship already have commenced. He hopes to have them completed within the next few months. And then there's the proposed move of PGA headquarters to the Dallas area that is estimated to be worth around $40 million and would include not only a new office complex but also golf courses that could host future PGA Championships or a Ryder Cup. A decision was supposed to come down in May, but it is still pending. Waugh wants to see the organization make a decision soon, because "there is in a sense of what we need to do on behalf of our employees," he said. "I don't think it's really fair that we haven't made a decision. Not from lack of effort on anyone's part. It's a complicated situation with many moving parts."
It's these types of business challenges, Waugh said, "that scratches an itch for me."
But what motivates him most, beyond helping the membership, is what the PGA of America can do for the game.
"I'll have a really interesting seat at the table as far as how golf evolves," he said. "The PGA, in my mind, is the organization in the best position to be solely of the game and for the game. We have a pure mission through our membership to grow the game, and that puts us in a position of neutrality, to some degree, if you will. We can bring people to the table to enhance the game as a whole as opposed to a particular slice of the pie.
"I believe the game is worthy and hugely important in all its values. Societally, I think it's important," Waugh added. "We all talk about growing it, but how do we make it into our kids' game as opposed to our parents' game or our game? I don't pretend to know what the answers are. But I look forward to being a collaborator and partner with the other leaders in our game to work in the best interest of the game."