News
'No substance' to merger talks between PGA of America, PGA Tour, according to Waugh and Monahan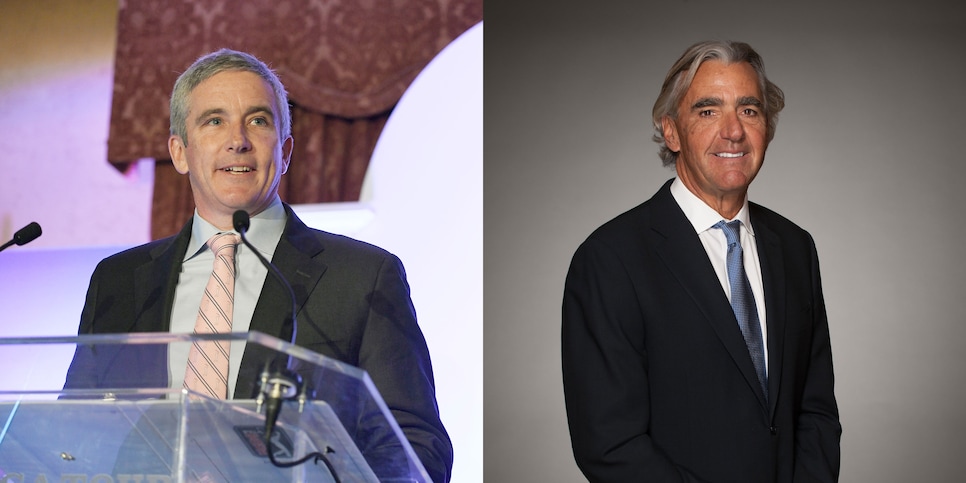 Rumblings of a potential merger between the PGA of America and PGA Tour—reuniting the two entities that 50 years ago were under the same corporate umbrella—made for an entertaining first (unofficial) day for the PGA of America's new CEO Seth Waugh.
"Someone told me about an article about a potential merger," said Waugh, who on Tuesday was chosen to succeed Pete Bevacqua as the head of the golf organization comprised of 29,000 club and teaching professionals. He begins his new duties Sept. 24, and in a conversation with Golf Digest, explained that no such plan is in the works.
"I certainly haven't had any conversations about that, and I asked around and no one has," Waugh said. "No one in the PGA [of America] headquarters has had any inkling of a conversation about that. I think it's fun for people to speculate about things, but that's all it is. There's no substance to it at all."
"I agree with Seth, and Seth hasn't even started yet," chided Jay Monahan, commissioner of the PGA Tour, who is a close friend of Waugh's from their time working together on the tournament in Boston now known as the Dell Technologies Championship. "Look, we were together 50 years ago. We work very closely together now, and that's where things like this come from. But as Seth said, it's speculation."
In 1968, the tournament players' division of the PGA of America, led by Gardner Dickinson (with assists from Jack Nicklaus and Arnold Palmer) broke away to form their own organization, which today is the PGA Tour.
Fueling the speculation is, partly, the close bond between Waugh and Monahan and partly the PGA of America agreeing to move its flagship tournament, the PGA Championship, from August to May starting in 2019 to accommodate the tour's new schedule in which the season ends by Labor Day and before the NFL season begins.
"There's been this question out there, what did the PGA of America get from the PGA Tour for agreeing to move the PGA Championship to May?" asked one golf industry observer. "The relationship between Jay and Seth might give us an answer pretty quickly. Or it may not. But you'd have to think their relationship is good for the PGA of America."
Would one of those things be the tour absorbing the PGA of America, a parent reversal from the original arrangement? Again, both leaders say there is nothing to the rumors.
That's not to say the two organizations aren't more closely aligned thanks to the work of Bevacqua, former PGA Tour commissioner Tim Finchem and his successor, Monahan.
"If you look back over the last several years," Monahan said, "our two organizations have challenged each other to put forward what we think is the best possible schedule for our players and for the game. To make big moves with the PGA Championship and the Players [from May to March] in order to complete our FedEx Cup playoffs [by the end of August] … those are not easy conversations, but they demonstrate a really strong working relationship, and that's only going to continue.
"The primary source of inspiration right now is to continue doing what we've been doing," Monahan added. "This is the greatest game on the planet, and we feel in our partnership with the PGA of America and other organizations that this is a unique opportunity at a unique point in time. There is tremendous momentum behind the sport, and it's our job on the administrative side to make sure we do everything we can together to make that happen. That's what it's about for us, and hopefully, for Seth and the PGA of America.
Waugh offered a similar perspective. "Historically, until a few years ago, there had not been a close relationship, but Pete and Jay, and, of course, Tim, forged a very good relationship, and they should be proud of that," Waugh said. "I think we should have a great relationship with the tour. I look forward to continuing that and having more excuses to talk to Jay, who's a great friend."
As for another report, published Monday by the Associated Press, that the tour is mulling a new scoring format for the Tour Championship—ditching the points structure in favor of a staggered strokes configuration—Monahan indicated that it's premature to discuss any potential changes to the FedEx Cup Playoffs.
"We have said when we announced the schedule in 2018-'19 that we are looking at all facets of our business and our schedule, and we want to continue to put forward the most compelling product over the course of the season that we can," he said. "I just got back from traveling to the West Coast. I know there has been some conjecture, but when we're ready to share any specifics, we will do that. Right now, we feel like we're in a great spot for the next three events in the FedEx Cup Playoffs."