The Loop
Sergio Garcia's green jacket tour, golf ball-contaminated hash browns & the "Rory-al Wedding"
Welcome to another edition of The Grind, where we got the perfect fortune-cookie message over the weekend. After a particularly frustrating round of golf (I challenge Bryson DeChambeau to prove that many lip-outs are physically possible), I looked to comfort myself with some delicious chicken with garlic sauce (Shout-out to David Chen in Armonk!). It helped. And so did cracking open these words of wisdom.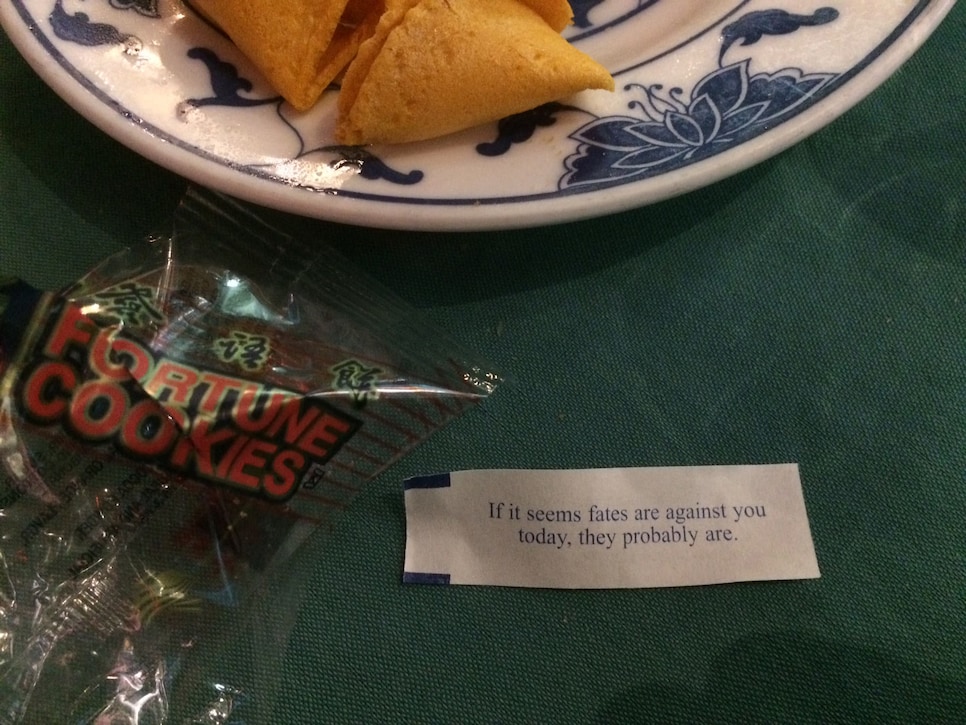 So simple, yet so true. Anyway, here's what else from the world of golf -- and frozen foods -- has us talking.
Kevin Chappell: I never imagined I'd get chills watching the finish of the Valero Texas Open, but that's what happened when Chappell sunk the winning birdie putt on the final hole and did this:
Sports are awesome, huh? That's the reaction of a man finally winning for the first time in 180 PGA Tour starts, six of which were runner-ups. "Just a big relief for me," Chappell said after. "I don't have to answer that question anymore." Congrats, Kevin.
The Rory-al Wedding: Stevie Wonder? Ed Sheeran? It sounds like the union of Rory McIlroy and Erica Stoll was a rip-roaring time and that it lived up to the billing of Ireland's "wedding of the decade." Not surprising because. . . there ain't no wedding like a castle wedding, 'cause a castle wedding don't stop! Everyone knows that.
Sergio Garcia's green jacket tour: The Spaniard wasted little time cashing in a promise to do an opening kick-off from Real Madrid's owner if he ever won a major. Sergio Garcia didn't just get this honor, but he got to do it before El Clasico.
Unfortunately for Garcia, the day didn't end on such a high note with Barcelona (MESSI!) daggering his team in extra minutes. Still, not a bad weekend when you factor in he also attended the Rory-al Wedding the day before. Maybe he even got Rory his own green jacket as a wedding gift.
Min Woo Lee: The 18-year-old finished T-3 at the Junior Invitational at Sage Valley (Congrats to Joaquin Niemann for winning), but he had the highlight of the week – and maybe his life – when he took down Jason Day in a long drive contest:
Lee, the reigning U.S. Junior champ, is also the younger sibling of Minjee Lee, a 20-year-old with three LPGA wins already. Pretty sure he's going to be out-driving plenty of other tour pros in the near future.
Tiger Woods: Just two days after finally hitting a couple shots in public, Woods announced he'd undergone a fourth back surgery. Now he's just playing with our emotions. And now it's really tough to stay positive about any successful and sustained comeback. I tried by writing this, but then hearing his agent use the phrase "Healthy, active lifestyle" doesn't give me much hope. Thankfully, I have a supportive group of co-workers who are helping me cope.
Rory-al Wedding criticism: Did we wish we saw more from this lavish shindig? Of course. But we'd never criticize Rory and Erica for wanting to keep their special day private. And yet, one writer did with this blistering (and ridiculous) column in the Independent ripping Rory's "secrecy." If they don't want bozos like me writing about photos of their wedding, that's totally their right. But yeah, if anyone has a video of Rory and Erica doing the electric slide, please pass it along.
Bad hash browns: McCain Foods USA issued a recall on two different brands of frozen hash browns due to "extraneous golf ball materials." Yep, you read that right.
Hopefully, if you eat that product, you got the message in time. Regardless, this should probably make us all reconsider eating any frozen food. Although, these look good. . .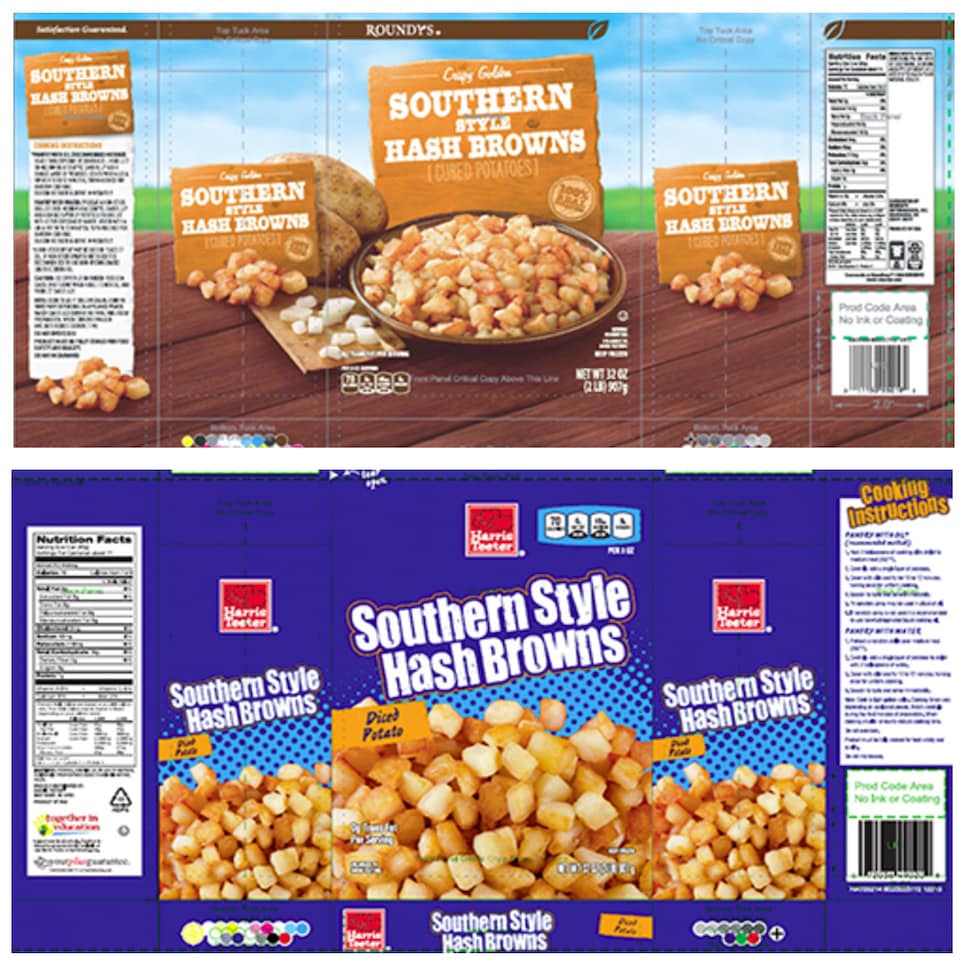 The "Lexi Rule": Golf's governing bodies are in a tricky spot with this, but the new decision involving "reasonable judgment" doesn't do much to clear things up. Can you just claim "reasonable judgment" on any bad mark or drop now? Would Lexi have still been penalized? Would Tiger not have been penalized at the 2013 Masters? Aren't all these new rules supposed to make golf easier to understand?
The PGA Tour heads to New Orleans for the Zurich Classic, AKA that event that's now a team tournament. No matter how it plays out, this format change was a brilliant move.
Random tournament fact: A three-legged gator roams TPC Louisiana. His name is Tripod.
RANDOM PROP BETS OF THE WEEK
-- Stevie Wonder didn't play "Signed, Sealed, Delivered, I'm Yours" at the Rory-al Wedding: 1 MILLION-to-1 odds
-- Jason Day and Rickie Fowler will win: 6-to-1 odds (Actual odds; Co-favorites with Justin Rose and Henrik Stenson)
-- Tripod will get more TV time than 90 percent of the field: LOCK
Rickie Fowler hanging out with Allison Stokke set social media on fire:
Good for Erin Walker sticking up for husband, Jimmy, who announced he's been diagnosed with Lyme disease. Bad for some callous fans out there.
THROWBACK PHOTO OF THE WEEK
Forget about Stevie Wonder and Ed Sheeran, apparently Kevin Na had KENNY G at his wedding last year:
THIS WEEK IN CELEBRITIES PLAYING GOLF
"Must-see" is a bit strong, but here's Derek Jeter, Anthony Anderson and Ahmad Rashad having a putting competition:
We like how fired up Anthony gets – and the fact that Ahmad clearly doesn't know what a sandbagger means when he says Jeter claims to be a 14-handicap, but he's really an 18. Psst: Ahmad, those are exactly the type of golfers you want to play against.
ESPN anchor Peter Burns and his wife revealed the gender of their baby on Pebble Beach's famed seventh hole:
Take notes, guys. This is how you talk your way into a $500 round of golf.
VIRAL VIDEO OF THE WEEK (WILDLIFE DIVISION)
Gator fight! OK, not so much of a fight as it is one bigger gator showing his dominance, but still, it drew a lot of attention from those playing at Panther's Run Golf Course at Ocean Ridge Plantation (great name, by the way):
"I think I was able to pull from some past experiences on that putt. Had what felt like a putt to win at Bay Hill last year, left it about six feet short. Had a putt to win at the Tour Championship and left that about four feet short. Luckily, I only had eight feet. I wasn't going to leave it short." – Kevin Chappell on the winning putt. The moral of the story: Don't leave putts for the win short.
THIS WEEK IN DUSTIN JOHNSON-PAULINA GRETZKY PUBLIC DISPLAYS OF AFFECTION
On The Big Lead podcast, DJ said he has no say over what Paulina posts on social media. Duh. Shortly after, she posted this: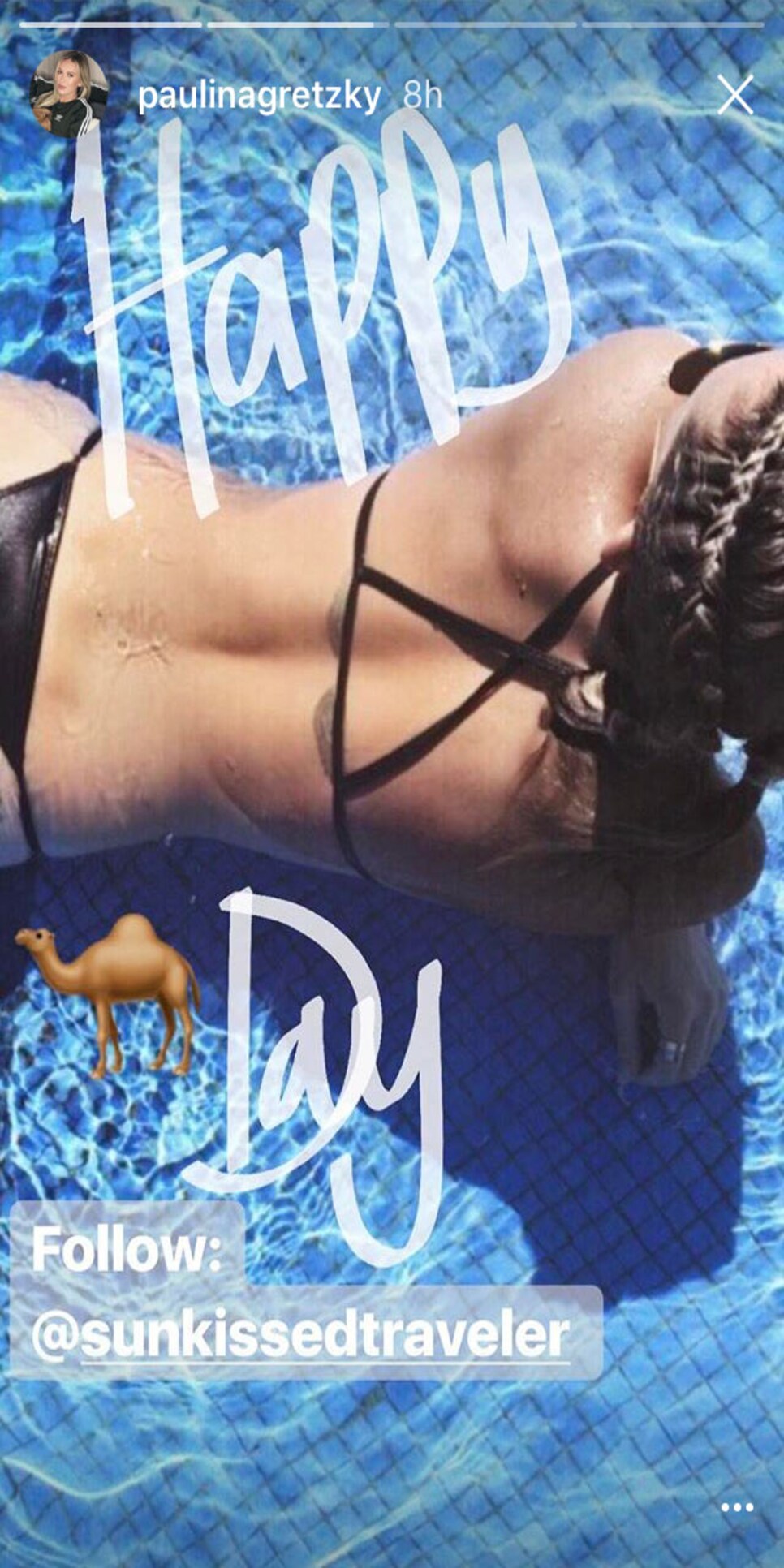 DJ also admitted he has to ask Paulina for permission anytime he posts a photo of the couple. In other words, the World No. 1 is just like every other guy in the world in this area.
Wesley Bryan and I bonded over our love of LeBron James and Chili's. Have a listen to our fun podcast. . . . Web.com Tour player Bryan Bigley used a few off weeks in his schedule to earn his insurance license. Now that's grinding. . . . An 84-year-old woman running for a council spot in Glasgow called for abolishing golf courses and bringing back the guillotine. Probably not going to happen, although that archaic tool would probably be a pretty good deterrent for slow play. . . . A bowler rolled a perfect game in 86.9 seconds by running to different lanes. I didn't think bowlers were capable of moving that fast unless it was last call. . . . And finally, check out this license plate I saw at the course: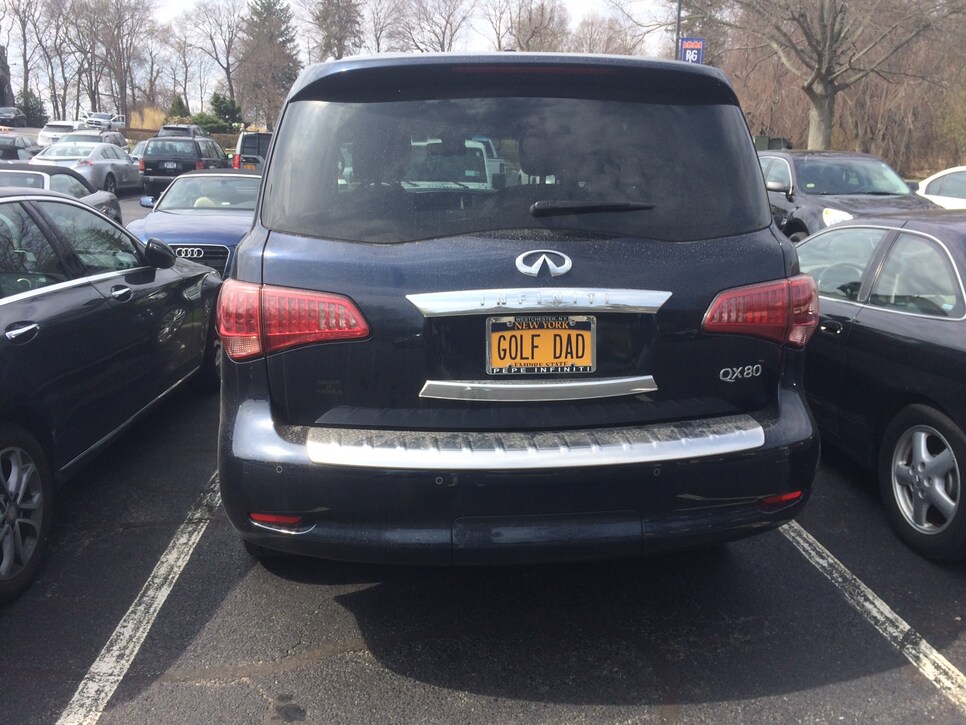 I'm not sure if I should feel happy or worried for that kid.
RANDOM QUESTIONS TO PONDER
Where will we see Tiger Woods next?
How many golf teams will wear matching uniforms this week?
What were the party favors at the Rory-al Wedding?