not a great look
Sergio Garcia reportedly furious with photographer during unsuccessful Open qualifier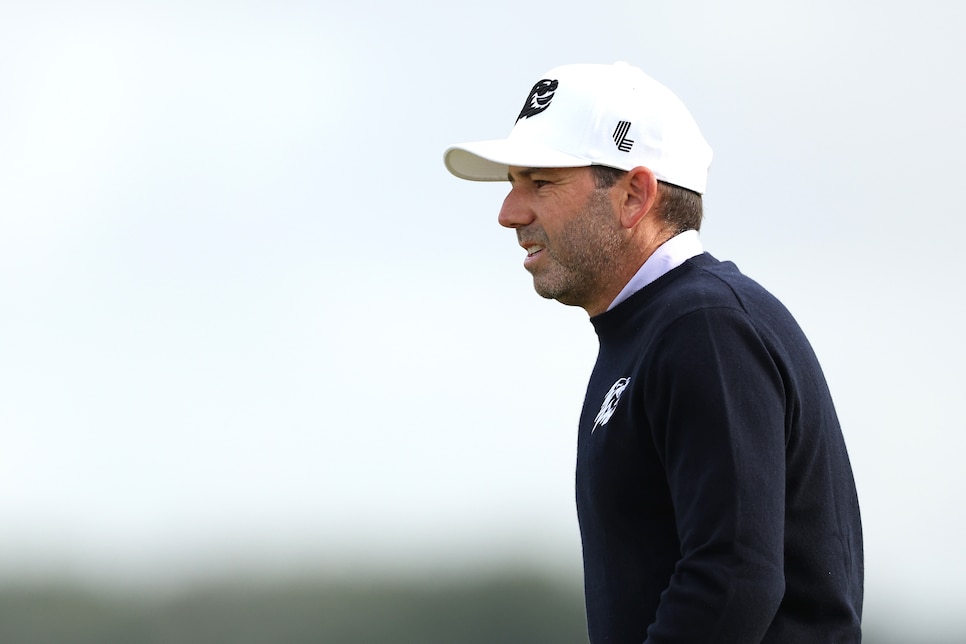 Through 24 holes at West Lancashire Golf Club near Royal Liverpool, Sergio Garcia was in a great position to qualify for the 151st Open Championship. It would've been his 25th straight Open and a chance for the LIV golfer to nab a spot despite a drop in the world rankings due to his jump to the fledgling league. Then, everything crumbled … including the Spaniard's cool.
A tricky lie on the 25th hole of the 10-hour, 36-hole marathon, a poor chip and a subsequent bogey slowed down Garcia's momentum and eventually led to a putting disaster on the par-five 16th. According to the Irish Independent, while pin-high on the right fringe in two, Garcia "backed off a five-foot birdie putt after being disturbed by a photographer." The former Masters champ eventually missed the five-footer and took out his rage on the cameraman, declaring "D**k! As if it's not frickin' hard enough…"
Things only got worse from there. His ball rolled off the green at the next par three, and Garcia was all but eliminated from Open Championship qualification at that point. He eventually finished at T-6 with a cumulative six under. Only the top five made it through.
Garcia will miss out on another chance to make some history at Royal Liverpool, a course he often plays well. The LIV golfer finished T-2 behind only Rory McIlroy at Hoylake in 2014 and T-5 at the same course during Tiger Woods' 2006 major victory.
"I was rolling nicely, I got a pretty bad break on seven in the afternoon, and it stalled my momentum a little bit," Garcia said after his round to the Irish Independent. "Then it was tough to get going again but I gave it everything I had."I was thinking probably eight might get to a playoff, but I was trying to get to 10. If you come here, you put yourself in that situation. I felt I had it close, in the grasp of my hand, but that's what it is. I was trying and unfortunately, it just wasn't good enough."
This is unfortunately another sour note for Garcia of late, who has become synonymous with golf blowups over the last few years. The 43-year-old was called out by Nick Faldo earlier this year, who went on to say that Garcia's "the most immature player" he's ever witnessed.
Garcia made headlines back in 2019 for a temper tantrum after a misplayed bunker shot that led to his disqualification from the Saudi International for deliberately damaging five greens.
At the 2019 Open Championship, an incident featuring Garcia made news as the pro threw his driver at his caddie after a hooked shot. This ultimately led to a double bogey, gasps from the crowd and quite the response from Golf Twitter.
The most recent hubbub on the course came a little more than a year ago, right before Garcia departed the PGA Tour for the Saudi-backed league. He was heard saying that he "can't wait to leave this tour" during a back-and-forth with a rules official at the Wells Fargo Championship.
A report from The Telegraph back in July 2022 also stated that Garcia went off on the PGA Tour in a meltdown of sorts after being banned from the Scottish Open and fined by the DP World Tour. "Sergio flew off the handle, shouting, 'This tour is s**t, you're all f**ked, should have taken the Saudi money," an anonymous source told The Telegraph. Scottish pro Bob MacIntyre even went on to tweet, evidently about Garcia: "Amazing how fast you can lose respect for someone that you've looked up to all your life."
This list of flare-ups is lengthy, but Wednesday's incident occured against the backdrop of an ongoing feud between Garcia and the DP World Tour. The Spaniard seemingly won't pay a £100,000 charge for jumping ship to LIV Golf and the DP World Tour is threatening litigation. "Sergio Garcia has not paid his £100,000 fine, nor has he given any indication that he intends to," read a statement. "We will therefore take appropriate action if he continues not to respect the Sport Resolutions panel's decision."