The Grind
Sepp Straka makes PGA Tour history, Allisen Corpuz gets an impressive shout-out, and the #SB2K crew storms Wimbledon
Welcome to another edition of The Grind, where we learned that getting pooped on by a bird sucks—but that it's also good luck. This picture truly doesn't do justice to the horrifying ordeal I went through in the first round of the 2023 HGGA Championship–AKA my annual golf trip: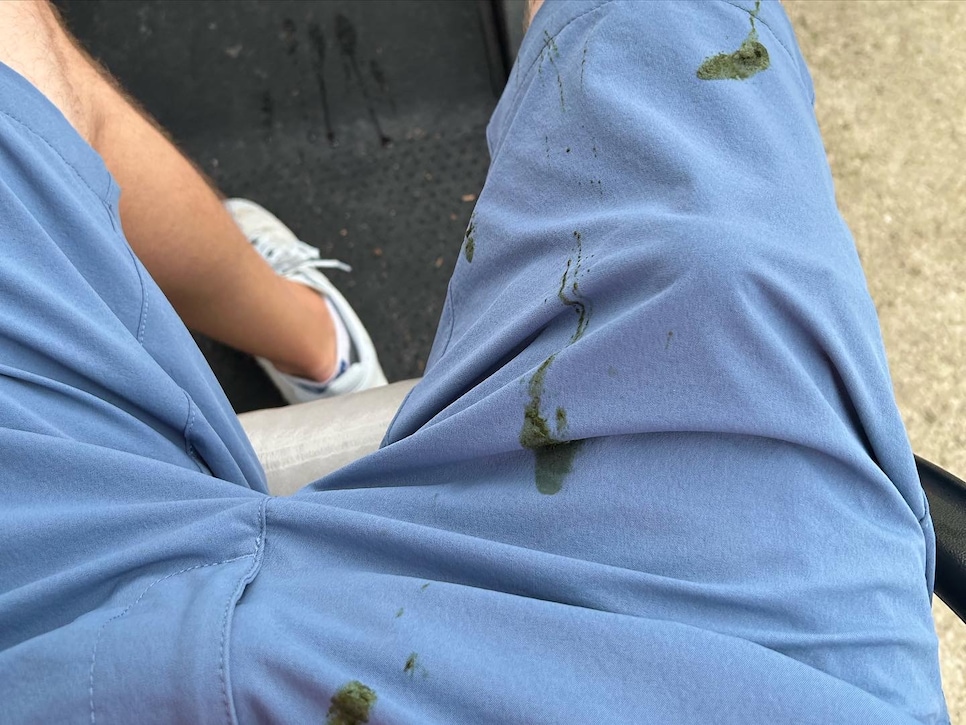 But I went on to win my fifth green jacket three days later so I'll call that a fair trade. Then again, it's very possible I would have won anyway without the bird pooping on me. In any event, I'm still flying high after bringing the green jacket home—and after seeing those blue shorts come out of the laundry looking as good as new a few days later.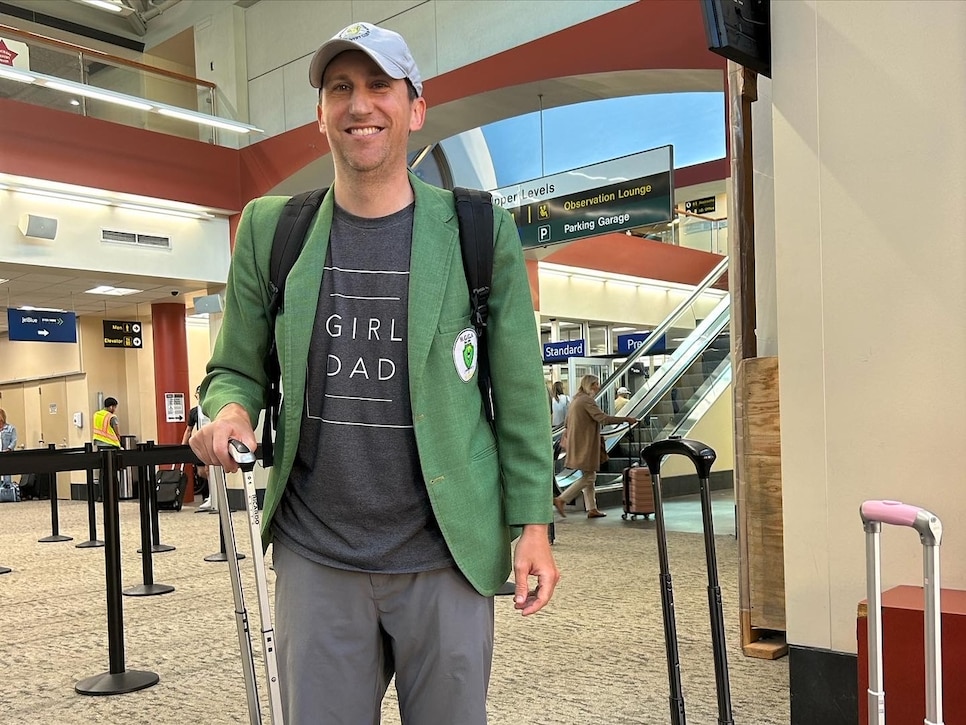 OK, OK, time to discuss everything else (less important) that's happening in the world of golf.
Sepp Straka: It didn't quite turn out to be the historic final round it looked like after starting 11 under through 14 holes, but this Diet Coke-loving Austrian with a southern accent was happy enough to earn a second career PGA Tour title at the John Deere Classic. A Sunday 62. With a water-ball double bogey on the final hole. And a four-shot comeback win. That's one to remember for sure and one that could earn him a spot on the European Ryder Cup team. In fact, Straka didn't fire a sub-60 round, but he made PGA Tour history in another way. Since this stuff began being tracked in 1983, Straka's T-133 after the first round is the worst position for an eventual winner ever:
Pretty wild. Enjoy a few Diet Cokes, Sepp. You deserve it after that performance. Although, again, I'm not sure how anyone chooses Diet Coke over Coke Zero these days. Soda technology has come a long way!
Allisen Corpuz: You couldn't pick a better stage to win your first tournament as a professional. The U.S. Women's Open. Being played at Pebble Beach for the first time ever. With the largest purse in women's golf history. Amazing stuff by Allisen, who looked unflappable over those final 18 holes on 17 Mile Drive despite a $2 million first-place check on the line.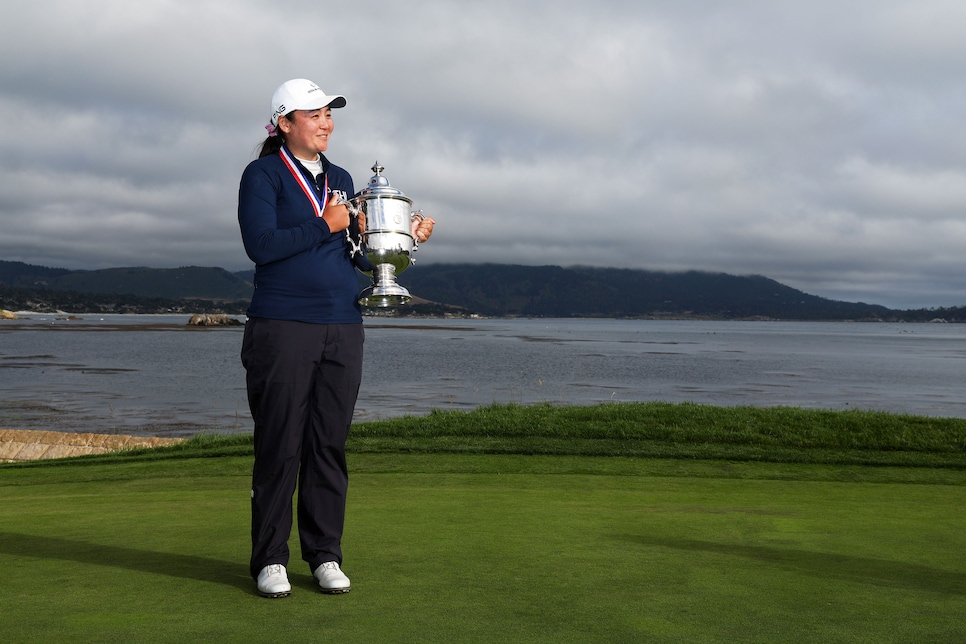 And make no mistake about it, this is no fluke. In her short pro career, the former All-American at USC has demonstrated that she plays her best golf in the biggest events. We could have a female Brooks Koepka in the making. Minus the NHL gambling/heckling, of course.
The "Frat House": For a second year in a row at the John Deere Classic, a big group of six guys stayed in the same house in Illinois. And for the second year in a row, one of them wound up winning the tournament. First, it was J.T. Poston, who dubbed the home the "frat house" and now Sepp Straka, who acknowledged that he'd probably have to pick up the rental bill after earning the $1.33 million check for winning the tournament.
Seems fair. And, yeah, better go ahead and book that spot again before they jack up the rates.
Rickie Fowler/Bernhard Langer: I didn't forget about you guys! There were a couple of incredible wins (in addition to my own) while I was away with Fowler finally getting back into the winner's circle at the Rocket Mortgage Classic (and in dramatic fashion!) and Bernhard breaking Hale Irwin's record for PGA Tour Champions titles by winning the biggest one—the U.S. Senior Open—as he nears his 66th birthday! Just amazing efforts by both guys, especially with one being twice the age of the other.
Rangefinder DQ: This is another example of golf's rules being too strict, and, frankly, stupid. And Natthakittra Vongtaveelap paid the price when she was disqualified from the U.S. Women's Open after five holes because her caddie used a rangefinder at Pebble Beach: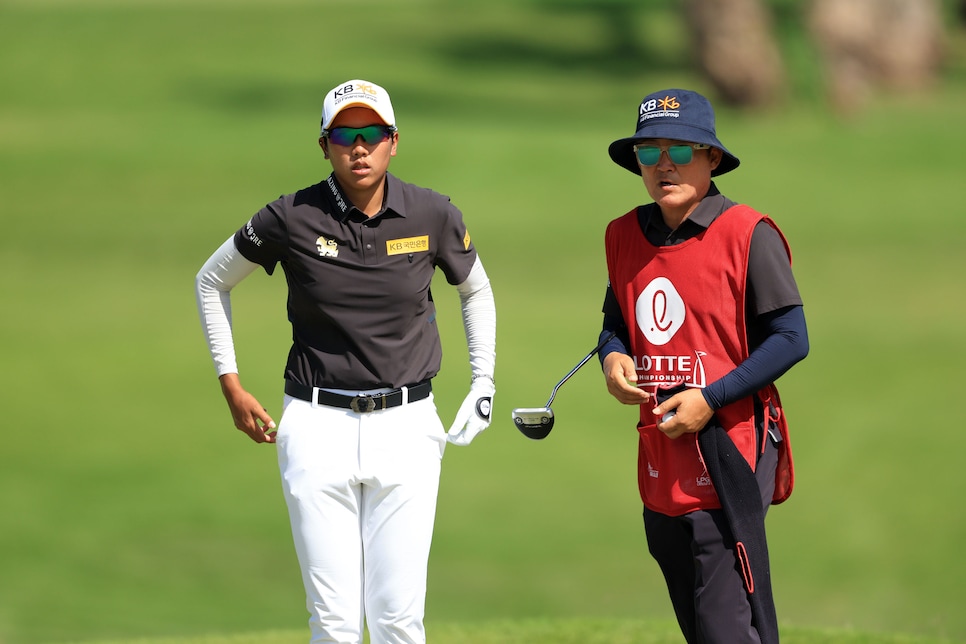 Look, that's on the player and caddie for not knowing the rule at that specific tournament. And you'd think that at a freaking major championship players would be a bit more careful (*Cough* Dustin Johnson *cough*), but it's ridiculous that these devices are used for some events and not others. Either completely outlaw them or let them be used everywhere. And considering all the other info available to players these days, and the fact that these can speed up play—not to mention that I just kinda figured out how to use one with my shaky hands—I'm inclined to say make them legal across the board.
The yips: I had kinda forgotten about Troy Merritt and then I saw this tweet from him and it made sense. The dude has the putting yips:
First off, kudos to Troy for being so honest about it, but that's rough. And as someone who has a bit of that with the driver, let me tell you it's always lurking. I thought I had solved it last year and then it crept back on my trip. Tournament pressure is a real game-changer. Literally. Anyway, good luck to Troy figuring his problem out.
This prank: Admittedly, I'm not a big prank guy in general, but this is just cruel:
Also, the poor bachelor looked like he was already dressed to go play. It's not like he's unprepared and needed to be taught a lesson. Man, that's rough. Almost as rough as having the yips.
The PGA Tour splits in two with the big names heading to the Genesis Scottish Open ahead of next week's British Open, and the not-so-big names heading to the Barbasol Championship, AKA that one (*Googles Barbasol Championship*) Trey Mullinax won last year. Sorry, Trey. But I certainly remember Xander Schauffele winning the Scottish Open last year and once again, that event will have a major-quality field. Should be a great couple weeks of golf from across the pond.
Random tournament fact: Troy Merritt won the 2018 Barbasol Championship and he's back in the field this week. Of course, that was before Troy developed the putting yips. Wait, UPDATE! Troy Merritt is NOT in the Barbasol field anymore:
RANDOM PROP BETS OF THE WEEK
—Xander will win the Scottish Open: 14-to-1 odds (Third-favorite behind Scottie and Rory)
—The Scottish Open winner will get pooped on by a bird: 1 MILLION-to-1 odds
—There are going to be more players trying to get into the "Frat House" next year: LOCK
How's that for getting a shout-out?! I guess President Obama didn't hear about my win in North Carolina.
CLUB PRO GUY TWEET OF THE WEEK
Don't listen to him, Troy.
I've said it before and I'll say it again: Caitlin Clark is the Tiger Woods of women's sports. She doesn't move the needle, she IS the needle. Just check out the crowd following her at the John Deere Classic Pro-Am!
What a legend. And she can really swing it!
I'm also happy to report I've got a story on her coming out in the September issue of Golf Digest. So be on the lookout for that!
VIRAL VIDEO OF THE WEEK (FUN DIVISION)
Talk about a fantastic work environment. Although it makes me miss our old office putting green.
VIRAL VIDEO OF THE WEEK (FORCED DIVISION)
A flash mob? What's next? Planking on the 18th green?
VIRAL VIDEO OF THE WEEK (THEFT DIVISION)
This is just embarrassing:
If you're going to try to steal something, you've gotta put a better effort in than that.
THIS WEEK IN PUBLIC DISPLAYS OF AFFECTION
How about the SB2K16 Crew all cleaned up for a trip to Wimbledon?
Looking sharp, everyone. And JT had an especially good week as his house sold for $3.1 million while he was in the UK. It's just like when I signed the contract for buying my house when I was in the UK for the British Open in 2015! OK, so it's not like that at all. Anyway, how about these guys with wives and kids and "starter" homes? They've really grown up so much.
THIS WEEK IN CELEBRITY GOLFERS
Patrick Mahomes' house is a freaking amusement park:
I want to go to there. No wonder Patrick and Travis Kelce recently won Capital One's The Match!
"I've basically given up on him. A lot of talent, but I mean the talent's wasted." —Brooks Koepka on Smach GC teammate Matthew Wolff. There's no truth to the rumor I also uttered this after playing with Chris Powers in the Golf Digest Open.
Chris Powers and I finished T-9 in the Watchung Valley (Great course!) regional of the Golf Digest Open. Out of 21 teams. Hey, top half! . . . In slightly more impressive news, Rose Zhang has finished T-8 and T-9 in her first two major championships since turning pro. Going to go out on a limb here and say Rose Zhang is going to win some majors in her career. . . . Speaking of majors, Royal Birkdale has been named the host venue of the 2026 Open Championship. Congrats to Royal Birkdale—and get ready to see a lot of "Go get that!" highlights. . . . And finally, French Lick has emerged as an early frontrunner to host the 2024 HGGA Championship. Good luck, French Lick. Oh, and less than a week after winning back-to-back green jackets for the first time, I was back out there grinding on the range: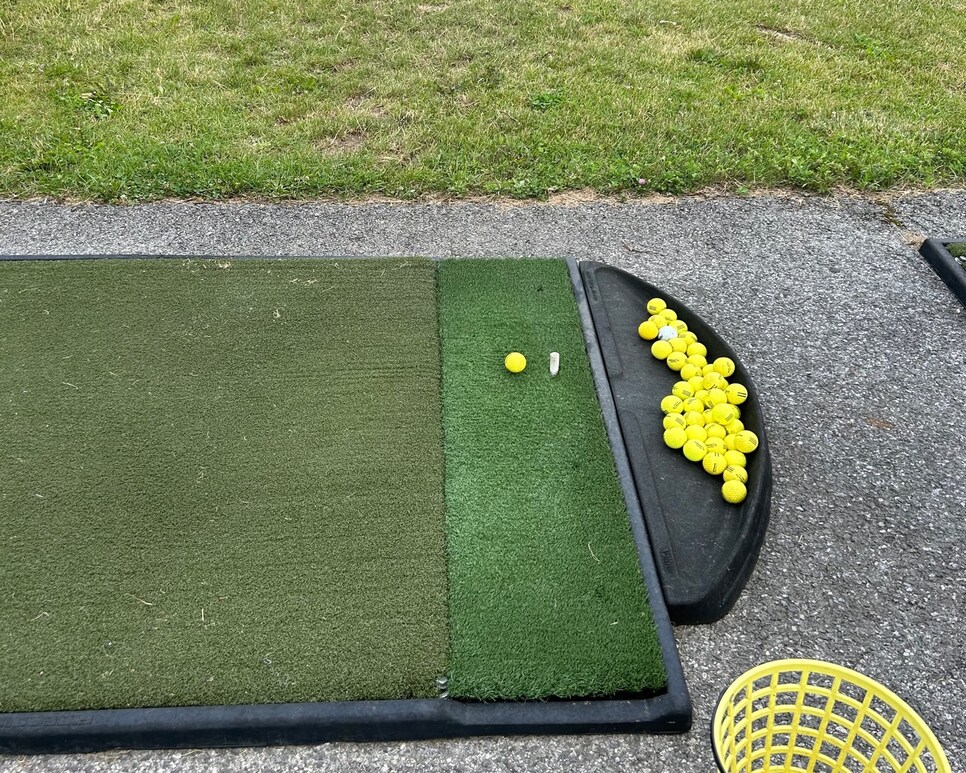 The quest for a three-peat starts now.
RANDOM QUESTIONS TO PONDER
Do I need to get on Threads?
What the heck is Threads?
Is there a Chili's in French Lick?