SENATE HEARING
Jordan Spieth says Jay Monahan needs to regain trust, Xander Schauffele says commish has 'a lot less of it now'
GULLANE, Scotland — There might be a five-hour difference and a large ocean between Washington, D.C., and Scotland, but that time and space meant nothing on the eve of the Scottish Open at the Renaissance Club. Leading most conversations on a sunny and breezy day in East Lothian was the Senate hearing on Capitol Hill regarding the PGA Tour's potential partnership with Saudi Arabia's Public Investment Fund.
One high-profile name that came up more than once when PGA Tour COO Ron Price and board member Jimmy Dunne sat down in front of Senators had zero to say on the subject.
Rory McIlroy did chat at the conclusion of his pro-am round, but only with a DP World Tour social media interviewer and Golf Channel. That was it as far as the Northern Irishman was concerned. For the posse of waiting journalists there was nothing but silence and the sight of McIlroy disappearing swiftly into the clubhouse. So at least for now, how the four-time major champion feels about the LIV team captaincy that the Saudis had in mind for him remains a mystery.
On what must have felt like safer ground, McIlroy was happy enough to chat on contemporary subjects closer to the middle of golf's metaphorical fairway. We know he at the Scottish Open "to get some competitive golf under my belt" before he returns to Hoylake next week for the Open Championship. We know he enjoyed playing the Travelers Championship in Connecticut after his disappointing second-place finish in the U.S. Open. And we are now aware that getting into contention is "a journey" and that "the worst thing you can do is get ahead of yourself."
Happily, Jordan Spieth and Xander Schauffele had more to say on the hearings and the widespread implications for professional golf the world over. Certainly, PGA Tour commissioner Jay Monahan will be facing a tricky future as he returns to the job next week following a medical leave. Both players cited what will surely be widespread trust issues with the man in charge and both, understandably, pleaded ignorance as to what has been going on behind the scenes in what is supposed to be a member's organization.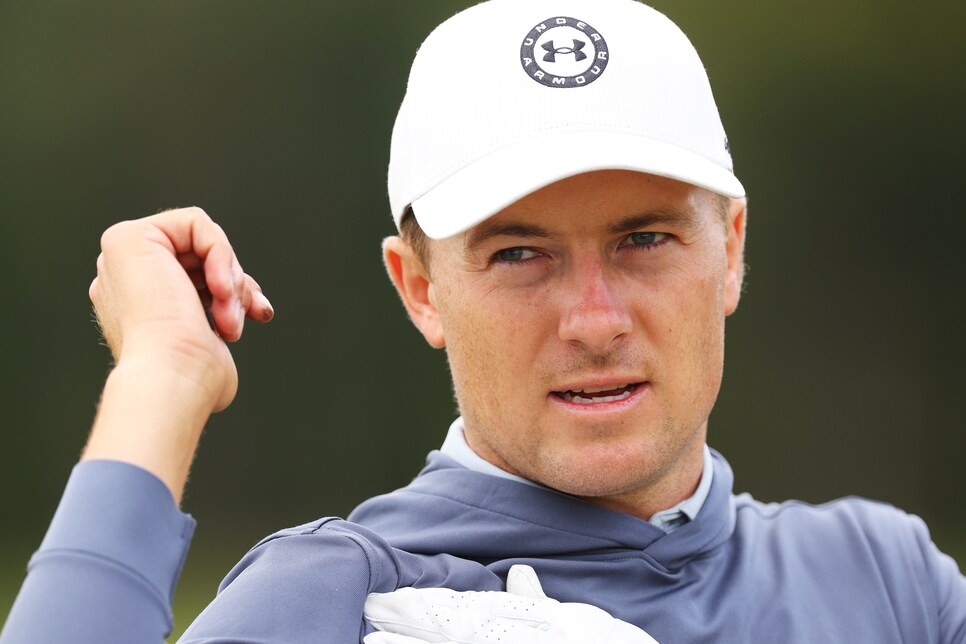 "It seems like you see reports, you hear things, and then you see reports, and then some things have changed and then other things have changed," Spieth said. "Then there's disagreements on a couple items. I think if there's any disagreements, it [lasting agreement] won't work. Honestly, we are very much in the dark on it. I don't sit on the board and I'm not on the PAC either. I'm not on the in.
"And yeah, based on conversations I've had with players, Jay is going to have to [navigate trust issues] quite a bit. I think he realizes that. I'm sure he's preparing for a plan to try and build it back."
As for Schauffele, while clearly keen to join his fellow players in their reluctance to take on such a complex issue that has many miles to travel before it reaches a conclusion, his assessment of Monahan's future was perhaps even more damning. Asked directly if his trust level in Monahan had changed, the Olympic champion was clear.
"Yes," Schauffele said. "Yes they have. If you want to call it one of the rockier times on tour, the guy was supposed to be there for us. But he wasn't. Obviously, he had some health issues. I'm glad he's feeling much better. But yeah, I'd say he has a lot of tough questions to answer on his return. I don't trust people easily. He had my trust and he has a lot less of it now and I don't stand alone when I say that."
Somewhere in-between McIlroy's reluctance and Spieth's candor, World no. 1 Scottie Scheffler was prepared to at least tentatively venture into the semi-rough when asked for his views on what went on in America's capital.
"We didn't really learn a whole lot, again," he said. "As a player on tour, we still don't really have a lot of clarity as to what's going on and that's a bit worrisome. They keep saying it's a player-run organization, and we don't really have the information that we need. I watched part of yesterday and didn't learn anything. So I really don't know what to say. We are not involved in any of the discussions. None of the players were involved in the original framework, and so we just don't know really."