News
Here's why scores have been so low during the PGA Tour restart and why the trend will likely continue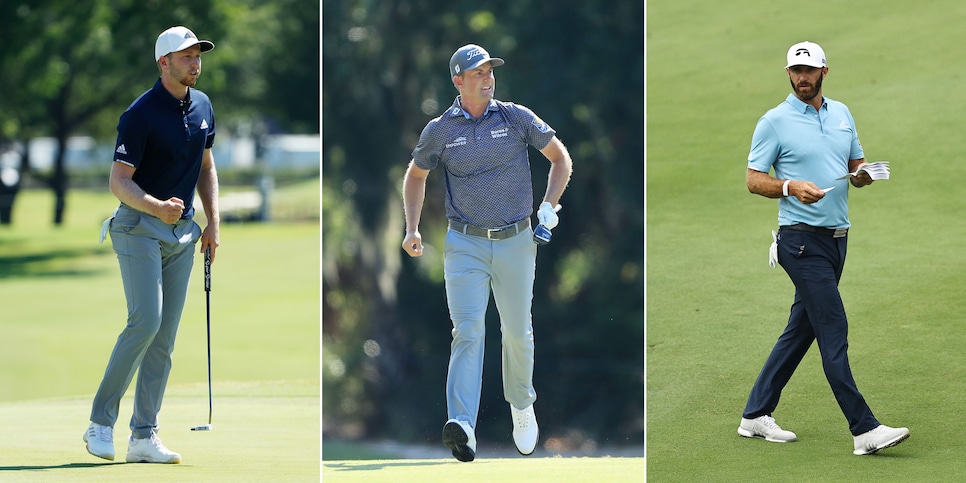 To win on the PGA Tour since the return to golf, Daniel Berger, Webb Simpson and Dustin Johnson each had to go awfully low. (Photos by Getty Images)
When Dustin Johnson won the Travelers Championship on Sunday, he did so having shot a career-best 61 along the way. That's saying something for a player whose résumé is already full of so many achievements it will likely land him in the World Golf Hall of Fame.
A week earlier, Webb Simpson finished his four days at Harbour Town Golf Links at 22 under par to break the RBC Heritage's 72-hole scoring record en route to victory. And at the Charles Schwab Challenge the week prior to that, Bryson DeChambeau shot a pair of 65s at Colonial Country Club—and still finished a stroke out of a playoff.
The first three weeks of the PGA Tour's restart have been a lot of things. Shootouts would certainly be one way to describe them.
Since the tour resumed play on June 11, the winning scores of each event have been 15 under, 22 under and 19 under. Drilling down a bit further, there have been a total of 130 rounds of 65 or better in the three tournaments combined, or an average of more than 40 such scores every week. So much for rust following a three-month layoff.
And as the tour moves to Detroit Golf Club for this week's Rocket Mortgage Classic, it's reasonable to expect more of the same. In last year's inaugural playing of the event, winner Nate Lashley shot a pair of 63s on his way to finishing at 25 under. He wasn't the only one to torch the Donald Ross design, though, with 15 others ending the week at 15 under or lower.
Why all the red numbers? The reasons vary.
In Fort Worth, more than seven inches of rain doused Colonial the two weeks leading up to the tournament. That meant it was easier to hit fairways and the course's small greens, leading to four rounds of 63, seven rounds of 64 and 22 rounds of 65. Not surprisingly, most of Colonial's lowest scores have come in years with rainy conditions—Zach Johnson's tournament-record 21-under 259 total in 2010, Kenny Perry's 54-hole record of 18 under in 2005 and David Toms 36-hole mark of 16 under in 2011 are three glaring examples.
At Harbour Town, a Pete Dye track that traditionally rewards precision over power, there was a 62, 10 rounds of 63, seven rounds of 64 and 27 rounds of 65. That Simpson won and set a new scoring record in the process wasn't terribly surprising—he has the most rounds on tour of 65 or lower since June 2019 with 15. But there were a staggering 51 players who finished double digits under par for the week.
Again, conditions were made soft by warm, wet weather in the days prior. The tournament was also held much later than its usual slot in April the week after the Masters, meaning it was overseeded to handle the heat of summer in the south.
"There wasn't any wind blowing. It was definitely soft," Johnson said in Hilton Head. "With it soft, it plays a little bit longer, because the balls aren't rolling on the fairway. But, yeah, you can be aggressive around here."
"Most years the wind blows, anywhere from nine under to 15 under usually wins," Simpson said. "We're used to really firm greens here at Hilton Head, and we're used to cooler temperatures, so the ball didn't go as far. We're used to more wind, honestly.
"I think all those factors play a role. Any time you give us soft greens, we're going to shoot low scores."
Last week at TPC River Highlands, the wet weather didn't arrive until the weekend. Still, the par-70 layout is on the short side at less than 7,000 yards, it routinely sees low numbers because it's a scoring-friendly venue with little in the way of danger. It is, after all, where Jim Furyk shot his PGA Tour-record 58 in 2016. The course nearly saw a second sub-60 score from Mackenzie Hughes in round one, but the Canadian had to settle for a 60. The low numbers kept coming, too, with Johnson one of two players to shoot a 61, two more 62s, eight 63s, 15 rounds of 64 and 24 rounds of 65.
Still, at all three venues course conditions only tell part of the story.
The fields each of the last three weeks on tour have been packed with the tour's best. At Colonial, not only did each of the top five players in the world tee it up but there were 101 players in all who'd won on tour. The field was also expanded (to 148 players) and the strongest in the event's history.
A week later, 17 of the top 20 in the world pegged it in Hilton Head. A similar pattern followed in Connecticut.
Another, perhaps unexpected, element may have played a role as well: No fans. While large galleries might save some wayward shots from finding trouble, a lack of fans also means few chances for distraction.
"In general, it's easier to win on the PGA Tour without fans is what I've seen the first couple weeks," Jordan Spieth said. "It's easier to just be zoned in on pure golf."
Perhaps all of this is merely a sign of a growing trend. As driving distances go up, scores continue to go down, particularly as the marriage between science and art move closer together in today's power game. At least that's what the numbers hint at.
At Colonial, each of the previous five years has seen the winner reach double digits under par, with 2018 champion Justin Rose getting the lowest of that group at 20 under. It hasn't always been the case—the winning score was 10 under in 2017—but the average winning score in the event since 2015 is 14.4 under.
Similar patterns have played out at the RBC Heritage and Travelers.
While it's true that 12 under was the lowest total in 2019 and 2018 at Harbour Town, Jim Furyk and Kevin Kisner finished atop the leader board at 18 under in 2015. At TPC River Highlands, only once since 2015 has the winning total been higher than 14 under. That was in 2017 when Spieth and Daniel Berger each finished at 12 under before Spieth holed out from a greenside bunker to win in a playoff.
Yet as far as 2020 is concerned, you better go low, or you'll go home without the trophy.