News
Big names, low scores and, yes, faint cheers: How it felt to play in the historic opening round of the Charles Schwab Challenge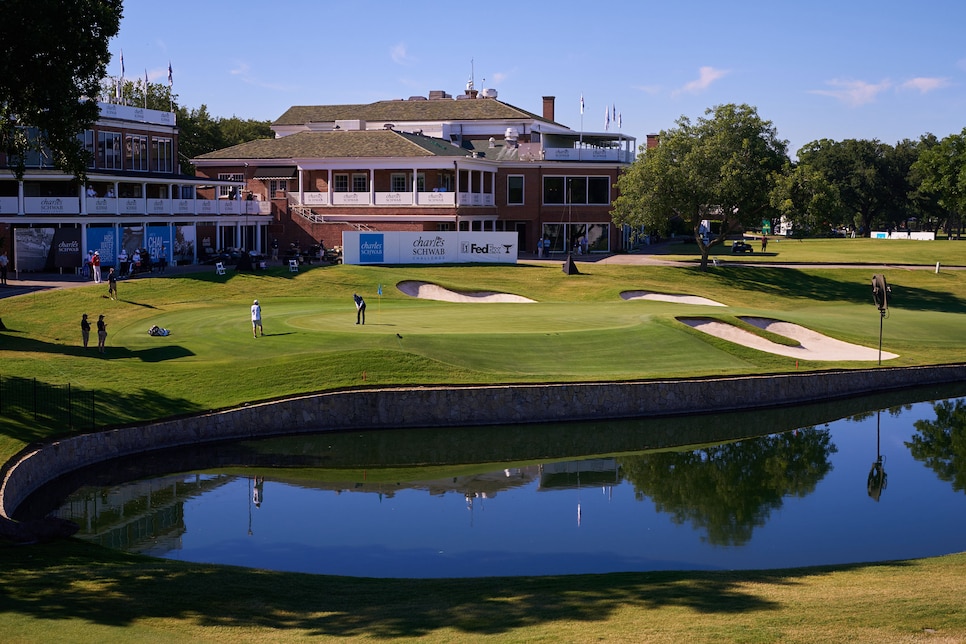 Darren Carroll for Golf Digest
FORT WORTH — Gary Woodland played his college golf at Kansas, where he competed in 50 tournaments attended most by parents.
The first round of the Charles Schwab Challenge reminded him of those long ago and relatively lonesome walks at a Cleveland State Invitational or a Louisiana Classic. Woodland shot a nifty five-under 65 on Thursday, good for a share of seventh, a worthy achievement witnessed by few.
"It felt like kind of a practice round out there, same kind of energy," he said—remotely—speaking to reporters seated in a different building, another example of the highly unusual week unfolding at Colonial Country Club. "But it was kind of peaceful, kind of going back to college days, and you kind of roll with it and stay within yourself."
There was no one else to stay within.
The spectator-free return of competitive golf stoked a lot of memories. To Bryson DeChambeau, the first PGA Tour round since March 12 felt like a U.S. Open qualifier (local or sectional, he didn't say). Ryan Palmer, who hit the first shot at 6:50 a.m., said it felt like a typical Thursday at 6:50 a.m. Except that it felt like that all the way through to when he signed his scorecard, hours later, for 72.
Tom Lehman thought of his seasons on the old Ben Hogan Tour. Phil Mickelson called it "awkward." Abraham Ancer said he played more quickly, not having to wait for someone taking the day off from work to stop moving in his peripheral.
Brian Harman said he noticed the concussion of drivers swirling around the course. He literally said "around the course."
Colonial is a big place. But a lack of humanity tends to shrink a piece of property. You hear cart brakes. You hear voices from the next green over. You hear helicopters and tractor-trailers and train engines you cannot see. Now, throw in the absence of wind, which is odd for Texas, and you can even hear the commotion over on No. 15.
That's where a bunch of revelers occupied a deck outside a stucco house with a tile roof on the street paralleling the fairway. You heard them now and again out on the course, but if you happened to be playing the 15th, as Rickie Fowler was late in the afternoon, you couldn't not hear them, which is what Fowler wanted to do. He endured a bogey there, while former University of Texas standout Jordan Spieth, playing with him, made a birdie and got a lusty "Hook Em!" from the deck.
Another crowd at another house was perched above the tee at the par-3 16th. They chanted the names of players as they approached.
They were loud and reassuring to hear: Yes, people were watching, and not just on TV. Attention was being paid.
The chanters got to see Justin Rose make a birdie at the 16th, one of the co-leaders at day's end. They might've noticed his golf bag—an ivory Vessel stand model, no logos. Rose has no equipment deal at the moment, and inside was a collection of Cobra, TaylorMade, Titleist and Axis1, the last being the putter, which he used to make seven birdies and 11 pars.
Rose called his experience "subdued."
He added: "But obviously I think we all know what's on the line. We all know what we're playing for."
"Yeah, it was different," said Harold Varner III, who played in the afternoon and who matched Rose's 63. "But like everyone is going through this together, and we're going to get through it together."
Everyone chants, from a distance, amen.