News
Seeing Red: Have scores gotten too low on the PGA Tour?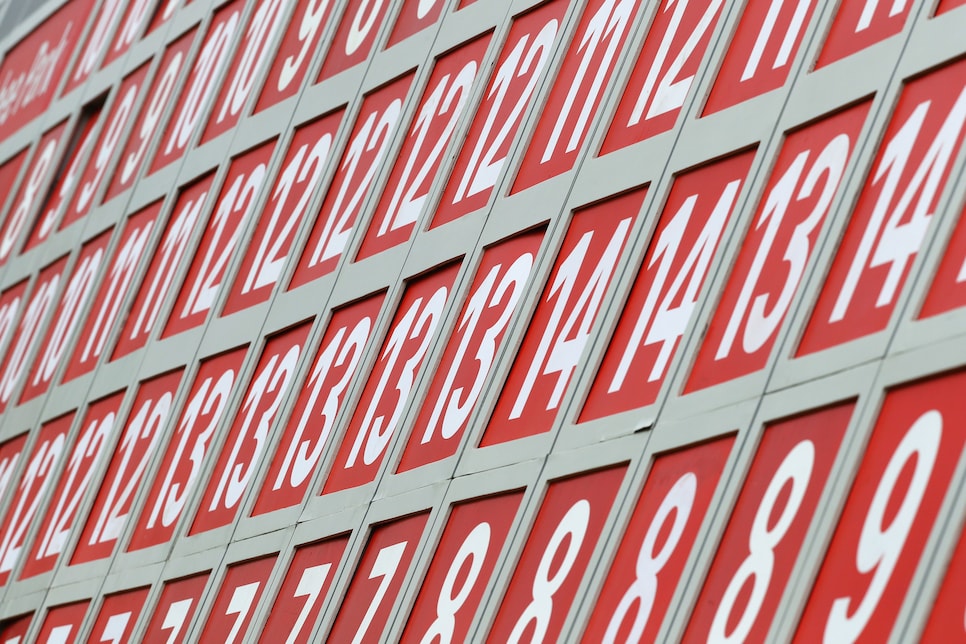 Photo By: Scott Halleran/Getty Images
Mark Leishman won the CIMB Classic in Malaysia on Sunday by shooting a seven-under-par 65 for a four-day total of 26-under-par 262. Leishman played superbly, running away to a five-stroke victory. But it is worth noting that he was one of nine players who shot 20 under par or better. In fact, a score of 10 under par was "good" for only a tie for 39th place.
This sort of scoring is not atypical on the PGA Tour. The average winning score in 46 individual stroke-play events during the 2017-'18 season was 16.56 under par. Twelve of those events were won with at least 20 under par and 41 were won with a double-digit total. The three-way playoff at the Safeway Open Napa to start the 2018-'19 season was at a mere 14 under. Additionally, the cut line on Fridays is often somewhere under par. Last January at the CareerBuilder Challenge, the 54-hole cut came at eight under par. In other words, if you averaged 69.7 for three rounds on the desert courses, you were home on Sunday.
Yes, these guys are good. But are they really that good? Or, has the tour, in its zeal to prove week in and week out how good they are, gone too far with sometimes laughably easy course setups?
There are a number of reasons why scores on the tour are so low. One of them is that these guys are that good. They can hit shots into the ether and have equipment that allows them to do magic tricks with their golf balls. And they are bigger and stronger and better-conditioned than ever.
With how far players are hitting the ball, new courses are stretched longer and longer, which in turn has many complaining that the tour has become a bomber's paradise. But it isn't impossible to make courses more difficult without making them 8,000 yards long.
Almost every year, without fail, players—and many in the media—howl about how unfair the course setup is at the U.S. Open. Brooks Koepka's winning score at Shinnecock Hills this year was one over par, and the USGA got buried—largely because it made some setup mistakes during Saturday's third round, somehow failing to account for the fact that afternoons on Eastern Long Island in the summer time are always windy when you're on the water. The other three days the course was very difficult—but fair.
USGA officials have always said that they are trying to "identify the best player," by setting courses up the way they do.
Twenty-years ago, listening to all the whining going on during the 1998 U.S. Open at The Olympic Club, Fred Couples shook his head and said, "You know, I don't have a problem with knowing that one week a year, even par is going to be good enough to win a golf tournament. I think the challenge is good for us." Lee Janzen's winning score that year was even par on a course that played at slightly less than 6,800 yards. Of course, all most people remember about that Open was the awful hole location on the 18th green on Friday.
Mike Davis made changes to the USGA's setup philosophy when he became the man in charge in 2006. He began graduating the rough, so that a ball one-foot off the fairway wouldn't be unplayable. He moved tee boxes forward at times and almost always created at least one drivable par 4.
In 2011, Rory McIlroy won the Open at Congressional with a score of 268—16 under par. Six years later, Koepka won at Erin Hills with 272—also 16 under. For all of Davis' claims that the USGA isn't bothered by low scores, Congressional's spot in the Open rota has gone away. And it isn't likely Erin Hills will re-appear as a host venue anytime soon.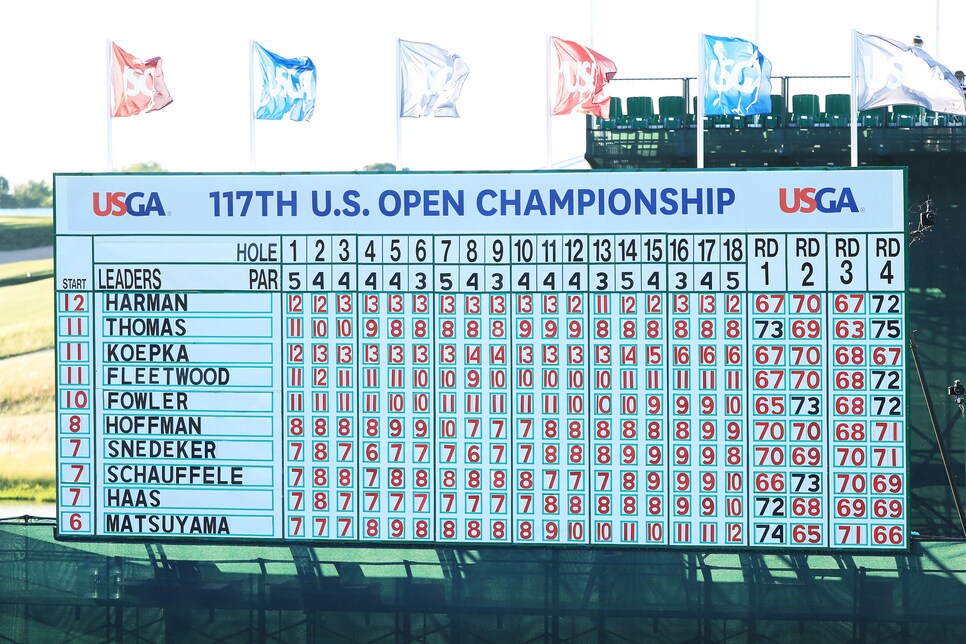 The PGA Tour doesn't have to adapt the USGA's setup philosophy. It also doesn't have to turn almost every week into a birdie-fest. There's a happy medium.
When a course produces a winning score of 20 under par—or lower—there is an absolute sameness to almost every hole, every day. For most players, it's driver off the tee/wedge approach, or something shorter and then perhaps an 8-iron. Miss the fairway? No problem, the second shot is usually short enough and the rough not quite so menacing that today's players can spin a shot close to the hole anyway. Bunkers? They're absolutely perfect; there's almost never a bad lie. How often have you heard the ex-players who carry microphones say as a player digs his feet into the sand "this is makeable"? How often do you see a player hit a bunker shot to five feet and shake his head in disgust? The answer to both is often.
If you penalize players for finding the rough or a bunker, if you make the hole locations more difficult, you force them to show-off more of their skills. A lot of PGA Tour events nowadays are putting contests: everyone hits greens in regulation; most everyone hits the par 5s in two.
That doesn't mean you have to make courses unfair; just make them more challenging. How about this for a new slogan: "Make birdies meaningful again."
Tougher course setups would actually favor better players as it would allow their talent to be put to better use and separate them from other golfers who only rely on power to carry them. In turn, you'd have the potential for more compelling tournaments for fans watching in the gallery and at home as players would have to find more strategic ways to close things out on a Sunday if par weren't the worst score they might shoot on the final few holes.
To be fair, there are certain tournaments on tour where low scores are inevitable unless you put windmills on the greens. The desert courses, where the conditions are usually perfect and the layouts have to be set up so that amateurs have a chance to compete, will always yield red numbers. So too are the three golf courses—including Pebble Beach—that are used during the AT&T Pro-Am. Again, note the word "Am."
On the other hand, Riviera (Genesis Open) and PGA National (Honda Classic) do challenge the players. Bubba Watson won going away at Riviera last February with a score of 272—12 under par. Justin Thomas and Luke List played off at PGA National at eight under.
Was that a bad thing? Players actually respect those courses and know that they'll be challenged there. Viewers get to see them work at times just to make par.
As the old saying goes: Variety is the spice of life—or, in this case, golf.
If you wonder why more courses aren't set up to challenge the players, that's easy: Neither the players nor the tour really want that. If the rough is an inch or two higher someplace or if the hole locations are a tad more difficult, the screaming begins. A few years ago at PGA National, the back-nine setup on Thursday was deemed so "unfair" that several players demanded that the rules official who had done the setup be fired.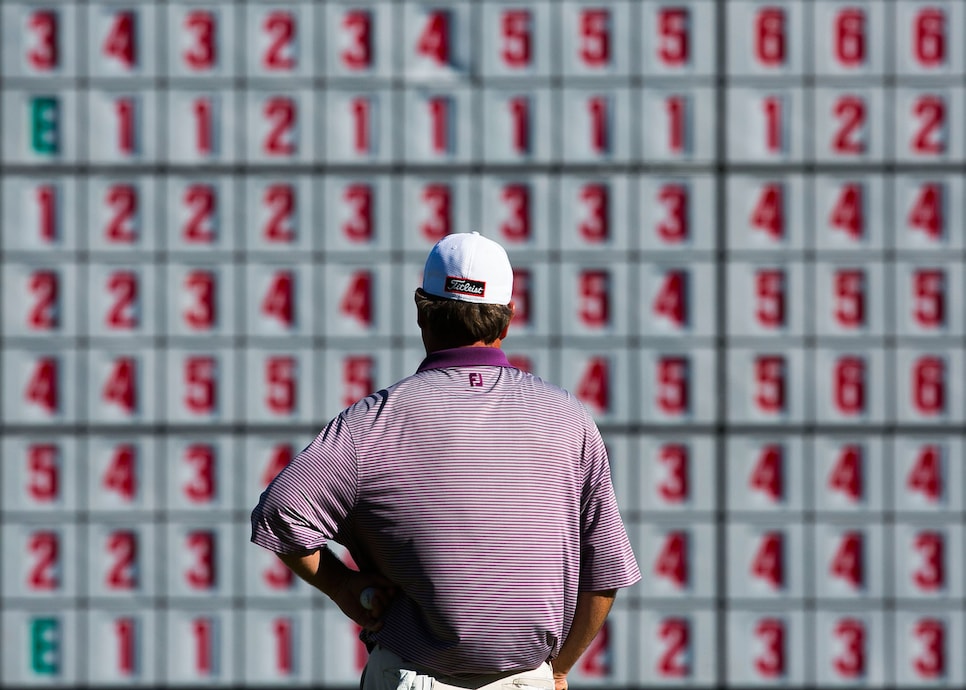 David Welker/Getty Images
The rules officials are smart guys, and they know their lives will have far fewer headaches if they set up the courses with few areas that are truly penal. They also know their bosses in Ponte Vedra love low scores. (Check out the scores on the PGA Tour Champions if you don't believe that; those golf courses are pretty much pitch-and-putt most weeks).
And, they also know if the course is more difficult, slow players become even slower and play grinds to a near-halt.
There is nothing wrong with letting TPC River Highlands outside Hartford—where Jim Furyk shot 58 a couple of years ago—be TPC River Highlands or letting Sedgfield in Greensboro be Sedgfield. But isn't it a little bit embarrassing when a major-championship venue like Aronimink produces a playoff at 20 under par as it did last month at the BMW Championship? Or when the Players Championship, supposedly the tour's crown jewel event, produces a winning score of 18 under par at TPC Sawgrass and an under par cut?
For all the complaining players do, they tend to show up at the tougher venues: Riviera, PGA National, Quail Hollow (Charlotte)—among a handful of others.
There would be one other added benefit to narrowing some fairways and growing a little more rough: It might help American players be better prepared for conditions like that when the Ryder Cup is played overseas.
The way the U.S. players reacted to the course setup at France's Le Golf National you might have thought they'd never seen a golf course where driving the ball in the fairway was important. Phil Mickelson shot 67-66 the last two days at Aronimink—then played in Paris as if he'd been forced to swing the club right-handed.
No one is saying even par should be the winning score every week—or anything close to it. But challenging the players to show all their skills more often would be good for everyone—no matter how long or loud the players complain. Eventually, they'd get over it.
We all know these guys are good. Let's give them a chance to prove just how good more often.