The Loop
See how J.J. Watt's social-media campaign is raising millions for Houston flood victims
Here's another example of the good that can come from social media. Though the devastation in Houston from Hurricane Harvey has been hard to watch, the power of the human spirit is alive with volunteers and law enforcement officers risking their lives to rescue others, and those pledging money and humanitarian efforts to help those in need.
Count J.J. Watt right near the top of those efforts.
In an organic social-media campaign that the Houston Texans star defensive lineman started on Sunday, the money has poured in. And what started as a goal of raising $200,000 keeps being upped. It has been really inspiring to watch. After Texans owner Bob McNair pledged $1 million, thousands of others have followed suit, continuing to push Watt's goal up, seemingly by the hour.
And it continues to grow -- now exceeding $5 million. Amazing.
Way to go, J.J. We'd expect nothing less from Watt pitching in for his city's fans. Golfers are also getting into the effort: Sergio Garcia has pledged to donate $2,000 for every birdie, and $5,000 for every eagle made during the FedEx Cup.
Others are doing their part, too. Turner Hosch, a junior golfer from Dallas, was inspired by the relief efforts in his home state, and tweeted a message to the AJGA to pledge to raise money for birdies made at this week's Junior Players at TPC Sawgrass.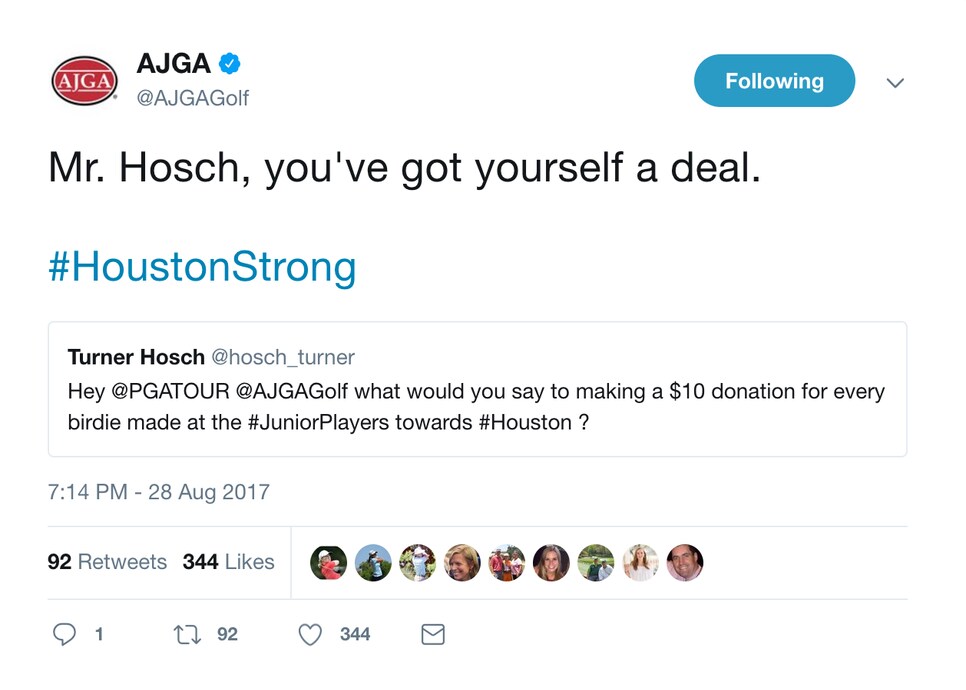 Disaster brings out the best in some people. And for Watt, Sergio, his wife, Hosch and the AJGA, that's certainly the case.
Let's hope those efforts continue to come along to help the people of Houston after Hurricane Harvey. As our John Strege reported, though golf is the least of concerns, the area's golf courses have had substantial damage from Harvey.