Golf Gangs
Sean Payton's golf 'breakfast club' at this exclusive course is one of the most star-studded you'll ever hear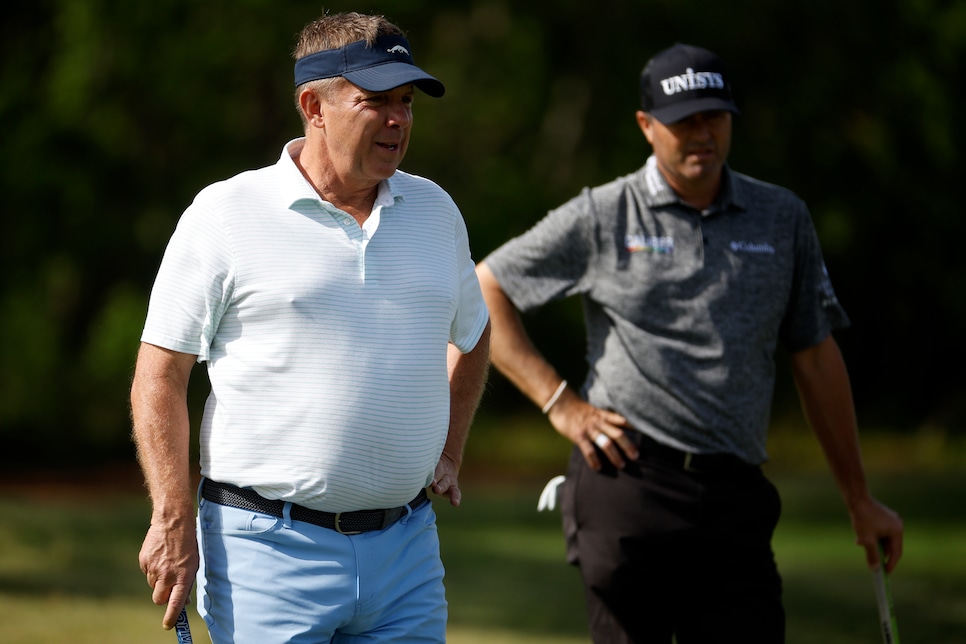 It's officially NFL Week 1, which means all eyes will be on ... well, literally every team in the NFL. Of course, there are always five or six squads who are under intense scrutiny right from the jump. The New York Jets, Detroit Lions and Dallas Cowboys instantly spring to mind for 2023, as do the Denver Broncos, who quickly became the laughinstock of the league last season thanks to the poor play of quarterback Russell Wilson and even worse coaching from the now-fired Nathaniel Hackett.
With the hiring of former New Orleans Saints head coach Sean Payton, big things are expected at Mile High this year. Showing a pulse would be an improvement on last year, but Payton, being an offensive guru, is expected to reignite the career of Wilson, a nine-time Pro Bowler. Naturally, the great Seth Wickersham of ESPN did an off-season profile on Payton that went live earlier this week, featuring all kinds of great nuggets, one of which was golf-related, immediately piquing our interest.
We were far more interested in Wickersham's reporting of Payton's golf "breakfast club," which sounds like the sickest golf group we could possibly dream of:
Each day at 8 a.m. he joins Wayne Gretzky, John Elway, Tampa Bay Lightning coach Jon Cooper, former MLB vet Pat Burrell, former NHL tough guy Kelly Chase and a few businessmen -- "Breakfast Club," they call themselves -- at a corner table, with a view of the valley. They eat eggs and toast, down coffee and divide into teams for the day, wagering thousands each round in prop bets, and prop bets on prop bets, minutiae only they understand, a band of competitive adrenaline junkies.
The Great One, the conductor of "The Drive," and a two-time Stanley Cup winning coach, Cooper, would be a star-studded enough foursome. To throw in former MLB'er Pat Burrell, who is the star of some of the more legendary internet folk tales you'll read about a former athlete, is just unfair. As for Kelly Chase, he's a guy like Burrell, who, you probably don't want to mess with. This crew must be an absolute scene on the golf course. Consider us extremely jealous. Idea: they should auction off a day to hang with the "Breakfast Club" and watch the offers fly in.