Wedding Crashers
Sean McVay says Odell Beckham Jr. has to re-sign with the Rams to make up for crashing his wedding over the weekend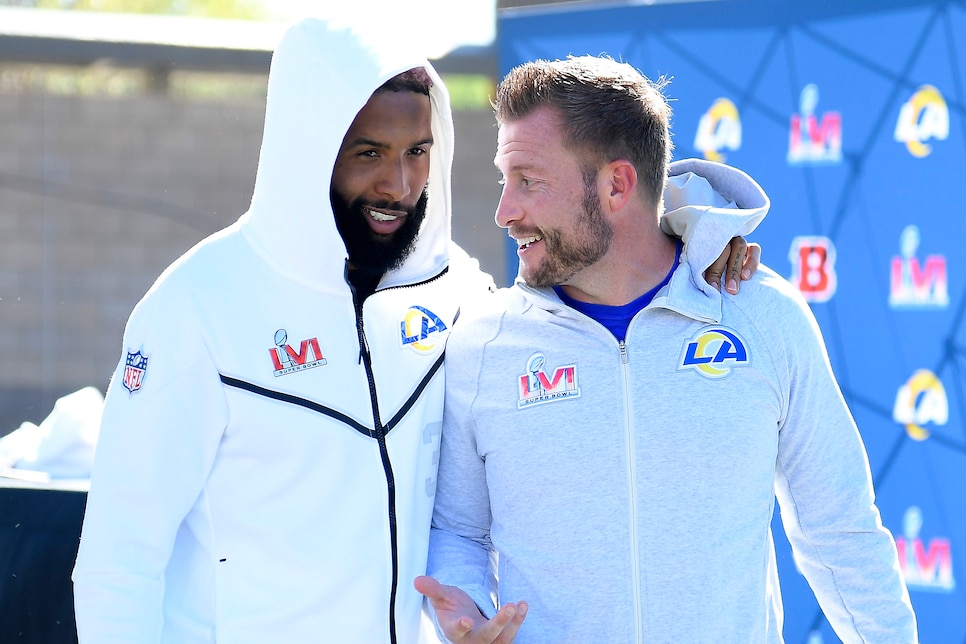 The big news out of Rams land on Monday was that Aaron Donald, after months of retirement rumors, signed a $95-million contract restructure that will make him the highest-paid non-QB in the NFL and keep him in La La Land through 2024. For the defending Super Bowl champions, it was a big sign of intent. They're not content until they win Super Bowls. Plural.
Now there's just one last piece of the offseason puzzle to place before Rams fans can start whispering the D-word, and that's the future of freelance wide receiver Odell Beckham Jr. The jury remains out on what will happen with Beckham Jr., but both parties seem to want to make it work. The issue, as always, is money. On Monday, however, Rams coach Sean McVay joined the 'I Am Athlete' podcast with some good news:
He now has some leverage.
Apparently Beckham Jr., who wasn't invited to McVay's wedding over the weekend, decided to show up to the classy Beverly Hills Hotel soiree anyway.
Typically that's a bit of a red flag, but the news got even better for the Rams, with McVay saying that Odell's surgically repaired ACL, which he tore during the Super Bowl back in February, "looked great" on the dance floor. We bet it did, coach. We bet it did.
Is a spontaneous evening dance and drink enough to bring Odell back to the bargaining table? Well, that depends on how good the shrimp cocktail was.