AT&T Pebble Beach Pro-Am
Seamus Power tames Spyglass Hill to take de facto lead though he trails by one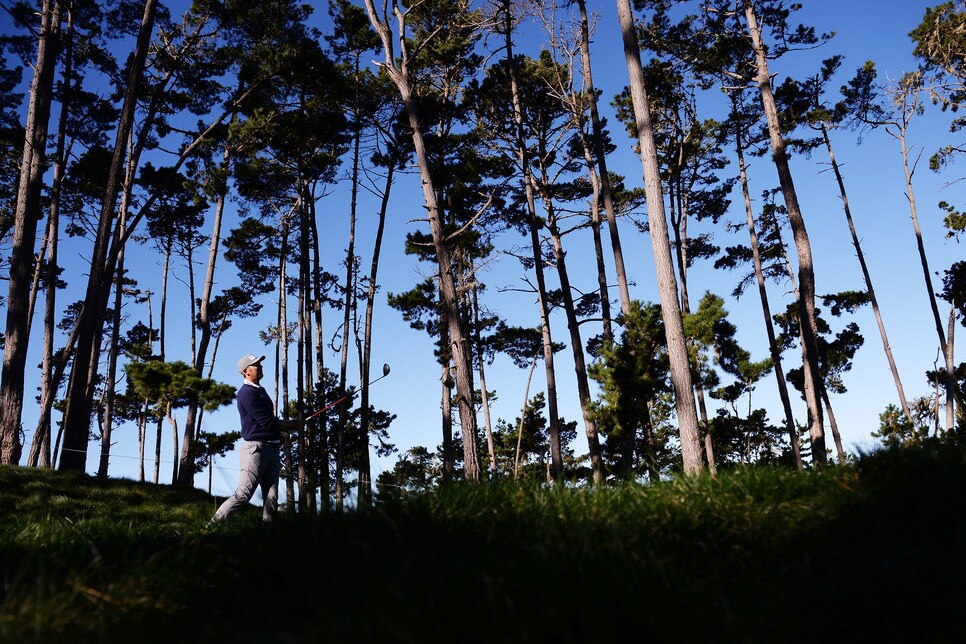 PEBBLE BEACH — In track and field parlance, Seamus Power is running in the inside lane after his eight-under-par 64 Thursday in the AT&T Pebble Beach Pro-Am.
Power trails only Tom Hoge, who birdied six of his last seven holes for a 63 at Pebble Beach. The thing is, Power played Spyglass Hill, the least forgiving of the three courses in the tournament rotation, and he did it without a bogey. His score, amid ideal (some would say amazing) conditions on the Monterey Peninsula—sunshine and little wind—was three strokes better than Tyler Duncan, the player with the next best score at Spyglass.
"I know this place always plays the hardest," Power said, undoubtedly liking his position.
World No. 4 Patrick Cantlay, a California native who shot six-under 65 at Monterey Peninsula Country Club's Shore Course, wouldn't disagree. "Spyglass is ... the greens are so undulating that you really have to leave your golf ball in the right spot," Cantlay, who finished T-3 here last year, said. "And there's a few hole locations that you really have to know exactly what you're doing. And it's lucky we don't play four rounds at that place because I don't know if there's four hole locations on every green."
Power had no trouble, however. "I've always really enjoyed playing Spyglass; it kind of suits my eye, and game feels in good shape."
It certainly helped that the 34-year-old Irish golfer birdied his final four holes of the day as he closed out his round on the front nine. It surprised him … well, a little.
"Yeah, it was a great finish because I was … it's a funny old golf course," he said. "I hit a horrible tee shot on the par-3 fifth, had a very good up-and-down to kind of stay at 4 [under] and then just kind of clicked coming in, really, made a couple of very nice putts and a couple of very nice shots.
"I mean six is obviously … six was a steal. I hit it in the left bunker and hit a decent bunker shot on to about 25 feet and rolled that in. Kind of set me up for the last three."
Then again, it shouldn't surprise anyone else that Power is in the hunt. He has been on a solid roll since mid-May, finishing 13 times in the top 25 since then, including his first PGA Tour title at the Barbasol Championship. He has three finishes in the top 15 this year, including T-3 at the Sony Open in Hawaii.
Clearly, Power has found some consistency, always one of the most sought-after attributes for any professional. Not that he was taking anything for granted.
"Yeah, it's always funny with the three courses. Obviously, it's great to have a good start but you're on to a completely different challenge," he hedged. "Tomorrow I'm playing Pebble at 8:40 [a.m. PST] and it's going to be a completely different course to today. So, kind of makes it easier to reset and so hopefully we can kind of keep doing the same thing tomorrow."
But don't be surprised if he can keep it going. His recent form suggests more of the same. Then there is his pairing. Power was joined by fellow Irishman John Murphy, who is making his tour debut. The Kinsale native, who just wrapped up his career at the University of Louisville and was 25th on the PGA Tour U. Ranking, is playing on a sponsor's exemption.
"It was such an enjoyable round," he said, which goes without saying when you make eight birdies and keep the card clean. "Like John, it was very cool, John's very first PGA Tour event, that was cool. And then our partners … we had a great time. And then we had a bunch of Irish people following us, so it really was fun. Just kind of talk about stories and stuff from back home also makes you just feel a little more at ease.
Now in his fourth season on tour and 12th year as a professional, Power seems fully at ease.