AT&T Pebble Beach Pro-Am
Eleven minutes, two PGA Tour sponsor's invitations and one strong first round for Austin Eckroat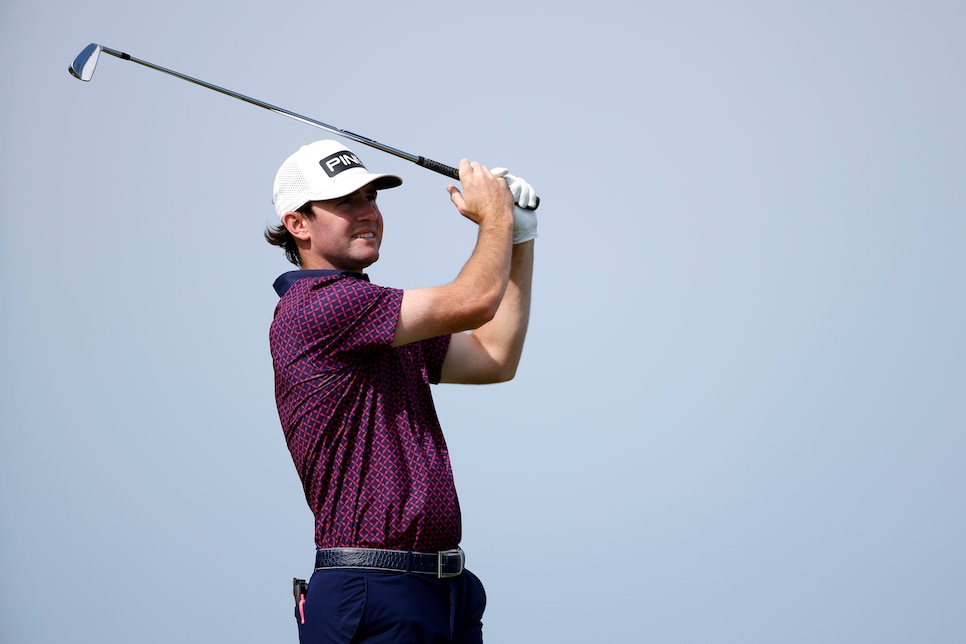 PEBBLE BEACH — Just how much can your life change in 11 minutes?
If you're Austin Eckroat, the answer is somewhere between quite a lot and are-you-freaking-kidding-me?
The four-time All-American at Oklahoma State began 2022 with Korn Ferry Tour status after finishing third on the PGA Tour University Ranking in 2021 and made one start in the Bahamas, where he missed the cut. Then 10 days ago his cell phone rang, and, well, things got very interesting. We'll step aside here for his take.
"It was Monday of last week. And I got an e-mail from the tournament director in San Diego, Marty Gorsich [at the Farmers Insurance Open] and I got an exemption into that week," Eckroat said. "So, then I get a phone call from California, and I was just thinking it was Marty Gorsich. And I go to answer and it's like, 'Steve John here with the AT&T Invitational.' And I was super excited, it was almost an overload of emotions because I had, in 11 minutes I had gotten two exemptions and I was just very excited. Happy to be here."
Austin is 23 and playing in just his eighth PGA Tour event as a pro, so, yes, he's excited and can be excused for struggling to recite the official name of a tournament. (And he's not even the first to do that this year, right Akshay Bhatia?)
Eckroat is among the 156 players in this week's field at the AT&T Pebble Beach Pro-Am—at least he got the sponsor right—and he probably is even more excited to be on the Monterey Peninsula after converting birdies on his first five holes and eventually carding a five-under 66 Thursday at the Shore Course at Monterey Peninsula Country Club.
Though he doesn't have much tour experience, Eckroat has played rather nicely when given opportunities. As an amateur, he finished T-12 at the 2020 Mayakoba Golf Classic, and in his third pro start at the 3M Open, he was T-16. In the fall, there was another decent finish at the Butterfield Bermuda Championship, where he ended up T-22.
Not a bad start for the Edmond, Okla., native, who was a key member of the Oklahoma State team that won the 2018 NCAA Championship, a team that featured Viktor Hovland and Matthew Wolff—both tour winners—and Kris Ventura, another tour member.
Eckroat qualified for the 2019 U.S. Open at Pebble Beach, where he missed the cut, so he has familiarity with the anchor layout. But he'd played just one practice round on the Shore Course, so he wasn't expecting much. But much came early, as he actually birdied six of his first seven holes and for some time had a share of the lead.
"Yeah, you kind of get three par 5s early on that back nine, and I was putting well and birdied the par 5s. And then I knocked in a long one on 11, the par 3," he said. "The golf game was good and [I was] making putts and hitting good shots, so it was easy."
Eckroat lived for a time last year with Hovland in Stillwater but moved out of Hovland's house just before he made his tour debut at the Travelers Championship. He picked the brain of the former U.S. Amateur champion quite a bit while they were housemates, and Hovland definitely is someone to listen to, seeing how the Norwegian has risen to third in the world.
"Viktor kicked me out," Eckroat joked during a PGATour.com interview at the Travelers. Like Hovland, Eckroat appears to have an ebullient disposition—and some game. He missed the cut at Torrey Pines last week, but he has bounced back and sits in a tie for seventh as he moves to Spyglass Hill on Friday, a start he called, "huge."
"You got to score out here. You can see that in the past," Eckroat said. "I only got the one practice round, and I was just thinking if you get off to a good start out here and survive Spyglass and then go tear up Pebble again, that's kind of how it seems like it goes. So just looking forward to the week.
Eleven minutes, boys and girls. Eleven minutes. Opportunity knocks. Or rings your cell phone. And you have to be ready to answer.