Data Science
The Numbers Game: After Presidents Cup win, Team USA's secret weapon is ready for the 2023 Ryder Cup
The data gurus at Scouts Consulting continue to take the guess work out of team match play (but they'll never admit it)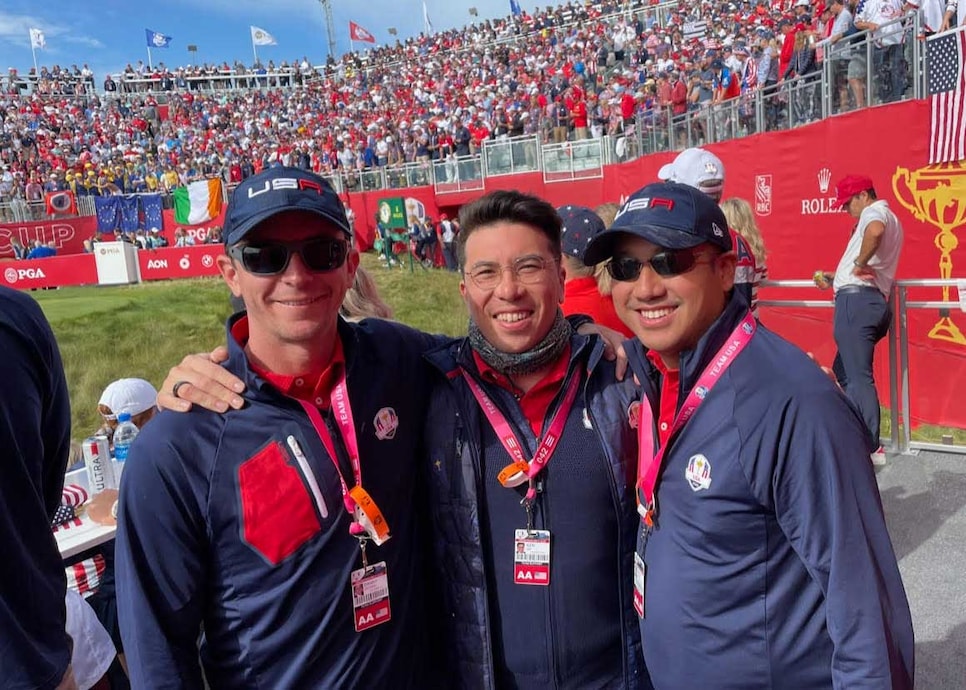 "Whatever they did, they did a hell of a job, and they need to keep those stats guys on board."
—Harris English, Fore the People podcast, on Scouts Consulting
The first thing that anyone who works at Scouts Consulting will tell you is that they're overrated. They don't matter, the media makes too much of them, and in fact, now that you mention it, they might not even exist. The second thing they'll tell you is …
Well, there is no second thing, because when you ask about the secret sauce that informs their statistical and non-quantitative analysis, and how it helped Team USA win two of the last three Ryder Cups and last week's Presidents Cup at Quail Hollow, you might as well knock on the front doors at CIA headquarters in Langley and ask to spend a few hours with their files. And frankly, why would you want to know? They're nobody! Sure, maybe the minute they finish chatting with you, you'll spot them in deep conversation on a golf cart with Davis Love III, who called them "invaluable." And, sure, maybe they've gotten closer to the team in an actual physical sense every time they've worked a new event since the first in 2016. And, sure, maybe they'll be an integral part of Team USA's strategy as they try to win a Ryder Cup in Europe next fall for the first time since 1993. But come on, go easy, move along: There's nothing to see here.
What can be confounding, when trying to write about them and butting up against the information barriers, is how nice they are. I was first introduced to Jason Aquino, the founder of Scouts Consulting (top photo, right), before the Ryder Cup last fall, and while he was happy to talk, he wanted it to be after the Ryder Cup. When I spoke with his lieutenants Ken Jee (top photo, middle) and Larry Heymont at Quail Hollow, there was a similar request: Sure, write about us, but please don't publish until after the Presidents Cup.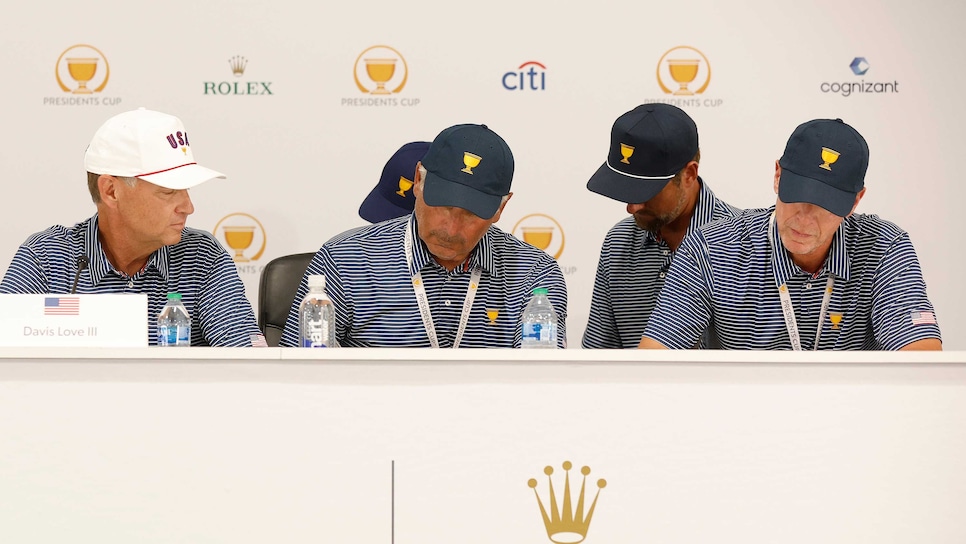 Davis Love III and his assistant captains relied on Scouts Consulting data to help come up with the lineups they used during the 2022 Presidents Cup.
Jared C. Tilton
Long before he worked with the American team, Aquino was a Ryder Cup junkie who would burn out VHS tapes watching re-runs not just of old Ryder Cups, but post-match interviews and analysis on the Golf Channel. He's the kind of guy who can tell you in detail about the 17th hole in a match at Valderrama in 1997 featuring Ignacio Garrido and Jesper Parnevik, but he actually became so obsessed with the Ryder Cup—and so frustrated with American failure—that it started eating at his free time and forced himself to kick the habit. He graduated from Georgetown and became a military analyst consulting with the Department of Defense on long-strange strategy projects, in particular the future of warfare.
In other words, Aquino was an insatiable Ryder Cup fanatic with a deep desire for America to turn its fortunes around, he spent the first part of his career in long-term military strategy, and he's the kind of guy who will drop a sentence like "what are sports but warfare by other means?" If there's a more perfect formula for someone who would become an important tactical mind behind the U.S. Ryder Cup resurgence—a characterization that will either frustrate or infuriate him, I'm sure—it would be hard to imagine. A career change coincided nicely with the Ryder Cup task force that came about after the Gleneagles disaster in 2014, and when the PGA of America officials went looking for their own analysts—at the behest of Phil Mickelson, among others—they met with Aquino that year at a Cracker Barrel outside Baltimore. A 20-month try-out ensued, and in the end Scouts Consulting was chosen over two other companies.
In 2016, at Hazeltine National, they were placed in what Jee remembers as a catering office with American Gladiators posters on the walls, and communicated mostly by texts and emails. In Paris, they were closer to captain Jim Furyk, and at Whistling Straits and Quail Hollow, they were in the thick of the action in Team USA headquarters. As they've gained the trust of the American captains and players, their own analysis also has become more sophisticated. The Scouts team now consists of Aquino, Jee (head of data science, who played college golf at Towson), Heymont (head of strategy, who used to work at the PGA of America and played at Cornell) and Danny Hathway (head of analytics, played at Georgetown; top photo left). They will continue to work with the Americans over the next year as they face their greatest challenge yet: actually winning a Ryder Cup on European soil.
So what do they actually do?
In a broad sense, they assist the captains with everything from match pairings to personality questionnaires to course set-up to overall strategy to you-name-it. They're on hand if historical questions come up (how many rookies have been captain's picks, and how did they do?), and if a captain has an idea that he wants to vet with the numbers, Scouts are at his service. Critical to all of this are their "models," which are weighted specifically to evaluate various statistical inputs and churn out optimal strategies. If that sounds like a simplistic explanation, well, it is; as Jee himself told me, while we walked around Quail Hollow and I asked about the evolution model, and how the weights have changed (i.e., what elements, from recent play to course fit to specific skills matter the most), "it would be unbelievably difficult for me to articulate in what I believe to be a safe way." In other words, even if he let me peek behind the curtain—which he wouldn't—I wouldn't understand what I was seeing.
Still, you can start to get a sense of the complexity by asking yourself basic questions about, say, lineup formation. Pretend you're the American captain, and in the foursomes (alternate shot) session, you want to play Sam Burns and Scottie Scheffler together. The first thing you might look at is which player should tee off on the odd and even holes. Maybe one is better on par 3s, and it just so happens that all the par 3s are even holes (as was the case at Quail Hollow). Or maybe one has an approach-game vulnerability from certain yardages that would rear its head based on the other player's drives on odd holes, but not even. Maybe one of them is a better putter, and the way things shake out, the player who tees off on odd holes will be taking the first putt on 12 of 18 holes (again, as was the case at Quail Hollow). In a Ryder Cup, maybe they could even suggest spots on the course where the rough should be cut down (or grown out, to count for opponents' tendencies). But wait—how does pairing Scheffler and Burns affect the rest of the pairings for that session? Will the ripple effects compromise the captain's options in statistical or extra-statistical ways? What about the rest of the weekend? How might it fit the plan or throw everything out of whack? And where in the lineup should they be playing, to give them the best potential advantage considering the opponents' tendencies? Oh, and what balls do each of them play, and assuming it's an acceptable match, does it also jive when you factor in the other pairings? And how would the expected wind affect it?
Scouts accounts for all of it.
"On alternate shot, we would just think about who hit on odd and even holes, or who drives on par 5s," Davis Love III told me. "But they were breaking it all the way down to whether the hole was dogleg left or right, who hits the best wedges from certain distances. It's Moneyball. They're helping us with situations that we would never even dream."
In fact, it likely helped Scouts that Moneyball was prominent in pop culture just as they were emerging on the scene. Love's comparison is apt, because like Billy Beane in baseball, part of Aquino's mission is what Jee called "shattering heuristics"—the old prevailing stereotypes.
"We try to avoid stereotypes," Aquino wrote in an email, "which can unfairly typecast a player and keep us from seeing everything he brings to the table. Every player is unique and pairs with each teammate in unique ways. When we look at this player with that partner on this golf course in this format, we often find partnerships or strategies that buck the conventional wisdom."
Their analysis has to be holistic in the truest sense of the word—the big picture is the Cup itself, and earning the requisite points to win. The scenario presented above is, frankly, just the tip of the iceberg, but Scouts has created the models to answer these questions. It's a difficult feat, particularly in team match-play events, which only happen once per year and are the very definition of a small sample size from which it's hard to draw ironclad conclusions. But the models adapt to new information, Aquino spends time trying to learn the tendencies of his opponents' models (the last two European Ryder Cup teams and the 2019 Presidents Cup team used the U.K.'s Twenty First Group, while at Quail Hollow, Trevor Immelman employed a group that included Duncan Carey, formerly of the Twenty First Group, Dylan Beirne and my sometime-collaborator and strokes-gained guru Mark Broadie). All of it supplements the decisions made by the captains.
On that front, while it's true that their humility stems in part from not wanting to be seen as taking credit from the captains and players, it's also true when they say that these elite players and former players bring a level of knowledge that can defy easy statistical analysis. Steve Stricker, for instance, told me that the pairing of Collin Morikawa and Dustin Johnson that went 4-0 at the last Ryder Cup was actually not a favorite of the Scouts model. In these moments, Aquino credits the captains with a "coup d'oeil"—the ability, in a sense, to see with a glance something that mountains of research might miss. (Though he stressed to me that Scouts also suspected the models may be underrating the partnership for various reasons.)
"On alternate shot, we would just think about who hit on odd and even holes, or who drives on par 5s. But they were breaking it all the way down to whether the hole was dogleg left or right, who hits the best wedges from certain distances. It's Moneyball. They're helping us with situations that we would never even dream."
—Davis Love III on Scouts Consulting
In every case, a big part of their job is presenting conclusions in ways that are coherent and digestible; taking a hyper-complex model and distilling it in ways that make sense to professional athletes. They're also incredibly strict about their interactions and have rules in place like "no pictures with players or captains." This helps them maintain a professional distance, but also to avoid falling into a relationship trap where they might be tempted to tell someone what they want to hear.
The trouble for a journalist like me is that they won't tell me their success stories, due to both their zealous modesty and reluctance to give out any information that could be used by an opponent to gain some insight or advantage. You have to trust the praise of men like Love and Stricker, and trust the results. In fact, often the best information about Scouts comes not from them, but from the captains and players.
"I guess they used a bunch of old pairings of how the European side did it," remembered Harris English, speaking about Sunday singles at Whistling Straits on the "Fore the People" podcast. "They probably knew Rory or Sergio would go out first, Rahm would go out three or four, because that's what they did the previous time when he played Tiger … and they were gunning for matching Scottie Scheffler up with Rahm, because they knew he had beaten him at Austin in the Match Play, they knew he was kind of his kryptonite … they kinda knew what the European side was going to do, and we were lining up step for step."
"When the models line up with what [the captains] see, that's when you see some of these great sessions, these unbelievable wins by the largest margins ever," Jee said. Everyone at Scouts emphasizes that the great part of their relationship with captains like Stricker and Love is that each side can raise critical questions and not only is it not taken as a personal challenge but both sides are eager to consider new ideas. And the Scouts crew aren't slaves to the numbers; their analysis digs even deeper than stats, and they are true believers in the coup d'oeil. Their respect for the players' perspective is part of why the relationship works so well.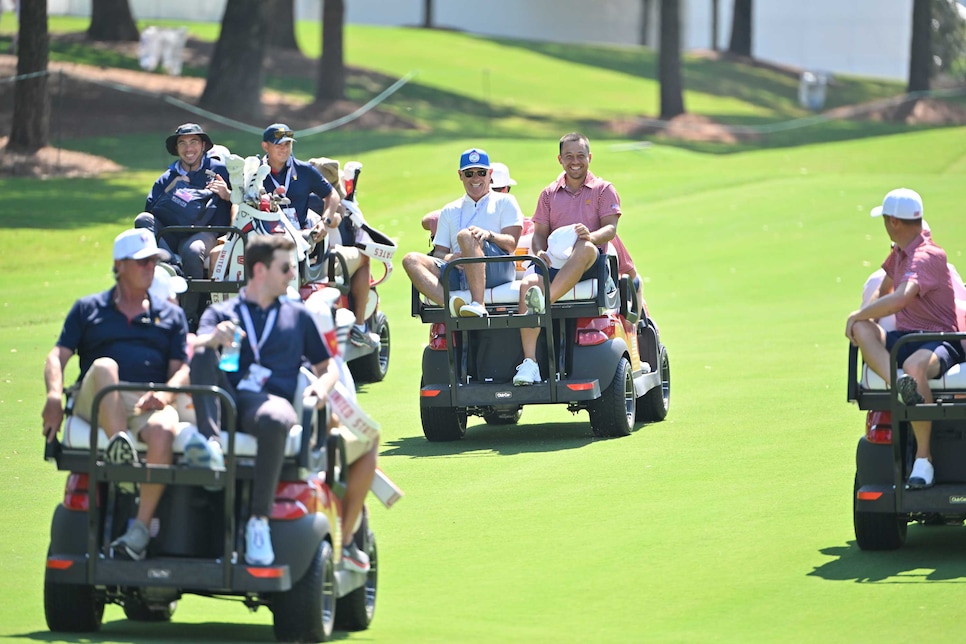 Scouts team members Ken Jee (left seat, upper left cart) and Larry Heymont (right seat, lower left cart) enjoyed being along for the ride at Quail Hollow.
Ben Jared
When we spoke on Friday at the Presidents Cup, the Americans were on the verge of taking an 8-2 lead. I pumped them for even small bits of information—Which groups were their suggestions, if any? ("The ones you'd expect are probably pretty good," Jee said.) Are there game-theory exercises to plan out the various permutations when it comes time to pick the pairings? ("I don't think I can answer that question.")
When we said goodbye, they went to find Love, and were riding beside him in the cart the next time I saw them.
They had warned me during our conversation that no matter how well the planning went, no matter what advantages America had, these events could always be lost due to sheer randomness on a bad week. It seemed unlikely to me, but then the Internationals struck back on Saturday, and on Sunday, at least for a moment, it looked like they had a chance to pull off a stunner.
In the end, though, the score line told the story of a relatively straightforward American victory. After the dark years of the mid-2000s, that story is becoming more common, and if they can pull off the impossible feat and finally win the Ryder Cup again in Europe next September, it will be time to start thinking of the U.S. as a team match-play juggernaut. In the meantime, the accumulating successes owe a lot to changes instituted by the task force, and more than you might think to Scouts Consulting.
Just don't let them hear you say it.