The Grind
Scottie Scheffler and Sam Burns' bromance gets tested, an all-time Jordan Spieth-Michael Greller moment, and the biggest Cinderella story in sports
Welcome to another edition of The Grind, where we still can't get our left ear unclogged after going to the pool for the first time this year. I've had some ear wax issues in the past and the water just made it worse. Huh? What's that? Too much information? Sorry, I can't hear you. Anyway, here's what else has us talking after a fun Memorial Day weekend.
Sam Burns: Talk about the floodgates opening, what a season this guy is having. After finally grabbing his first PGA Tour title last May, Burns has now won three more times, including on Sunday at Colonial, where he took down the reigning King of the floodgates opening, Scottie Scheffler. And Burns did it in a playoff after a two- hour wait that included a gym session. "Just one of those things where you don't know if you're going to get the opportunity, but when coach calls your name, you've got to be ready to play, and I think we did a really good job of being ready." He sure did:
The guy has a real knack for making bombs in playoffs. For winning the Charles Schwab Challenge, the 25-year-old also got a pretty dope car to ride off into the sunset with:
And apparently he drove that bad boy right to a Buc-ee's to celebrate:
You could really do some damage there with $1.6 million. Anyway, Burns is back into the top 10 of the Official World Golf Ranking with his fourth career win. What a stud. Speaking of studs . . .
Gordon Sargent: How about this Vanderbilt freshman who won the NCAA individual title? Gordon really turned heads on the final hole of regulation with a booming drive that registered 194 mph ball speed.
Crazy. Remember a few years ago when we were told then Texas A&M prospect Cameron Champ was a unicorn with speeds like that? Well, not anymore. These powerful young guns are coming. And they're coming fast.
Steven Alker: This is truly the most remarkable golf story of the past year. Heck, I'd go as far as to say it's the biggest Cinderealla story going in all of sports. But it's gone largely under the radar because Steven Alker plays on the PGA Tour Champions, and, well, he's Steven Alker. Hardly anyone had even heard of this journeyman from New Zealand when he Monday qualified for his first senior event last summer after turning 50, but since then he's become the tour's dominant force with four wins in 19 starts, including three in his last five after capturing a first major at the Senior PGA Championship.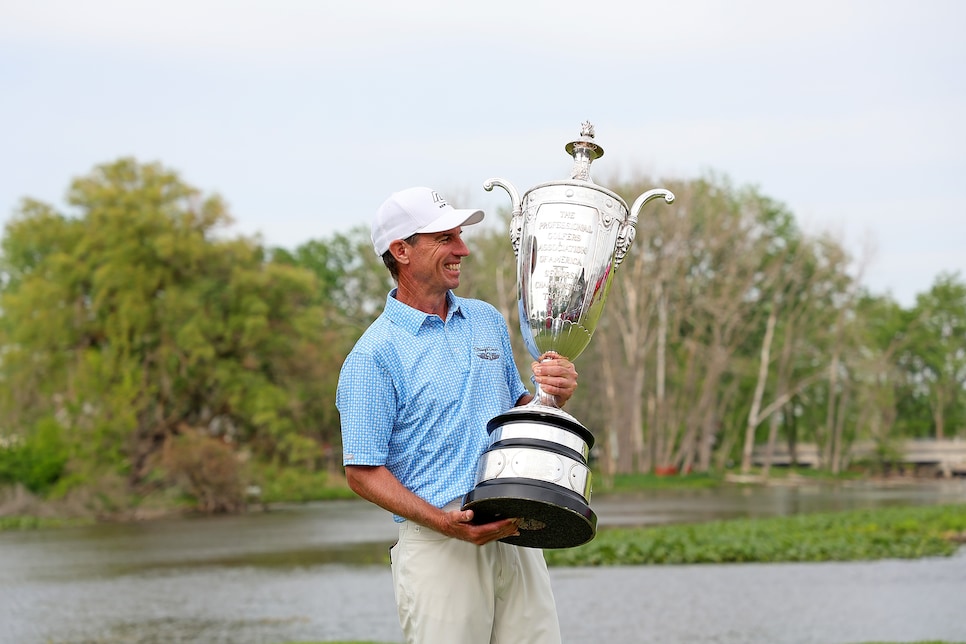 How is this possible for a guy who had zero top-10s and 47 missed cuts in 80 career PGA Tour starts? "Just perseverance," Alker said. "That's all I can say. Just perseverance with a capital P." Better late than never, huh? Seriously, they should make a movie about this guy.
This house: Check out this golf pad that's basically one giant enclosed mini-golf course (start with the second photo):
You want to improve your putting? But this place. Who needs a dining room these days anyway?
Harold Varner III's back nine: HV3 is one of the easiest guys to root for in sports, and we really, really hope that first PGA Tour title comes. Heck, he could be another floodgates guy considering his other victories in Australia and Saudi Arabia. But there's no sugar coating the fact that this was one of the biggest back-nine meltdowns in history.
After taking a share of the lead (and that can't be a coincidence) with pars on 10 and 11, Varner went triple bogey, double bogey, triple bogey on his next three holes. He added one more double bogey at No. 18 to shoot a back-nine 45 and not even finish in the top 25. Yikes. Let's just say he's lucky Johnny Miller wasn't on the call.
Ryan Fox's final hole: Of regulation, that is. The New Zealander was a -5000 live "lock" at sports books when arriving at the par-5 18th at the Dutch Open with a three-stroke lead, but a disastrous double bogey (and a later birdie by Victor Perez) put him in a playoff with Perez that Fox ultimately lost. Ouch. Although, not as ouch as the pain anyone who actually bet on him in that spot is feeling.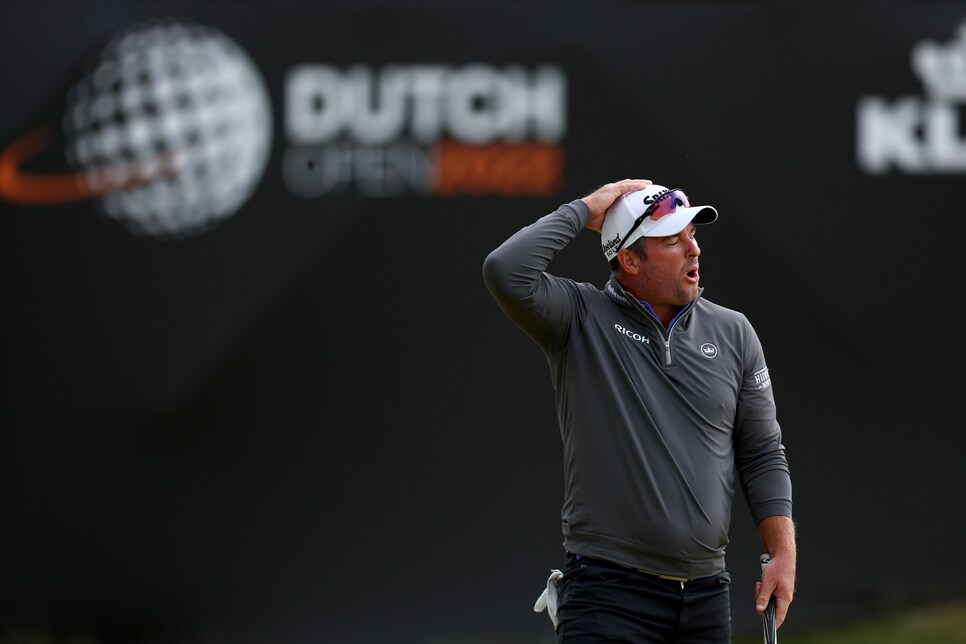 Also, we should mention that we're buying Perez's putting as the Frenchman made four bombs over the final six holes, including the final nail in Fox's tournament coffin on the fourth extra hole. So, again, a LOT had to happen for Fox not to win this thing. Of course, that's golf, folks.
This pin placement: Many years ago, I set up a Google news alert for stories involving golf crime. Well, this didn't show up in one of those alerts (I can't figure out how to turn them off), but it should have. Because this pin placement at an Iowa high school state championship is a straight up golf crime. Have a look:
Those poor girls had no chance. Just sick, sick stuff. Whoever is responsible should do jail time.
Scottie Scheffler: The guy hadn't made a bogey all week at Colonial until his 53rd hole. He then blew a two-shot lead on Sunday while making two. What a bum! Of course, we're kidding. The World No. 1 showed that he's human over the weekend, but he's still clearly the World No. 1. And how about that hustle to make it to his sister-in-law's wedding?
I just hope he didn't miss the cocktail hour.
The PGA Tour heads to Muirfield Village for the Memorial, AKA Jack's Tournament, AKA that tournament where players post pics of their milkshakes all week. If I could choose any tournament to attend that I haven't been to, it would be this one. And yes, that's solely based on said milkshakes. But wait, there's more! The U.S. Women's Open is at Pine Needles, a course I was lucky enough to play a couple years ago. What a great spot. I can't wait to watch both—preferably with an inferior milkshake in hand.
Random tournament fact: Technically, Patrick Cantlay is the defending champ at Muirfield Village, but we all know Jon Rahm would have won if he hadn't tested positive for COVID. And since Rahm won by three shots the year before, well, yeah, he's the guy to beat. "The way I played there the last two years it should be at least six," Rahm joked of a potential staggered leaderboard this week like the PGA Tour uses for the Tour Championship. "Maybe more." No argument here, Jon.
RANDOM PROP BETS OF THE WEEK
—There will be a pin placement like that HS tournament at the Memorial: 1 MILLION-to-1 odds
—There will be a pin placement like that at the U.S. Women's Open: 10-to-1 odds
—If the 54-hole leader tests positive for COVID, he won't be told on live TV: LOCK
Indeed, you do, JT. And cheers to you for even playing at Colonial.
This might be the all-time best video of Jordan Spieth interacting with caddie Michael Greller—and that's saying something:
Greller trying to call him off a crazy shot. Jordan persisting. Michael apologizing to give his guy confidence. Jordan pulling off an insane Jordan shot. Just an instant classic.
THIS WEEK IN PUBLIC DISPLAYS OF AFFECTION
First, there was your standard WAG PDA between Sam Burns and his wife, Caroline:
Good stuff. But then we got Burns gushing about his good friend Scheffler: "Yeah, we're probably best friends. But at the same time I can assure you, he wanted to beat me more than anybody else and I wanted to beat him more than anybody else, and it just happened to be the two of us at the end. Yeah, it's going to be a fun story that we'll get to have for the rest of our careers, and fortunately I got the better end of it this time, but hopefully we're at the beginning of these situations in the future."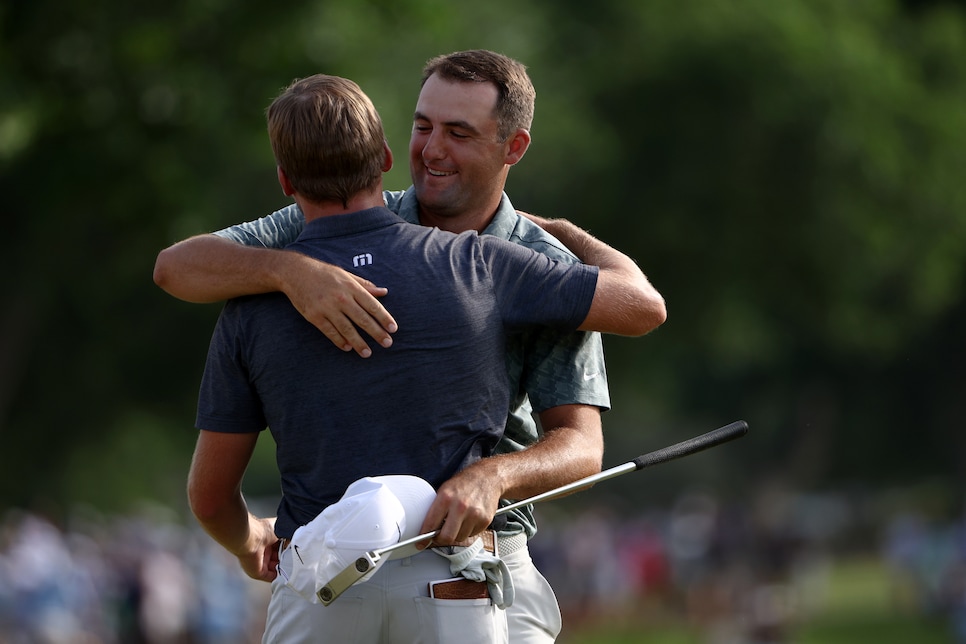 And Scheffler responding: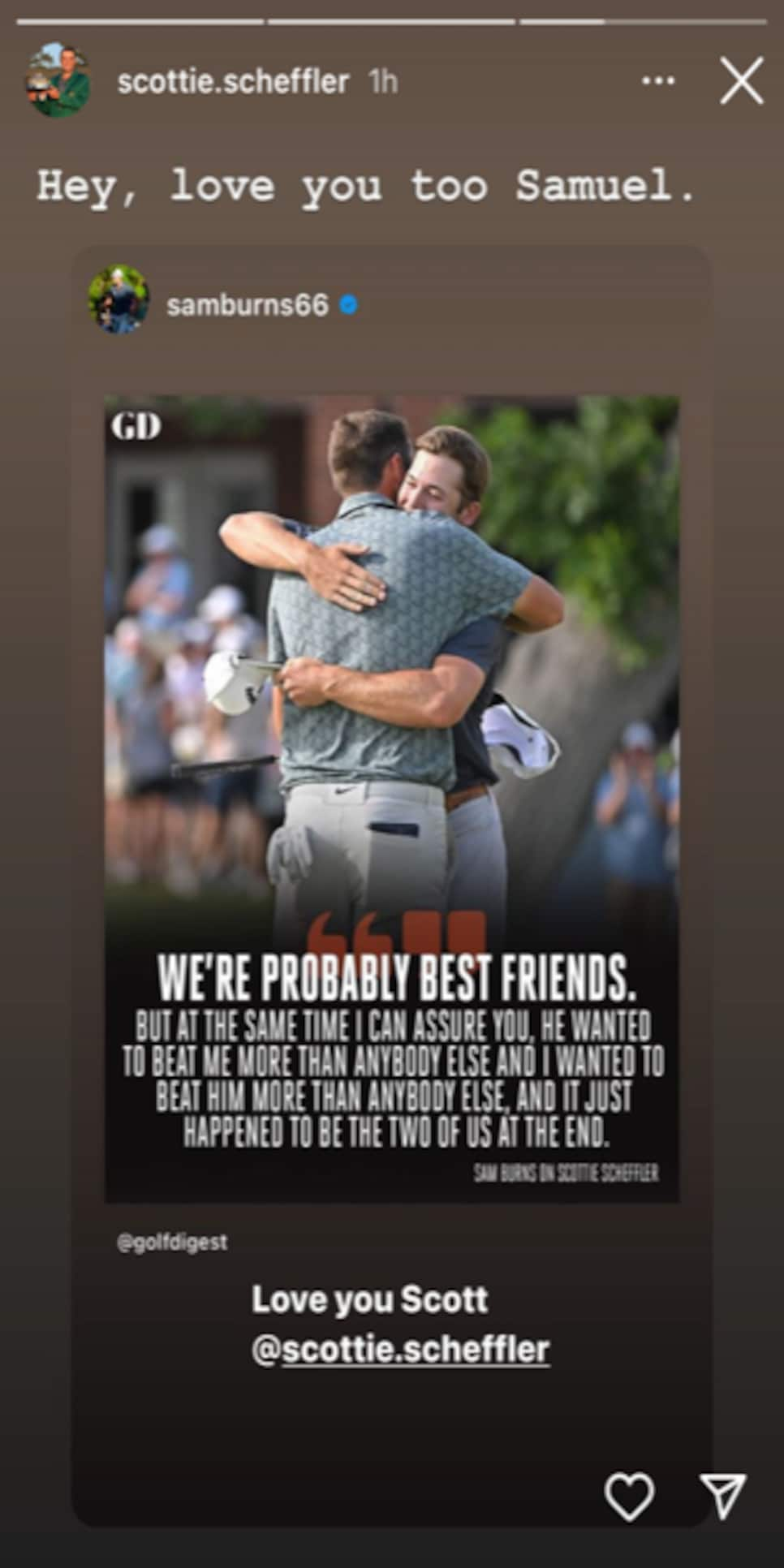 Awww. Nothing—not even that sweet Firebird Trans Am—can get between these guys.
"It would have been more fun if we had to do it for 18 holes. I kind of joked with him at the end, he ruined all the fun making a 40-footer." —Scottie Scheffler on his BFF.
Congrats to Eun-hee Ji on winning the Bank of Hope LPGA Match Play to earn the final spot into this week's U.S. Women's Open. Unfortunately for that event at Shadow Creek, it seems most of the LPGA's stars took the week off to prepare for Pine Needles. … Congrats to Austin Johnson, Dustin Johnson's brother and caddie, for making a birthday hole-in-one. One could argue that AJ is having a better year than DJ on the course. … And finally, inflation is really hitting me where it hurts most: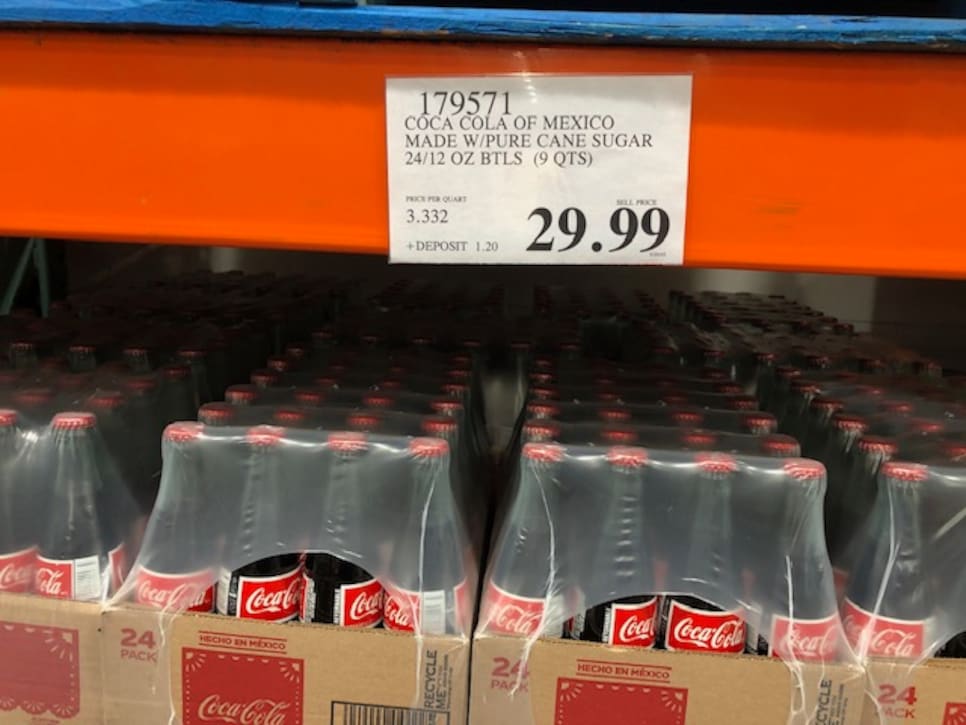 A buck and a quarter for a bottle of Coke?! I'm old enough to remember when you could buy one for a dime at the local drugstore. OK, not really, but man, things have gotten pricey the past couple years.
RANDOM QUESTIONS TO PONDER
How much will a bottle of Coke cost when I'm 80?
When will LIV Golf announce who's playing?
When will my left ear unclog?