The Grind
Scottie Scheffler's cool full-circle moment, the LPGA's next big thing, and tour pros getting super sensitive on Twitter
Welcome to another edition of The Grind where we are feeling a bit sluggish thanks to Will Smith. I was being a good boy on Sunday night, getting in bed by 10 to rest up for the week when I saw the first tweet about the slap heard 'round the world. After a few more, the wife and I were obligated to turn the TV on and watch the Oscars to its conclusion even though we hadn't seen one of the 10 nominees for Best Picture (We have seen three of the five nominees for animated feature—Go Encanto!). And people think basketball games drag on at the end. Anyway, from then it was an even later night of perusing all the brilliant memes. Like this one.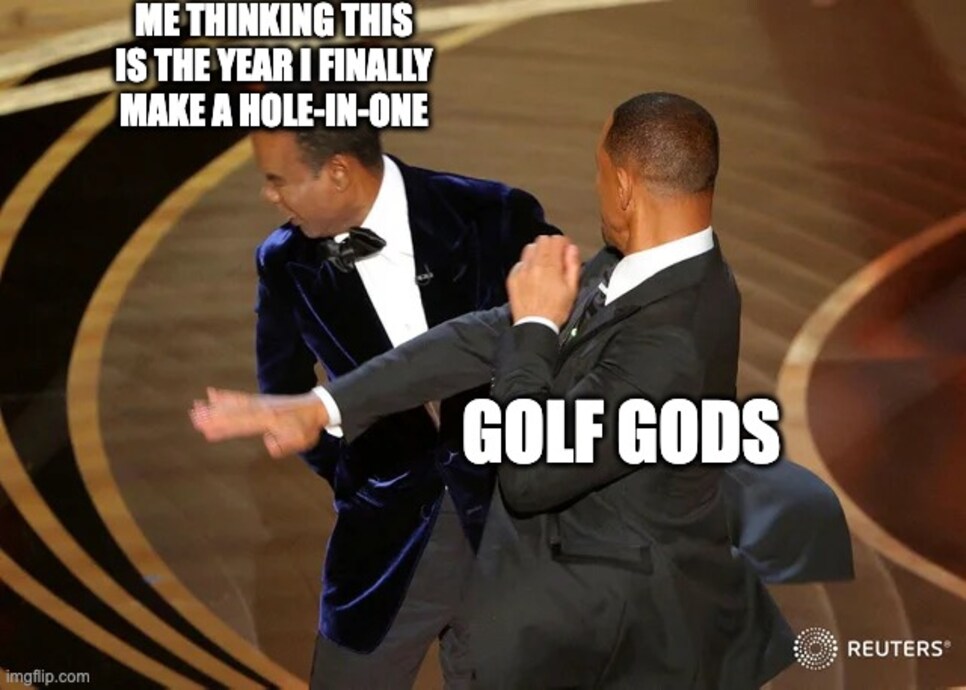 OK, so that's mine, but c'mon, it's pretty good. Or maybe not. I'm 40 now. I'm too old for this stuff. And by this stuff I mean staying up past 10, not making silly memes. Anyway, let's talk some golf.
Scottie Scheffler: Speaking of slapping around the competition, how about the heater this guy is on? Six weeks ago, Scheffler was still the best player in the world without a win. Now? He's the best player in the world period following a third win in five starts, this time at the WGC-Dell Technologies Match Play Championship.
Incredibly, Scheffler got to No. 1 just 42 days(!) after winning for the first time at the WM Phoenix Open on Super Bowl Sunday. But it's not like he came out of nowhere. The 25-year-old won the U.S. Junior before a standout career at the University of Texas, and he was a key member of the winning U.S. Ryder Cup team last fall.
Still, not even Scheffler saw this coming. "I never really got that far in my dreams," an emotional Scheffler said of being ranked No. 1. I hope to be that emotional in a couple months after snagging Scottie while he was still 40-to-1 to win the PGA on Sunday (sliced in half since). At this rate, he may be the favorite by then—especially if he shows up to Southern Hills rocking a green jacket.
Chad Ramey: Welcome to pro golf's version of St. Peter's! A week after a Wikipedia page-less Davis Riley nearly won a PGA Tour event we got a winner without a Wikipedia page—and with fewer than 400 Twitter followers!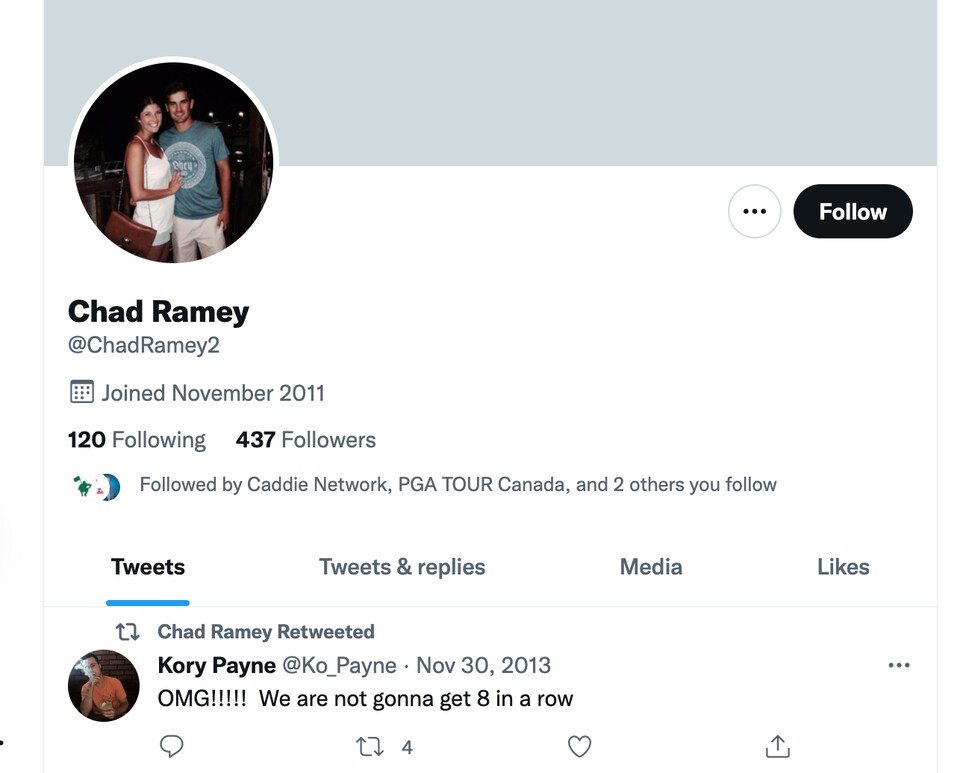 OK, so the fact that he hasn't tweeted since 2013 might have something to do with that. He did make a third post on Instagram following his win:
By the way, the guy basically doubled his career earnings with the win. I think he'll take that over picking up more followers on social media.
Atthaya Thitikul: We had another breakthrough winner, this time on the LPGA Tour. And by someone who didn't search nearly as long. The 19-year-old Thai golfer could be one of the game's next great golfers after claiming the JTBC Classic in a playoff over Nanna Koerstz Madsen at Aviara Golf Club.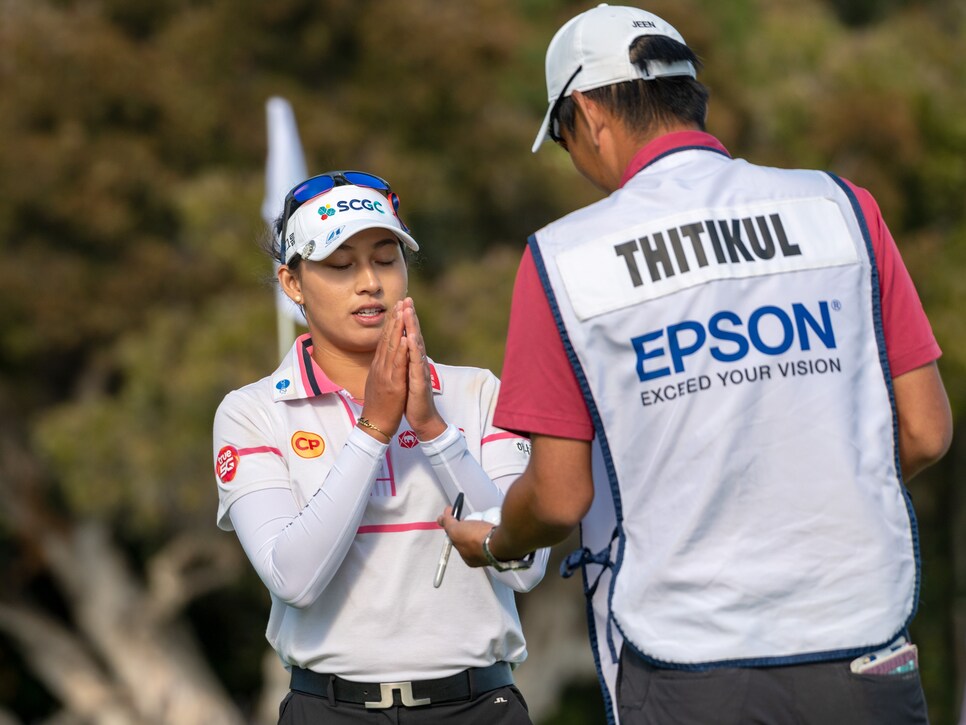 Thitikul earned her maiden win in just her 19th career start, and she's the youngest LPGA winner since Brooke Henderson in 2016. Previously, she became the youngest to win any professional tournament when she captured the 2017 Thailand Championship as a 14-year-old. So, yeah, this probably won't be the last time she hoists a trophy.
World No. 1 naysayers: The outrage over someone with no major titles moving to No. 1 in the Official World Golf Record was a bit much. First of all, it's a mathematical formula that cares less about that than Dustin Johnson cared about that match on Sunday. Plus, it's happened a few times before and no one seemed to have a problem with David Duval getting there in 1998. Also, who exactly is playing better golf on the planet right now? And other than Jon Rahm, the man he replaced in the top spot, Scottie has the best cumulative score at the majors since the start of 2020.
Overly sensitive tour pros: This one hits close to home because a co-worker of mine, Joel Beall, got caught up in some heavy social media crossfire, mostly from Europe, after this tweet about Dustin Johnson and Richard Bland:
Was it Joel's best effort? No. Was it particularly mean, though? Also, no. And if you know Joel, he's even a better person than he is a writer. Yet much of Golf Twitter—including tour pros from Lee Westwood to Andrew Johnston (what he wrote about Bland was great, by the way)—took this as an attack on the 49-year-old Bland, who was playing in his first WGC-Match Play. Joel was simply amplifying his amazing underdog story, while mostly making fun of Johnson's general obliviousness. If anyone should be upset, it's DJ! Although, there's a good chance he didn't recognize Corey Conners in that third-place match! And yet, this nearly started World War III. Deep breaths, everyone.
Betting on Adam Scott last week: Let's talk about much more serious things. Like Kevin Kisner robbing me on my multiple Adam Scott bets. (Shout-out to Kis by the way for owning this event—or, at least, owning Austin Country Club.) The Aussie led three up with four to play in his round of 16 match before Kisner finished with four 3s, including a holed bunker shot for eagle on 16, to advance. Just how stunning was this comeback? Yep, there's a stat for that.
Cool. At least I made a little back on "Dune" winning for best editing (h/t co-worker Chris Powers' brother, Jack) at the Oscars. Whatever the heck "Dune" is. Although, from my understanding it's not a golf movie despite the title.
The PGA Tour stays in Texas for the Valero Open, AKA that one where you get a pair of cowboy boots if you win. And now that it's also the week before the Masters, it's a final opportunity for many to earn a last-minute invite to the year's first major. You just might want to leave those boots in your bag. Not sure they fly at Augusta National. It's also time for the Augusta National Women's Amateur as well as first women's major of the year, the Chevron Championship, AKA "The Dinah," which will be played at Mission Hills Country Club for the final time. Hopefully, the new site in Houston has something comparable to Poppie's Pond.
Random tournament fact: When Corey Conners won the Valero in 2019, he became the first Monday qualifier to win on the PGA Tour in nine years. Of course, that won't be necessary this year. The guy just made $852K finishing third at the Match Play.
RANDOM PROP BETS OF THE WEEK
—Corey Conners will slap someone at the Valero: 1 MILLION-to-1 odds
—Corey Conners will win the Valero: 18-to-1 odds (Fourth-favorite status!)
—Corey Conners won't be Monday qualifying again for a long time: LOCK
Good lord that woman must be rich. I faint every time my wife gets the guac there.
Six years ago, Scottie (and future wife Meredith) was just happy getting into Austin Country Club as a fan:
Now he leaves it a winner and as the World No. 1. Life comes at you fast, huh? Almost as fast as Will Smith coming after Chris Rock.
The past few years have been a struggle for Ben Martin on the course, so he was understandably upset to miss a five-footer to get into a playoff at the Corales Puntacana Championship after having led for the first three rounds:
Where Ben Martin certainly hasn't been struggling is off the course. Man, that was beautiful. Well, once he was actually able to answer the questions. And it's a great reminder of how much all these guys put into their jobs.
VIRAL VIDEO OF THE WEEK (KIDS DIVISION)
This young worker chasing down a plastic bag at Austin Country Club is also the best effort of the week:
That kid is going places.
THIS WEEK IN PUBLIC DISPLAYS OF AFFECTION
If that doesn't hit you in the feels, you're more unflappable than Chris Rock.
"I'll believe it when I see it on the world rankings tomorrow." —Scottie Scheffler when asked about moving to World No. 1. Believe it, Scottie. And after earning over $6 million in five starts, believe that bank account the next time you see it as well.
As of this post, rumors are swirling about Tiger Woods practicing at Augusta National(!) as he tries to get ready to compete in next week's Masters. Please, please, PLEASE let this happen. . . . Congrats to Thomas Pieters, Harold Varner III, Seamus Power, Russell Henley, and especially Cameron Young (Go Deacs!) for earning last-minute Masters invites via being in the OWGR top 50 at the last cutoff date. Not sure what they originally had planned for next week, but I'm sure they'll move some stuff around to make it work. . . . Congrats to Ewen Ferguson for winning his maiden DP World Tour title. "That's for my mum. I know she'll be watching at home crying. Happy Mother's Day to all the mums, especially mine." Apparently, Scotland celebrates a different Mother's Day. . . . And, finally, speaking of parents, I couldn't be more proud of our little Dorothy: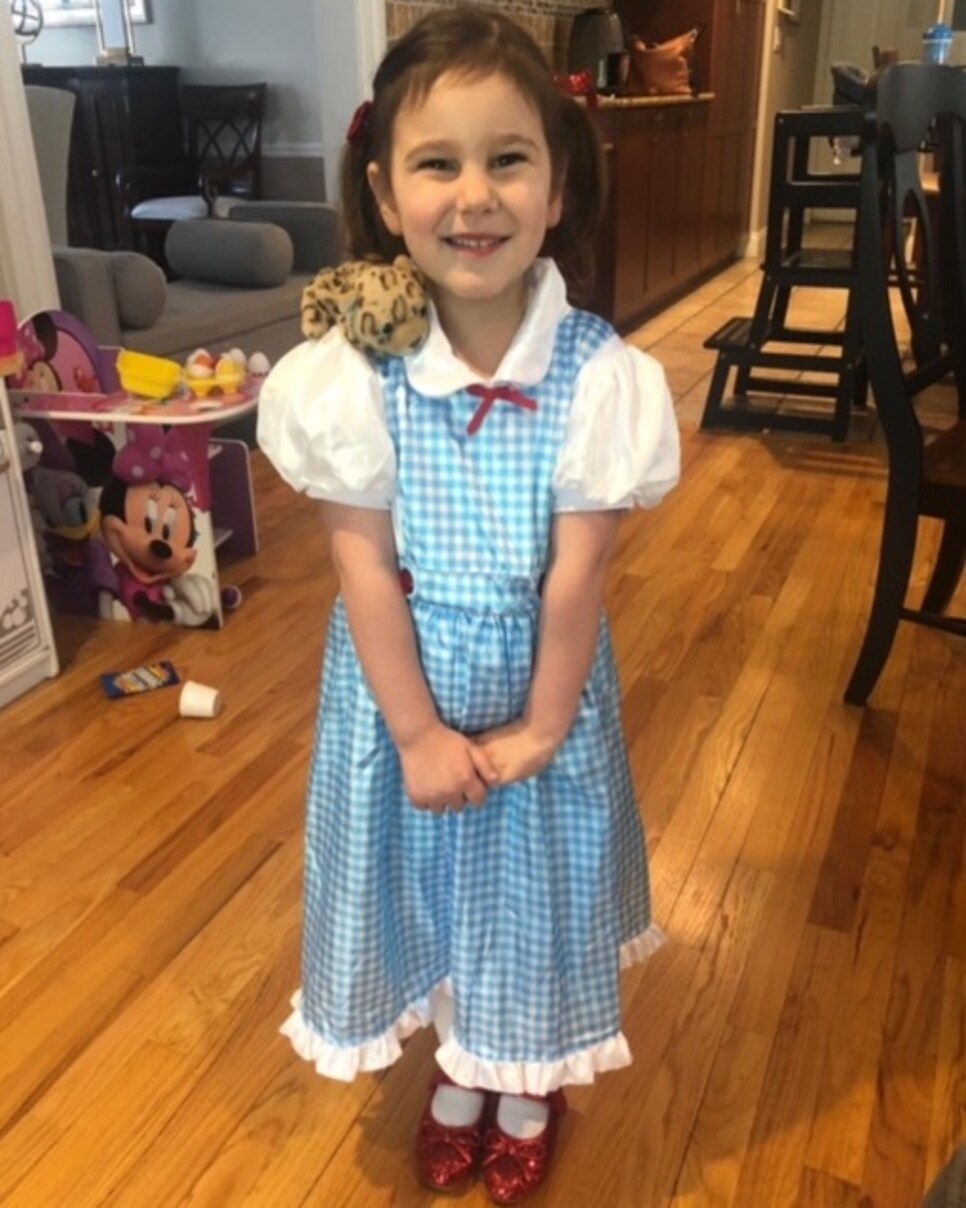 Being a #GirlDad is great, but being a #StageDad is even better!
RANDOM QUESTIONS TO PONDER
How old will my daughter be when she wins her first Oscar?
How did "The Shawshank Redemption" not win for Best Picture?
How did Chris Rock just keep going?