LPGA Tour
LPGA sees a rising star prevail with 19-year-old Atthaya Thitikul's playoff win in JTBC Classic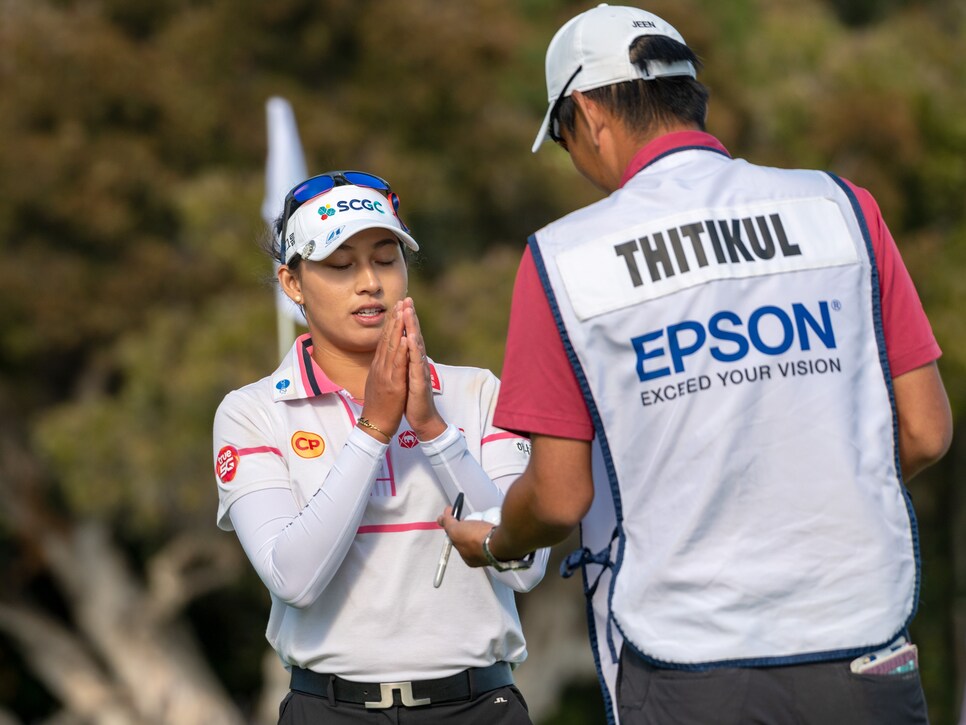 Atthaya Thitikul of Thailand reacts to her birdie putt on the 18th hole in regulation in route to her victory in the JTBC Classic.
Donald Miralle
CARLSBAD, Calif.—When Atthaya Thitikul finished her eight-under-par 64 round in the JTBC Classic on Sunday, a few dozen fans leaned against white plastic fence outside the scoring area waiting for her autograph. She happily obliged them, posing for a few selfies along the line. Since the 19-year-old from Thailand has played only a handful of times in the United States, it's likely many of them had no clue who she was.
They'd do well to hold onto those signatures and photos. Thitikul's two-hole playoff win over Nanna Koerstz Madsen at Aviara Golf Club figures to be just a preview of what this precocious young woman is capable of on the LPGA Tour.
With a 16-under-par total, the rookie from Thailand won her first LPGA title in just her 19th tour start, becoming the youngest player to lift a trophy on the circuit since Brooke Henderson in 2016. And that's exactly in line with the trajectory of her career. In 2017, Thitikul became the youngest champion of a professional golf tournament when she captured the Ladies European Tour's Thailand Championship as a 14-year-old. She's won four times total on the LET, and as an 18-year-old last year, Thitikul seized both the LET's Order of Merit title and Rookie of the Year honor in a season of two victories and a stunning 14 top-10s.
As much she'd won elsewhere, an LPGA victory was always the bigger goal.
"When you were young and then have a dream to one day you want to become an LPGA member, one day you want to win the LPGA tournaments," Thitikul said. "It means a lot. It's quite really good that you have a goal, you set a goal, and you really want it and work harder to get it done.
"I'm happy every time that I won tournaments, but still talk with myself—'this is not your last answer, because your last answer, your last goal is just want to be the LPGA member.' … If you win, you win just today, and tomorrow it's just a past."
Thitikul reached the LPGA this season by finishing third in the Q-Series, but she nearly got her card in "battlefield" fashion a year ago. Playing in her home Honda LPGA Thailand, Thitikul almost upset one of her country biggest stars, Ariya Jutanugarn, in a one-shot loss. She now looks on that as a fortuitous result.
"I think that one motivates me to be here, because if I won this tournament I probably be on LPGA last year," Thitikul said. "If I won it I couldn't be on the LET to get all the experience with all the challenging weather, challenging golf course, and I couldn't have the experience to be here against all the best players in the world if I won at that point."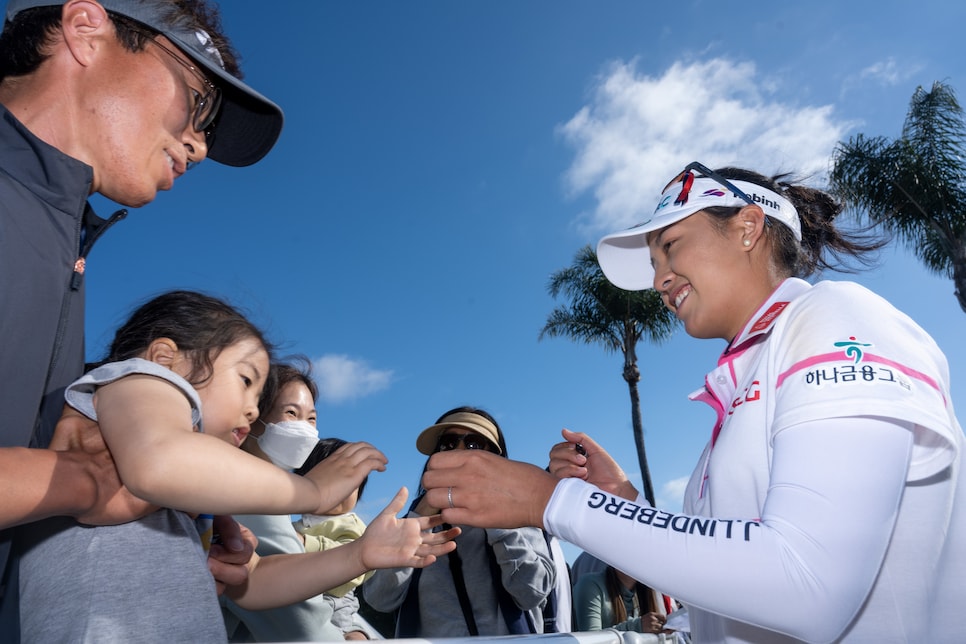 Atthaya Thitikul signs autographs after finishing the 18th hole in regulation during the final round of the JTBC Classic.
Donald Miralle
For a tournament that seemed to be in Koertz Madsen's grasp for most of the week as she built a three-shot lead heading into the final round while trying to win for a second time in 14 days, the last two hours took a dramatic turn. Playing an hour in front of Koertz Madsen while starting the day six shots back, Thitikul birdied six of her last 11 holes and only needed 24 putts to record the week's best score of 64. Then Thitikul had to wait, biding her time outside the clubhouse mostly talking to a handful of people without ever making her way to the driving range.
Koertz Madsen cruised through her front nine in two under, but she would only make one birdie over the last 15 holes, including the playoff. In regulation, the Dane, who closed with a 70, missed a six-foot birdie attempt at the driveable par-4 16th, but overcame a bad drive on 17 to make a six-footer for birdie and have a one-shot lead.
At the tough finishing hole, however, Koerstz Madsen left herself a 55-foot putt and ended up three-putting, including a misfire from five feet when she could have secured the win.
On the first playoff effort playing the 18th, Thitikul hit a spectacular shot, nearly holing out her approach that settled at eight feet. Koerstz Madsen missed the green left and made par, and as the Thai lined up her par putt to win, Koerstz Madsen's caddie and boyfriend, Nicki Hansen, already seemed to be consoling her with shoulder rubs and encouraging words.
But Thitikul missed the putt, and they returned to the 18th tee again. That's where Koerstz Madsen made a huge mistake, semi-chunking a fairway wood that hooked left, hit the cart path and settled on the side of a hill. She was 215 yards to the hole, with the grandstand and hedges on left and water on the right. Koerstz Madsen ended up pushing the shot into the pond.
"It's a hard shot," she said. "It's a hybrid from the rough; not a very good lie; above the feet. I just tried to pull it too much from that lie, and then, obviously, I did not pull it. I pushed it quite a lot."
It still wasn't over. Koerstz Madsen took a drop and put her fourth shot to 25 feet above the hole, and the Dane looked resigned to not even finishing out. But Thitikul left her first putt six feet short. That gave Koertz Madsen life, but she lipped out her bogey putt, allowing the Thai to manage a three-putt bogey for the win.
A wrenching finish is nothing new to Koerstz Madsen, who led the 2021 AIG Women's Open at Carnoustie by four shots with four to go, only to lose. Two weeks ago, she surrendered a late lead in the Honda LPGA Thailand, only to prevail by making an eagle on the second playoff hole.

Koerstz Madsen was clearly disappointed, but not disconsolate by this latest setback.
"It wasn't a very good playoff," Koerstz said. "Yeah, I played a good week and I'm happy with the game. I could maybe have done a little better today, but it was what I could do.
"The result is what it is. I cannot do anything about it now. I just got to be happy with my second place."