It was called, simply and affectionately, the Dinah. It still is by so many, even as a string of title sponsors has dislodged her name from a tournament on which she bestowed stature, the most beloved in women's golf. "All due to Dinah might," the renowned columnist Jim Murray wrote.
Dinah Shore was an entertainer's entertainer, talented, smart and charming, who lent more than her name to what began as the Colgate-Dinah Shore Winner's Circle in 1972. She sold the tournament with her celebrity, yes, but more so with her passion for the game and its players, infused with genuine warmth on a par with the California desert sun in late March.
"It became the Masters of women's golf," World Golf Hall of Famer Amy Alcott said.
High praise, to be sure, but parallels do abound. It is the LPGA's first major championship of the year, has been played annually on the same pristine course in Rancho Mirage, Calif., on the same week on the calendar, with an elite limited field, and with its own tradition, the popular winner's leap into Poppie's Pond.
Dinah Shore not only lent her name to the LPGA event at its inception in 1972, but was a hands-on influence for decades.
Michael Ochs Archives
But in its 51st year, the tournament is preparing to move on. The Dinah, now known as the Chevron Championship, begins here Thursday and will be the last played on the Dinah Shore Tournament Course at Mission Hills Country Club, on Dinah Shore Boulevard. Next year, it will move to the Houston area.
A going away party of sorts has been planned by the LPGA, a week-long celebration of Dinah and Mission Hills, preferably accompanied by Dinah's old friend Bob Hope singing, "Thanks for the Memory."
The reasons for the impending move are varied, including declining interest in the area, but also in recent years it largely has had to yield the stage on the weekends to what was taking place across the country in Georgia, to the final round of the Augusta National Women's Amateur on Saturdays and the Drive, Chip and Putt National Final on Sundays. The schedule conflict became an issue since moving to a later date was not an option in the desert, with its rising temperatures in late spring and a diminishing Coachella Valley population able to attend as the snowbirds return home.
One upside to Chevron's sponsorship and its intention to relocate the tournament is that the purse will increase from $3.1 million to $5 million this year. Another is that in 2023 it will move to a later date in the spring, increasing the likelihood that it will receive network television coverage, while not having to share a stage with Augusta National's popular weekend competitions.
"The response that we received so far [from players] has been very positive," said LPGA commissioner Mollie Marcoux Samaan last October upon announcing the move. "Obviously, the history and the traditions at Mission Hills and the partnership there are very important to all of us and to everyone. So we have talked through that and again, overall, the response has been extremely positive. I think people know that this is an opportunity for us to sustain this major moving into the future, build new traditions, still honor the past and honor the great work that's been done. But again, I think everyone realizes that this takes us to a whole different level."
The question is not whether the gains in this move will offset the losses. The jury is out, of course, but money talks and the financial infusion no doubt will give the event a boost. But the incalculable cachet that Dinah had brought to the tournament, and continued after her passing in 1994, will be a challenge to replicate.
Amy Alcott holds the trophy with Dinah Shore after winning the Nabisco Dinah Shore for the second time in her career at Mission Hills in 1988.
David Cannon
Mike Galeski, who began working for the tournament in 1978 and was its tournament director from 1987 through 1993, noted that most celebrity hosts of PGA Tour events—Andy Williams, Jackie Gleason and Glen Campbell, among them—were figureheads, come and gone. "Dinah Shore was not just a personality, a celebrity to put her name on the tournament," Galeski said. "The tournament meant everything to her. Do we think it was important? Yes. It's been the rock of the LPGA tour for 50 years.
"The Dinah part of this … Jon Rahm never met Bobby Jones, but I'll bet when he goes to Augusta he learns about him. This is the only event on the LPGA that has that. Dinah is bigger than life in a sense here at Mission Hills. It's something that players should learn about. There's never been anybody like Dinah Shore involved in the LPGA."
Bittersweet, then, is likely to be the word of the week here as the curtain is lowered on the Chevron Championship, ending its long historic run in the desert.
"I think I've used that same word," Judy Rankin, the winner in 1976, said. "I do believe what Chevron's doing is a really big deal and really good for the LPGA. And I also think, one reason that tournaments don't have this long a life in a certain place, we tend to forget and players tend to forget how much work it is to volunteer for 30 straight years. People age out, pass away, and a lot of the new younger people don't get involved. I think it's been hard for Mission Hills the last few years. We've come now to a little different generation, not across the board, but it's not as familiar with the long history there and how important it was to the LPGA and what has evolved over the years."
Another vote for bittersweet was cast by Alcott, a notable contributor to the tournament's history, who won the Nabisco Dinah Shore in 1983, the first year it became a major; who initiated the leap into Poppie's Pond following her win in 1988; and who in 1991 was joined in the champion's leap by Dinah herself.
"Obviously, with my history there, it's bittersweet for me on many levels," Alcott said. "I'm very happy that women's golf is at a juncture now that it's able to command bigger purses and great sponsors like Chevron. The tour has ebbed and flowed through many great sponsors and history and changes of leadership. This seems like a very solid sponsor with a vision to promote women and women's golf. So in that aspect, I'm very happy for the tour.
"From an historical standpoint, having played my first Dinah Shore in 1975, I've played in the event through multiple different sponsors. Colgate, Kraft Nabisco, ANA. There's just a lot of emotional history there for me. Obviously, winning there in '83, and in '88 starting the dive into the water with my caddie Bill Kurre. A lot of my personal golf history was a part of that event. From that standpoint, it's melancholy and sad to be losing that."
It is a well-worn trail these days, the California to Texas "exodus," as the Golden State expats call it, but whether the Dinah legacy can survive the move, or even whether it should, is an open question. Will the Houston area embrace the tournament and its history with Dinah Shore? Will its venue, not yet identified, even have a pond at or near the 18th green, and if so, would or should the winner leap into it?
"If you're not going to make a big commitment to celebrate Dinah, don't do it," Galeski said. "Create new traditions. It would be great." As for a celebratory leap into a pond, he said, "I think it would look contrived." More bluntly, "I think it should go away," Rankin said.
Texas itself has a rich golf history, but it was earned, not inherited. What it will be inheriting with the Chevron Championship is a gem that does not necessarily sparkle the way it once did when Dinah delivered it its luster. Yet Rankin, a long-time Texas resident, sees an opportunity to restore it to its former glory.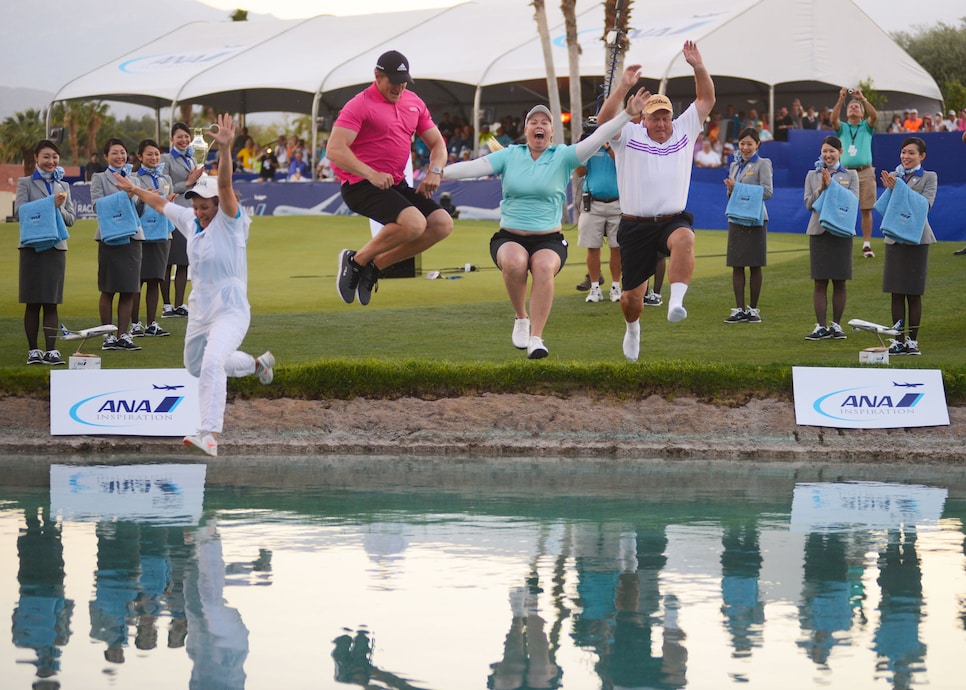 The leap into Poppie's Pond for the champion at Mission Hills—this time by Brittany Lincicome in 2015—became one of the tournament's unique traditions.
Kent Horner
"I think Houston is going to be good," Rankin said. "It just feels like the right time and with the right people in place with the LPGA. There are so many extraordinary players and pretty charming personalities, too. I think an introduction, though to a place where they have been a few times over the years, and having an enormous sponsor like Chevron, I think I see big things ahead in Houston.
"If it should hit the schedule after the Masters, it would be good, for this reason. It's a big deal and it's a big deal when certain Sundays play out a certain way. But the news of it now is gone before midnight because the Masters is starting. There is no bounce. None. A later date could be very beneficial, I think."
Chevron, incidentally, reportedly intends to honor the Dinah legacy, an impressive one. At the height of its popularity, the tournament was a week-long circus of events, Dinah the ringmaster, that included multiple pro-ams, tennis events, dinners every night, celebrities, and, not unimportantly, business moguls, even those not associated with the tournament.
"Sam Walton used to come out to the tournament," Galeski said of the billionaire founder of Walmart. "He didn't play tennis and he didn't play golf. He just wanted to be there because everyone else was there."
Halcyon days that call for cueing up Dinah singing Andre Previn's, "My Melancholy Baby":
Every song must have a silver lining, Wait until the sun shines through …