The Grind
Scottie Scheffler's "floodgates," Fred Couples' casual wedding look, and Tiger tops (and tweaks) Phil
Welcome to another edition of The Grind where we wish we could host a tournament just to pick the item of clothing that goes to the winner. My signature looks on the golf course aren't quite as stylish as Arnold Palmer's cardigan, but someone might appreciate the wrinkled pullover I keep in my bag because I get cold when the temperature dips below 75. Or how about a sweat-stained cap? That goes with anything! But for now, we're sure Scottie Scheffler is happy with his new red sweater—even if Adam Scott could use it more. Anyway, here's what else has us talking this week.
Scottie Scheffler: Oh, boy, look out. Because the proverbial FLOODGATES may be open after Scheffler won the Arnold Palmer Invitational for his second PGA Tour title in three starts. A month ago, this guy was being talked about as the best player without a PGA Tour win. Now? He's within striking distance of becoming the best player on the planet according to the Official World Golf Ranking. This dude moves fast, huh?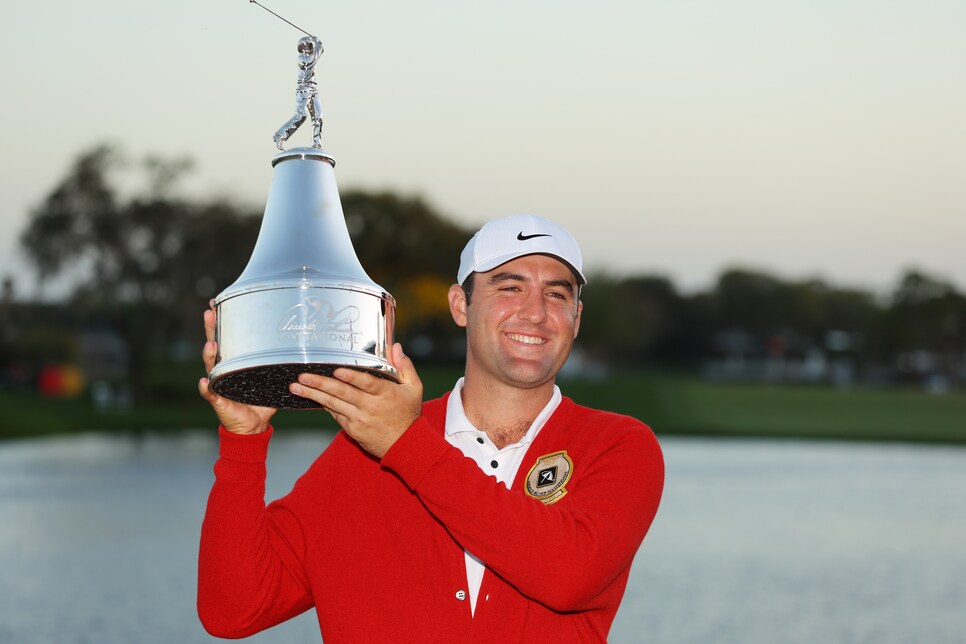 And speaking of moving, how about his 87-year-old grandmother following her 25-year-old grandson for all 18 holes at Bay Hill on Sunday?
Jin Young Ko: Scheffler's floodgates may be open, but it's nothing compared to the winning flow we've seen on the LPGA Tour from Ko. After taking a three-month break, the 26-year-old won the HSBC Women's World Championship for her fourth win in five starts, and six out of 10 overall. Six out of 10! That's almost a decent free throw percentage! (Especially if you're Shaq.)
And Ko has actually been getting drenched with all these victory celebrations of late. Even more impressive is that she now holds the LPGA record for consecutive rounds in the 60s (15!) and consecutive rounds under par (30!), and her 66 consecutive greens in regulation are a record on any tour. Ko is the hottest player on the planet. And it's not even close.
Ryan Brehm: With all due respect to Scheffler and Ko, however, the best story of the week came at the Puerto Rico Open. That's where Brehm, playing on a minor medical exemption and needing a top-two finish to keep his PGA Tour card, won—with his wife on the bag to boot.
Just amazing. Also, thanks to Ryan and Chelsey. My #TheJigIsUp campaign claiming that having a veteran caddie is overrated took a hit with Ted Scott helping Scheffler to two wins in the seven starts they've made as a team. But this got it back on track.
This "FORE" call: Emphasis on the all caps, because, well, have a listen:
Good on Nicolai Hojgaard for not being too proud to scream like us weekend hackers do. We've seen/heard plenty of big names not do the same. That being said, I'm selling the fact that I bet on this 20-year-old in each of his first two PGA Tour starts—and he missed the cut in both. My bad, young man.
Phil as the PIP King: Remember when Phil gloated about winning the PGA Tour's inaugural PIP bonus? Well, apparently, his celebration was a bit premature—like when he thought he shot 59 at TPC Scottsdale. Or 62 at the British Open. Anyway, to add insult to (ego) injury, Tiger Woods, the actual PIP winner, made a rare social media appearance to troll his longtime rival:
What a dagger. Although, if it's any consolation to Phil, that tweet and all the other stuff going on right now is bound to help his Meltwater mentions for this year's PIP standings! Oh, yeah, and only claiming a $6 million bonus isn't the end of the world.
Missing a 10-inch putt: How is this possible?! From the World No. 1 no less!
What a crazy, stupid, awesome game golf is. Speaking of which. . .
Running out of golf balls: How about the tale of Rick Garboski? A local pro making his PGA Tour Champions debut at the Hoag Classic ran out of golf balls during Saturday's second round. To continue playing, he had to ask a playing partner to borrow a ball and then wound up having to join the group behind while waiting for someone from the locker room to bring him out more ammo. Garboski got a two-stroke penalty for violating the one ball rule and another penalty stroke for causing undue delay. But he had a good sense of humor about the situation after Mark Calcavecchia shared the story on Twitter:
Good point. Although, Phil Mickelson might beg to differ right now.
The PGA Tour heads to TPC Sawgrass for the Players Championship, AKA the Players, AKA THE PLAYERS depending on whether or not you've had your morning coffee or listened to that incredible theme song:
Man, that slaps hard. On top of winning golf's "fifth major," there are four PLAYERS (Collin Morikawa, Patrick Cantlay, Viktor Hovland, and Scheffler) with a chance to take over the top spot in the Official World Golf Ranking.
Random tournament fact: I covered this event for eight straight years, but I haven't been since the tournament moved back to it's (chillier) March date in 2019. That's just a coincidence, though. Yep, just a total coincidence . . . Anyway, hope Scottie packed that cardigan!
RANDOM PROP BETS OF THE WEEK
—I will get tired of listening to that song this week: 1 MILLION-to-1 odds
—Someone will run out of golf balls at THE PLAYERS: 100-to-1 odds
—If they do, it will happen on the 17th hole: LOCK
Remember JT's "I love me some me" line at the 2019 Presidents Cup? Well, he met/hung with the man first behind that line at the Duke-UNC game:
You can practically hear them shouting, "We love we some we!" Inspiring stuff.
The brilliant Club Pro Guy has a new product out, the Xe747 Punch Out Club. And this ad for it is right up there with all the classic golf infomercials:
Even Scottie Scheffler could have used some of that "technology" on his recovery shot on No. 15 on Sunday.
VIRAL VIDEO OF THE WEEK (NON-CLUB PRO GUY DIVISION)
Retief Goosen's caddie really went the extra mile following his boss' big win on Sunday:
THIS WEEK IN PUBLIC DISPLAYS OF AFFECTION
In this case, PDA could stand for public displays of Asics. I know Freddie Couples is Mr. Cool, but this is taking being laid-back to a whole new level:
And the honeymoon included Fred playing in the Hoag Classic this past week. What a lucky lady, huh? Anyway, congrats to the happy couple.
"I feel punch drunk, to be honest. The weekend, it's like crazy golf." —Rory McIlroy after a pair of 76s at Bay Hill. Not a great couple days for Rors.
Tiger Woods' daughter, Sam, will introduce the 15-time major champ when he's inducted into the World Golf Hall of Fame on Wednesday. How great is that? . . . For the first time in history, everyone in the top 5 of the Official World Golf Ranking (Rahm, Morikawa, Cantlay, Hovland, Scheffler) is under the age of 30. OK, so the OWGR only dates back to 1986, but that's quite a stat. . . . Congrats to Luna Sobron Galmes for making a hole-in-one on a par 4 during last week's Epson Tour event, knocking in a 3-wood from 247 yards. Must be nice. Not only to make a hole-in-one, but to hit a 3-wood that far. . . . And finally, I decided to give the diet Arizona iced tea pack a try because it was on sale at Costco: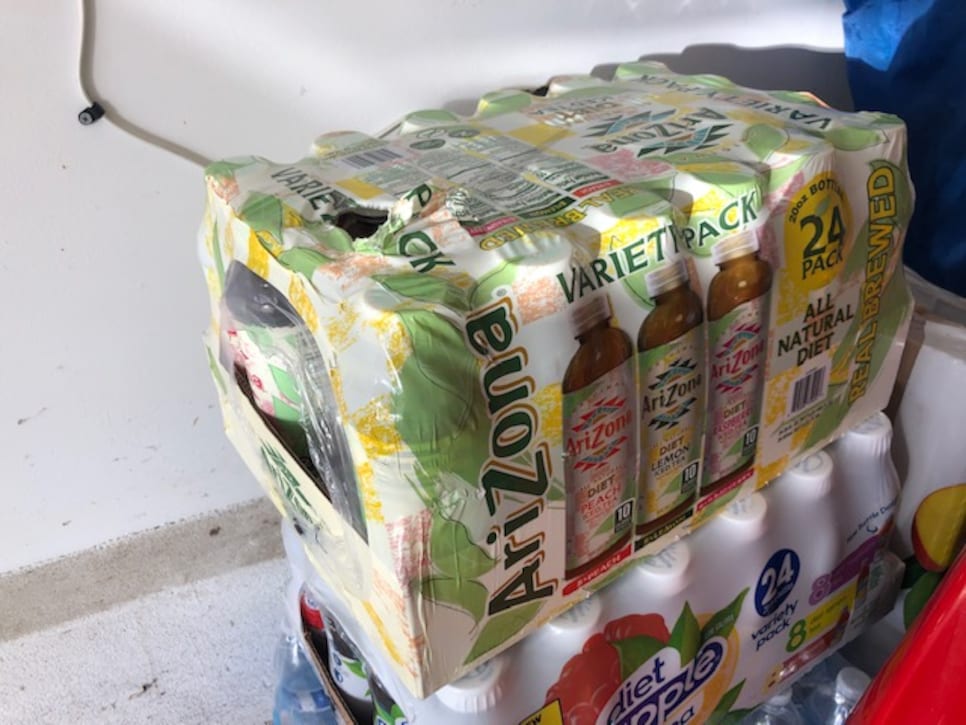 Big mistake. My apologies to Snapple for straying.
RANDOM QUESTIONS TO PONDER
How bad will Sam Woods roast Tiger?
How many sweaters did Arnie own?
Can I return that iced tea to Costco?