News
Scottie Scheffler shoots 59 at Northern Trust, becomes second-youngest player in PGA Tour history to do so
Scottie Scheffler reacts after holing his four-foot putt for birdie on the 18th green at TPC Boston, becoming the 11th player in PGA Tour history to shoot sub-60.
(Photo by Ben Jared/PGA TOUR via Getty Images)
This time, he cashed in, and now he's just the 11th golfer to ever shoot 59 on the PGA Tour.
"Today was obviously a good day on the course," Scheffler said, a solid submission for Understatement of the Year. "I got off to a really good start. Made a bunch of birdies on the front nine. Had some key up-and-downs at the beginning of the round that kind of got me rolling, freed me up a little bit. Then the momentum just kind of kept going. Never really lost momentum which was nice.
"A lot of times when you're playing well you can lose that momentum towards the end of the round or have a hiccup here or there. The momentum stayed the whole time, and I made a lot of putts."
This was not, however, Scheffler's first time breaking the 60 barrier this year. He holed a 20-footer for eagle to shoot 59 during the COVID hiatus during a casual (and socially distanced) WOLF game with buddies at the Texas Rangers Golf Club in Arlington, Texas.
Scheffler, currently No. 45 in the world and last season's Korn Ferry Tour player of the year, came into this first FedEx Cup playoff event with some solid momentum—he finished T-22 at the Memorial and T-15 at the WGC-FedEx St. Jude Invitational before seriously contending for the PGA Championship at Harding Park. Scheffler was one of seven players who held a share of the lead on the back nine on Sunday but played his last eight holes in even par en route to a T-4 finish.
He took last week off before opening with a one-under 70 at TPC Boston on Thursday, certainly nothing to scoff at but also nothing to write home about. Weather conditions have been ideal for scoring at TPC Boston, with the wind mostly quiet, the greens soft and quick. Just how the pros like them.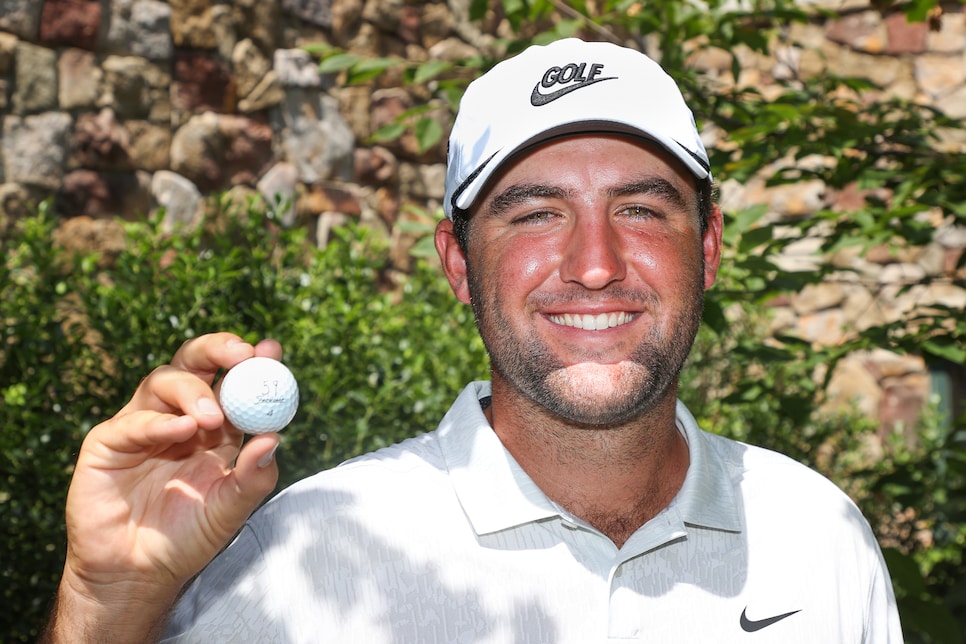 (Photo by Rob Carr/Getty Images)
Scheffler started Friday's round with a par before a tricky up-and-down birdie at the reachable par-5 2nd. All three par 5s on the course are reachable with an absence of wind. He parred 3 before ripping off four straight birdies from 4-7, and added a sixth at the 9th to turn in six-under 30.
The momentum continued on the back nine, as he birdied 10 and 11 with a five-footer and a 13-footer to get to eight under for the round through 11.
Back-to-back pars at 12 and 13 meant he needed to play his last five holes in four under to shoot golf's magic number. He did exactly that, holing a 14-footer for birdie at 14, a seven-footer at 15 and a 10-footer at 16. He holed a stressful seven-footer for par at 17 then him headed to the 18th tee needing just one more birdie.
And, as fate would have it, the par-5 18th has played as the easiest hole on the course this week. Scheffler hit his drive into the first cut just left of the fairway, then had to wait an extended period as his playing partner, Kevin Streelman, sought a ruling.
Scheffler's turn eventually came, and he pulled a 5-iron from 215 yards that finished just short of the putting surface, a good 84 feet short of the hole. He opted to go with the Texas wedge—he is a graduate of UT-Austin, after all—and cozied it up by the hole. Four feet, six inches from golf immortality.
And, as has been the case for two months now, silence, save for his caddie and playing partners.
"There was nobody out there watching our group until 17, some cameras showed up. So we were pretty much just out there having fun, hanging out. Just playing golf, really."
Just playing golf. Really, really, really well.