The Loop
Justin Thomas' encore: He shoots 59 in the first round of Sony Open in Hawaii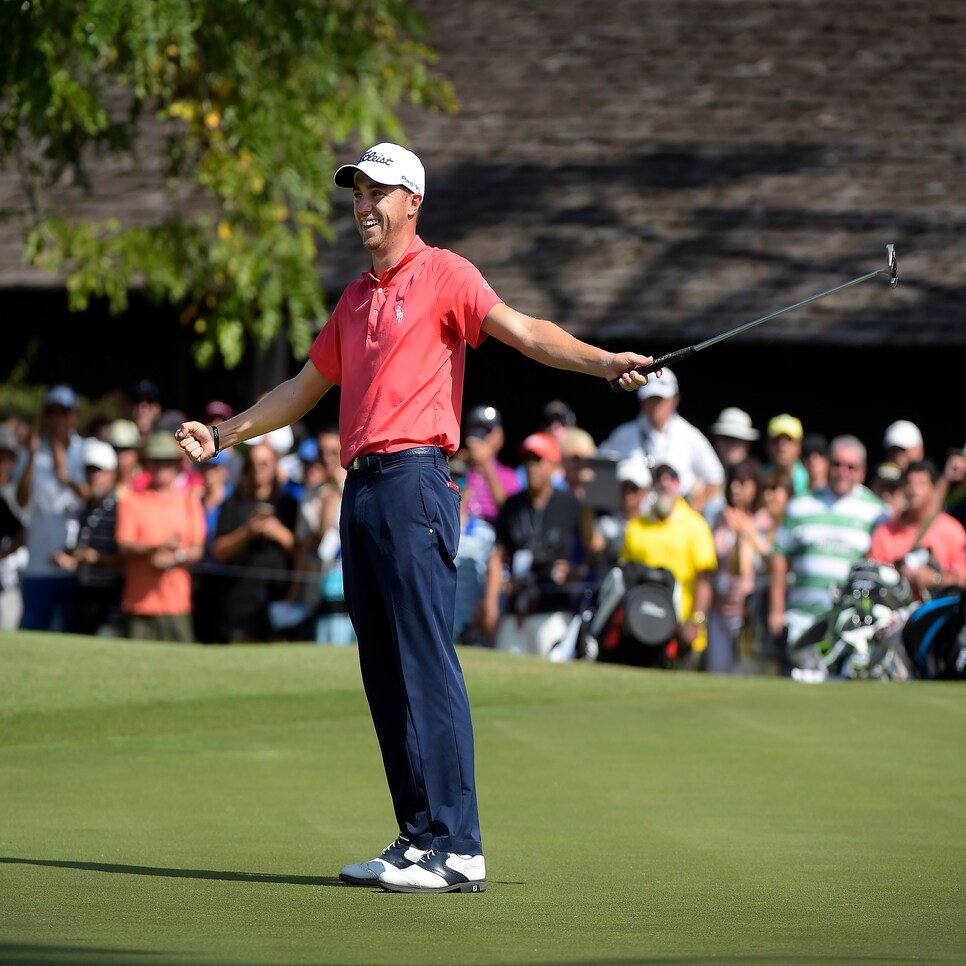 Encores in golf aren't easy. Especially so soon after a grand performance. But Thomas, another talented member of that high school graduation class of 2011, found a way to remain the headliner at the Sony Open in Hawaii. All it took was a course-record 11-under par 59 at Waialae CC, the eighth sub-60 score in PGA Tour history and the first coming in a round immediately following a victory.
Thomas, 23, of Goshen, Ky., is the youngest to shoot 59. He broke the previous course record of 60 Davis Love III set in 2004 and brought swift manifestation to Jordan Spieth's prediction at Kapalua Resort that his friend's win there could auger, "potentially floodgates opening for him."
"It was obviously a fun day," said Thomas, who began the round by wedging in for eagle at the par-4 10th and ended it with a 15-foot eagle putt at the par-5 ninth. "Anytime you're in history in any sport or whatever you're doing, it's a good thing. We all know it's a magical number in golf."
It was a magical situation as well. Thomas shared the round with Spieth and Daniel Berger, two of his best friends in golf. On the weekend before the Tournament of Champions, the three played a casual round together at Makena Golf Club in Maui. What's funny about that, Thomas said, was how enjoyable the day was and how poorly he played, noting, "I lost a lot of golf balls. I didn't finish all the holes."
He finished all the holes at Waialae – and quickly, too.
It was no surprise then that when the eagle putt dropped, Thomas allowed himself a small fist pump, but Spieth and Berger could barely contain their exuberance. They were jumping and high-fiving. Spieth hugged him.
"The coolest part for me was how excited they were for me on 18," Thomas said. "To do that with two of your best friends out here and two of your friends that you played with for so long … I'll have that on them for now.
"I didn't really know how to react. I never had a putt on the last hole on a Thursday mean so much. So that was a little odd, and I don't even know what I did," he added. "I just know I looked at them, and they were going nuts and I think I went nuts."
He's been going nuts for a good stretch now. Thomas is 33 under par combined in his last five rounds and Thursday's effort was his 51st round of 65 or better since the start of 2014, the most on tour. He has finished in the top-10 in his previous four starts with wins in Kapalua and at the CIMB Classic in Malaysia.
Thomas, who fired a 61 in the second round at Waialae two years ago, turned in six-under 29 despite a bogey on the par-4 11th, his second hole of the day. It was his only blemish. He first mulled the possibilities in front of him while holding an 8-iron in his hands for his second shot into the green at the par-5 18th, which set up a two-putt birdie. When he birdied Nos. 1 and 2 to start his back nine, the chase was on.
He moved one step closer with a 7-iron to three feet at the par-3 fourth. Then he stalled, although he kept giving himself chances. A 10-foot par save at the eighth kept him in the ballgame. It was a tough read and he asked caddie Jimmy Johnston for another assessment. He then rolled it straight in.
Then came perhaps the shot of the day, a 5-iron from 204 yards out of the left fairway bunker at the ninth. It rolled up to 15 feet and Thomas calmly guided the left-to-right breaker in the cup.
"Once he had a putt at it, I kind of figured he might make it," said Thomas' father Mike. "This is the kind of stuff he does."
"It's history. It's awesome. It's really cool," said Spieth, who admitted being nervous for his friend down the stretch and yet managed to carve out a 65, same as Berger. "To be able to watch it today, from our first hole, he chipped in about a 30-yard shot for eagle. I mean, he deserved it. His two best putts of the day, didn't even go in. Really got robbed on a couple.
"What an unbelievable 5-iron out of a fairway bunker from 200-plus yards," the two-time major winner added. "And really committing to that putt, a left-to-righter up the hill, that's a very easy one when the nerves are on to leave short. And I could tell right when he stroked it, he liked it, and it held in there. Yeah, I celebrated more than he did. What an awesome last five rounds he's had. Now it's off to tomorrow I guess."
"I don't know," Spieth said. "Maybe it will be our turn."
About 90 minutes after Thomas' last putt trundled in, the practice putting green at Waialae CC was still buzzing. Spieth was describing the round to another of the young brigade, Smylie Kaufman. Jimmy Johnston, Thomas' caddie, was being grilled by several players and caddies. In 2010, Johnston caddied for Steve Stricker in a round of 60 at the John Deere Classic at TPC Deere Run. Earlier that same day Paul Goydos had gotten home in 59.
"We shot 60 in the afternoon, came back in the morning and shot 66, and there was Goydos after his 59, and he was five behind us," Johnston said, laughing.
His phone buzzed. It was Stricker texting him. "Bet that was fun," wrote the 12-time tour winner.
"It was fun, but other than reading one or two putts, I didn't do anything," Johnston said. "I'm smart enough to know to just shut up and get out of the way."
Thomas is smart enough to know that he's bound to come back to earth eventually. "I just have a calmness out there, and I've just been very comfortable," he said. "But, unfortunately, I know all rounds aren't going to be like today, so I've got to enjoy it while I can."
But this day he will enjoy for a long time. His hard-fought victory over Hideki Matsuyama last week was highly satisfying. But to etch your name in the history books with one magical round has a certain cache and sparkle to it.
"I would say, on paper, it would be today," Thomas said when he was asked if his win at Kapalua or his 59 at Waialae was more special. "History wise … I have a chance to win a golf tournament every week. I don't have many chances to shoot 59."
Thomas keeps a ball from each of his victories going back to his junior golf days. He estimates owning more than 100, and looked forward to adding to the wall with his victory at the SBS Tournament of Championship. But after he signed his scorecard Thursday, he had his picture taken with his new favorite golf ball, the one that will go at the top of the case, the one with 59 written on it.