Hero to (Week) Zero
This wild Scott Frost stat shows just how far Nebraska football has fallen
This weekend, the hallowed Week 0 for the college-football fiends of America, Nebraska did the same thing they've been doing for nearly a decade: They lost. The who—Northwestern, a fellow Big Ten bottom-feeder with a fraction of the Cornhuskers' football budget—didn't matter. Nor did the where, a neutral site in Dublin, Ireland. For the fourth time in head coach Scott Frost's five seasons in charge, the Cornhuskers started 0-1.
The loss plunged Frost's overall record since his prodigal return to Lincoln in 2018 to a dismal 15-30. This notable for a few reasons. First of all, he's now lost double the amount of games he's won at Nebraska. Second, if he's fired before October 1st, Nebraska reportedly saves $7.5 million in negotiated buyout fees. And finally because of this eye-opening, posted by reddit user zackb91 this weekend: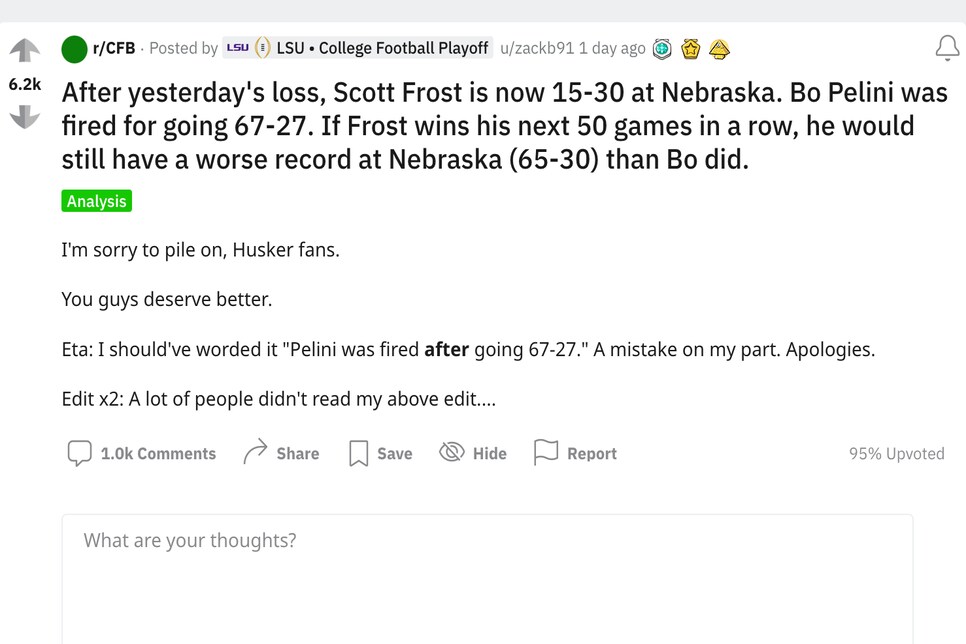 Bonkers. Frost was supposed to be the second coming of Tom Osborne (or at the very least Frank Solich). Now he needs 50 STRAIGHT wins just to be Bo Pelini. That is four consecutive undefeated seasons. That is pretty much impossible. That pretty much says it all.
Needless to say, after Saturday the writing is finally on the wall for the Frost regime in Lincoln. When he bragged about how much his hog mollies were puking a week or two back, we said that if Frost could get out of Dublin with a dub, they had a chance to start the year 3-1, without having to face Ohio State, Penn State, or Michigan State in the regular season. It was a rosy outlook that has since wilted. Nebraska faces two FCS opponents the next two weeks before a big rivalry tilt with ninth-ranked Oklahoma. Get blown out there, 48 wins shy of 50 straight, and we're guessing Frost doesn't get another chance to catch Osborne, Solich, Pelini.