Bewildering Breezes
Harold Varner, Adri Arnaus survive perplexing winds to lead Saudi International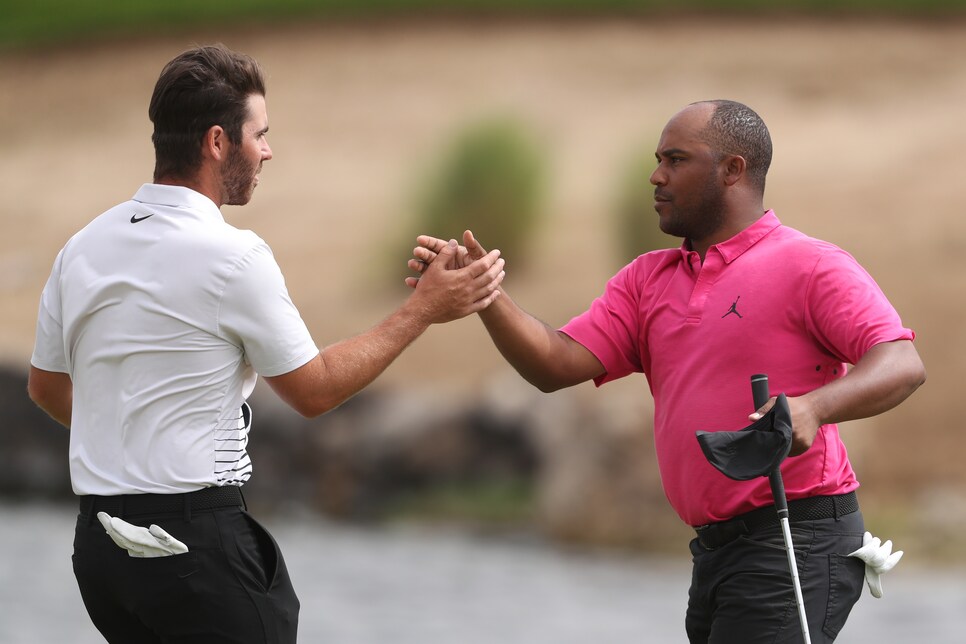 AL MUROOJ, Saudi Arabia — The second round of the Saudi International was never going to be much fun for any of the competitors. Gusting winds off the adjacent Red Sea made the 7,048 yards of the Royal Greens Golf & Country Club a test of endurance and patience, a day when the best ball-strikers could be fooled by the ever-changing conditions.
Which they were. But not all of them. Not all of the time. Good scores were possible, albeit achieved only by a select few, especially after lunch when the wind velocity steadily increased. So it is that, although he is tied for the lead on 10 under par alongside American Harold Varner III, round-of-the-day honors must go to Adri Arnaus' post-lunch four-under-par 66.
Still, with 36 holes to play in weather predicted to be similar, any number of possible winners remain in contention in this $5 million event, the richest ever on the Asian Tour. Piled up behind the two leaders is a host of prominent players. Cam Smith, Matthew Wolff, Tommy Fleetwood, Bubba Watson, Patrick Reed, Xander Schauffele, Tyrrell Hatton, Dustin Johnson and Phil Mickelson will all be harboring hopes of ultimate success. All are within six shots of the leaders.
And what just about everyone had in common, in particular the later starters, was a mixture of happiness and relief when their rounds were over. It was that sort of day.
"I was just trying to hang in there and give myself a chance," said Varner, whose 68 was compiled before the worst of the weather. "I didn't do anything crazy. I drove it well, kept it in play. And I missed in spots where I could get up-and-down."
Others were more animated in their assessment of their day out on the links. Windswept and interesting was the universal tone, especially when it came to getting the ball into the hole. Putting, as so often when the wind howls, proved to be the hardest aspect of play when nothing was easy.
"It was so hard to putt out there," said Dustin Johnson, who sits four under par after a Friday 71. "I actually played really nicely. Just couldn't get the ball in the hole. I gave myself a lot of chances. But I had to play the wind on every putt, which made them tough to read. Being nice, I left four shots out there, maybe more. I haven't done myself too much damage. It's going to be windy again the next two days, which helps me. A good score tomorrow and I'm right back in it. I'm swinging well so that's a good sign."
More chuffed was Xander Schauffele. The Olympic champion eased around in 68 to be one shot better than Johnson.
"It was an up-and-down day so I'm happy to come out on top," Schauffele said. "I did most things well. You get found out in a hurry if you are struggling in wind like that. I was aware that if I could shoot a couple under par, I'd make up some ground and get myself back in position. I actually enjoy playing in conditions like that. I feel like I can flight the ball well and take advantage when I can.
"I don't mind a constant wind so much," he continued. "But today it varied so much. Putting was always tricky. It's easy to leave a lot of seven/eight footers for par. I was fooled a couple of times. A left-edge putt with no wind was suddenly right-to-left. And if the wind dies you can look like a fool."
Patrick Reed wasn't claiming foolishness, but, in the middle of a swing change under the watchful eye of David Leadbetter, his tolerance level was tested.
"It played so hard," said the former Masters champion, who is five shots off the pace. "It was hard to control the ball but the putting was toughest. I had putts that were supposed to break one way but we played the opposite because of the wind. There were a couple of loose swings, but I missed a lot of putts, especially early on. So I had opportunities. I love it when it plays tough, although the course allows you to shoot a number when you have everything on. I left a few out there.
"Realistically though, anything under par was a good effort today," he went on. "My swing change is not huge, but it's enough to make me think. It's a work in progress. One that still allows me to go play though. It's not so drastic that I have to practice a ton."
Sergio Garcia had a slightly different take on why he is ten shots back on level par. Toughest for the Spaniard was timing. To him, luck was part of the equation. Not in his method itself, but taking the club away and getting to impact without losing balance.
"The hardest part is making your swing and hitting the shots at just the right moments," said the Spaniard. "The wind is gusting so much, it is easy to get frustrated. If you get unlucky, it can feel like the wind is blowing at just the wrong times for you. That happened to me on the last putt on the last hole. It's just tough though. All you can do is trust what you are doing as much as possible. And hope that you get lucky."
The last word, however, must go to Tyrrell Hatton. Patience, he would be the first to admit, is not something the volatile Englishman has in abundance. So were the conditions just too much? Not at all. Round in 69, Hatton is four under alongside Johnson and Mickelson.
"Controlling the ball was just so difficult," said Hatton, who played in the morning. "It was so hard to get anything close to the hole. You had to hit a fantastic shot to have any kind of birdie chance. The guys playing this afternoon are going to have a pretty tough time of it. I'm delighted to be finished. I did play some good stuff. Some bad too, which is always going to happen on days like this. So I had to be quite tolerant of myself [big smile]."
"It was especially hard to get the clubbing right," he continued. "I had about 180-yards to go into the ninth green, my 18th. I hit a good 5-iron and kept the ball low. But it still only went 160. It was mental and so hard to judge. It is also difficult to judge how the ball will react out of the rough. It has a tendency to come out 'soft and skinny,' which only exaggerates how short the ball will go. I'm so happy to be done."
And so said all the rest.