Saudi International
How did Matteo Manassero go from can't miss to can't play to leading early in Saudi? We'll let him explain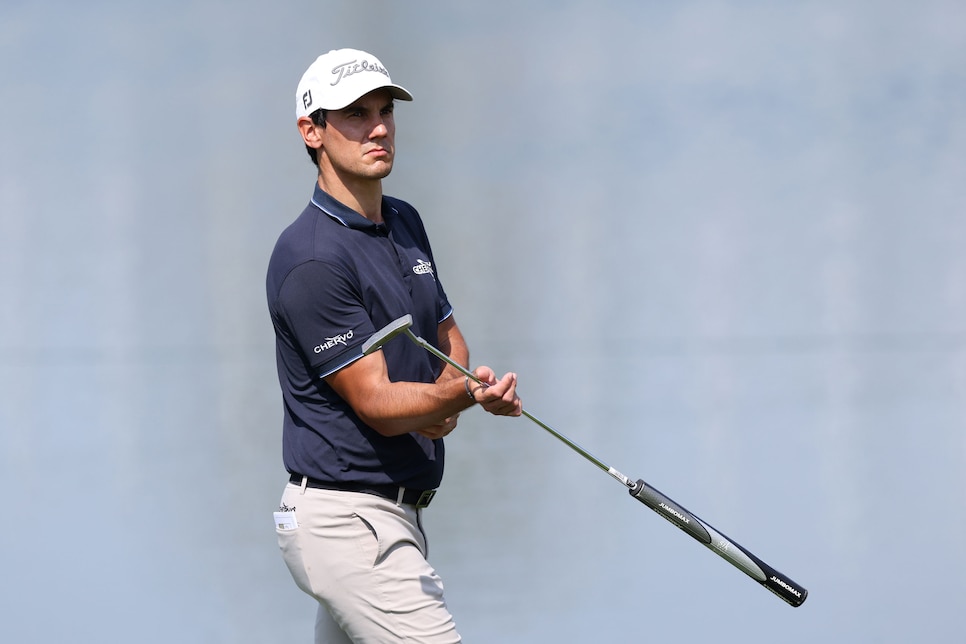 Matteo Manassero walks down the 18th hole as he finished up an opening-round 64 to take the early lead at the Saudi International.
Luke Walker/WME IMG
AL MUROOJ, Saudi Arabia — At last, some good news amid the turmoil that is professional golf across the globe right now. In the opening round of the Saudi International at the Royal Greens Golf & Country Club, Matteo Manassero shot eight-under-par 62 to lead a field best described as "not short of well-compensated star names."
The 28-year-old Italian made eight birdies and did not drop a shot over the 7,048-yard layout during Thursday's opening round. At one point he was thinking 59. But it wasn't to be, which is the phrase most widely used to describe Manassero over the last three years or so. Because once, not so very long ago, he was considered one of golf's can't miss phenoms.
Back in 2009, at age 16, Manassero won the British Amateur, the youngest man to achieve that notable feat. One month later, he claimed the Silver Medal awarded to the leading amateur in the Open Championship at Turnberry. It was well-earned, too. The young Italian finished T-13, just four shots back of the playoff between Stewart Cink and Tom Watson. By the end of that year, to the surprise of precisely no one, Manassero was ranked the No. 1 amateur on the planet.
It continued in 2010 when Manassero made the cut at the Masters, at the time the youngest to ever do so. A week later he turned professional, and six months after that he was a winner on the then European Tour. Shocking no one yet again, he was the Old World circuit's rookie of the year.
Another European Tour win came in 2011, then three more in 2012. But that was nothing compared with what remains Manassero's biggest victory, the 2013 BMW PGA Championship at Wentworth. By winning the European Tour's flagship event, he rose as high as 25th in the World Ranking. At the age of 20.
So what was next? More wins in Europe? A first-place finish on the PGA Tour? A major victory? Ryder Cup appearances?
Turns out, none of the above. In 2014, Manassero recorded just one top-10 finish on the European Tour. A year after that he made only six cuts in 22 starts, finishing 167th on the Order of Merit. Only that win at Wentworth kept him on the tour. But that was merely a reprieve. By the end of 2018, Manassero was no longer a European Tour player.
"In late 2018, I started afresh," he said. "I couldn't play any more, really. I was scared of where the ball was going. I had no control of it. It got to the point where you can't face that sort of pressure on you, it's too much. I wouldn't necessarily say there was a low point, but the feeling I was experiencing meant there was nothing to enjoy. As a young player, of course, I would never have believed I could have reached that point. For such a long time, I had never experienced failure."
Since that decision was made, Manassero has largely struggled away on lower-tier tours, although there was a victory in 2020, his first in seven years. It came at the Toscana Open on the Alps Tour, the third division of European golf. Still, as you do after an eight-under-par round on any tour, he was sounding positive about his game and the future.
"It has been hard for me," Manassero noted. "As I said, I got to a stage where yes, I know I am talented. Everyone was telling me that. But I didn't really believe it. What I was seeing was not very good. And what I was feeling was worse. So I had to start from zero and get comfortable with the new people I have been working with. The aim was to create something new. And that has helped me a lot.
"I worked a lot on technique in my long game," he continued. "A lot of putting. And a lot of creating a mental structure. The most important thing for me is to go out on the course with something that will help me, not drag me down. I know my plan. I know what I have to think. And I know what my attitude has to be. I had to improve my technique, too, of course. If your swing is bad, you can have any attitude you want, it won't help. It's all about building blocks, which is the mind-set I have tried to have for the last three years."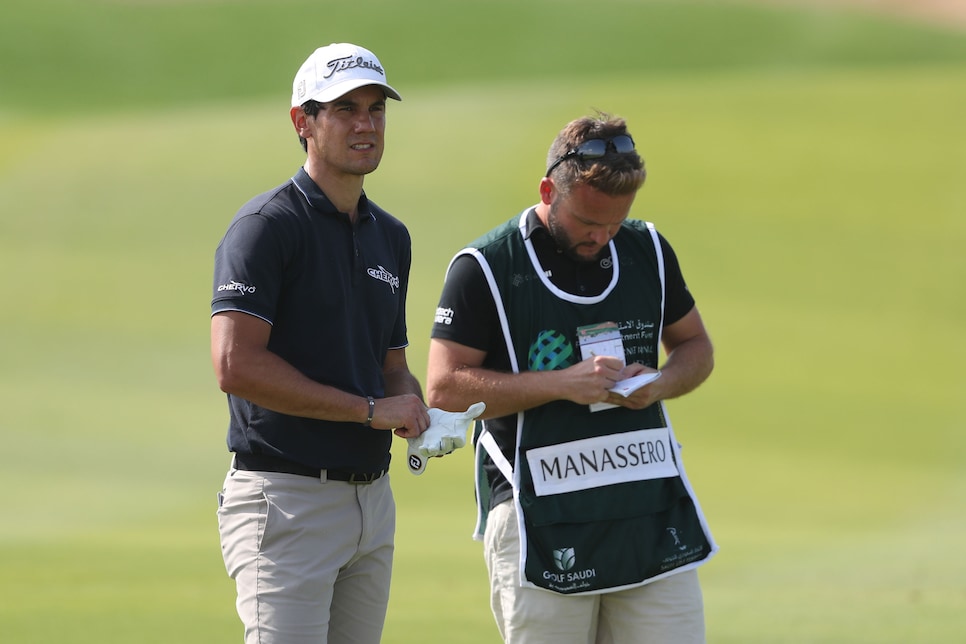 Manassero has won just one tournament since 2013: the 2020 Toscana Open on the Alps Tour, the third division of European golf.
Oisin Keniry
If that is true, his play in what was his first competitive round in more than two months is the equivalent of putting the roof on a new house. Claiming this round was "as close to a perfect round as it can be," Manassero gave an honest admission of how he was feeling before the start.
"I missed one green and on that hole a good up-and-down from a difficult spot," he said. "I was ready in any moment of the round to do my best. That's a great feeling, especially in the first round of the season after quite a break. Although I worked hard technically over the last couple of months, I was curious and anxious to see what I would do in competition. You never know if the feels will be different on the first tee. But it went well. I am obviously very happy. I couldn't have wished for anything more."
One shot in particular stood out. "My second shot to 13 was really good," he said. "I didn't feel great over the ball. But I pictured the shot and made the swing. That gave me confidence, knowing I could do that even when I felt less than good. It was a positive sign. I was ready to take whatever came my way though, which is a different mindset than I have had over the last two or three years. I have been feeling more anxiety. And when your mind and body knows that, you are going to struggle. But now I have a plan, which helps me in good rounds and bad. I have reached the point where I can enjoy competition again."
Enjoy and hopefully thrive. Wish him the best.