European Tour
Dustin Johnson proves too much for Tony Finau, rest of the Saudi International field to overtake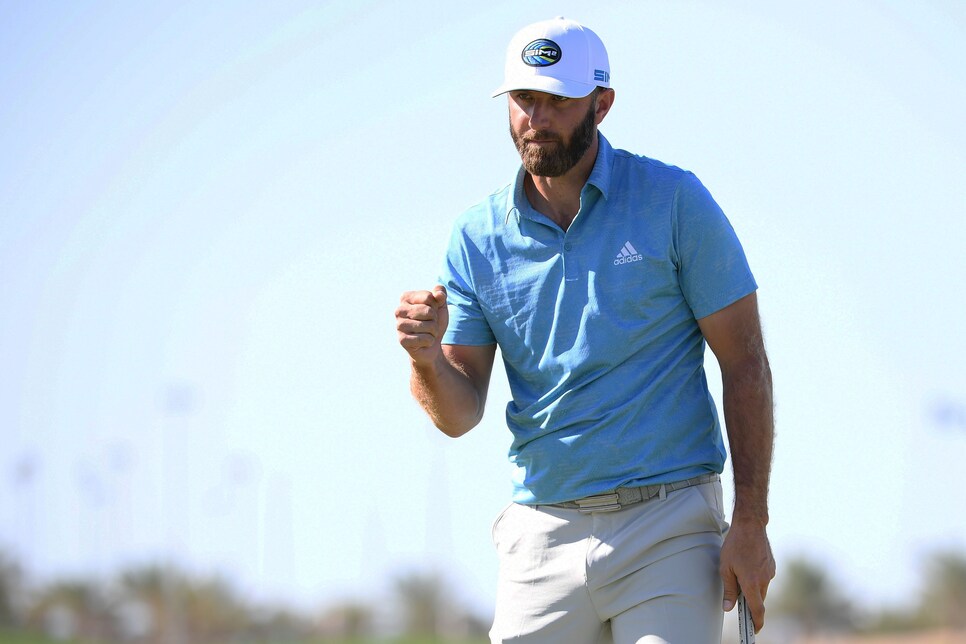 Dustin Johnson reacts on the 18th green after winning the Saudi International for the second time in three years.
Ross Kinnaird
Call it his annual bonus. Quite apart from the no-doubt seven-figure appearance fees that have somehow convinced the Masters champion to visit Saudi Arabia on three lucrative occasions, Dustin Johnson's first-second-first record in the Saudi International has now earned him a total of $1,505,079 in prize money. Not that the boost to his already bulging bank account will be the most satisfying aspect of the 36-year-old South Carolinian's 16th worldwide victory in his last 100 starts.
At least for those with any kind of realistic ambition to ease him out of top spot in the World Ranking, Johnson's latest win was achieved with a disconcerting ease. While the eventual champion struggled more than a little with his putting at the Royal Greens Golf & Country Club, his play from tee-to-green was spectacular. Just twice did Johnson drop shots to par the entire week, and only an unerring ability to miss a succession of birdie-chances gave the chasing pack any sort of encouragement. All in all, this was message-sending stuff.
"If Dustin had putted even half-decent, he'd have won this event by eight," said Sky Sports on-course reporter, Wayne Riley, neatly summing up what will surely be the widely held impression of the week. "Everyone else knows that this guy is the 'daddy' right now."
So it was that, two-shots clear overnight, a closing round of two-under 68 was enough to clinch the victory. Johnson's 72-hole total of 15-under 265 gave him a two-stroke edge over the runners-up, Justin Rose and, somehow inevitably, the long-suffering Tony Finau. In a dozen competitive rounds over the 7,010-yard layout that sits hard by the Red Sea, the now two-time Saudi champion is an almost ridiculous 44 under par. His worst score is 68.
"Conditions were tough out there," said Johnson. "But I knew I was hitting it well. I kept giving myself chances, even if I didn't hole any of them. I just played solid, but just couldn't hole any putts. I struggled with the reads. What I saw as left-to-right turned out to be right-to-left and what I saw as right-to-left was left-to-right. But I'm very pleased and proud of winning when I didn't feel like wasn't completely firing on all cylinders. I'm really just pleased with the way I controlled the golf ball."
Only once was Johnson caught, although even that mild shock to the system did little to alter the air of insouciance with which he typically performs. Just a few minutes separated Finau's birdie at the par-4 13th and Johnson's matching 3. Thereafter, the pair matched cards until the almost drivable 350-yard 17th. It was there that Finau stumbled to a clumsy bogey 5. And when Johnson chipped close for what was only his third birdie of the day, the gap between the two was back to three shots. A cagily-played par on the par-5 18th was then more than enough for Johnson to clinch victory.
Not for the first time since his last and only victory at the 2016 Puerto Rico Open—his record shows 36 top-10s between then and now on the PGA Tour—Finau was at pains to make positive noises in the wake of what must have been a painful loss. Encouraged by driving he felt took a lot of pressure off his short game, as well as the positive run he made over the first half of the back nine, the 31-year-old identified failures in his putting as the key to yet another near-miss moment.
"I've enjoyed my time here," said Finau, who ranked a lowly 129th in final-round average on the PGA Tour last year. "A little bittersweet at the moment. I knew I could put some pressure, but unfortunately made a couple of bogeys on 16 and 17. I was floating three or four back going into 11 and knew I was running out of holes to make something happen. I know how well I'm playing and I've got to just keep positive. If I keep playing at a high level and give myself a chance to win, I just know it's bound to happen. I hit a lot of greens and I actually didn't feel like I putted that well. That's what I'm going to look back on as what I need to get better at to close out some of these tournaments. I have to make some of those putts from a little bit closer."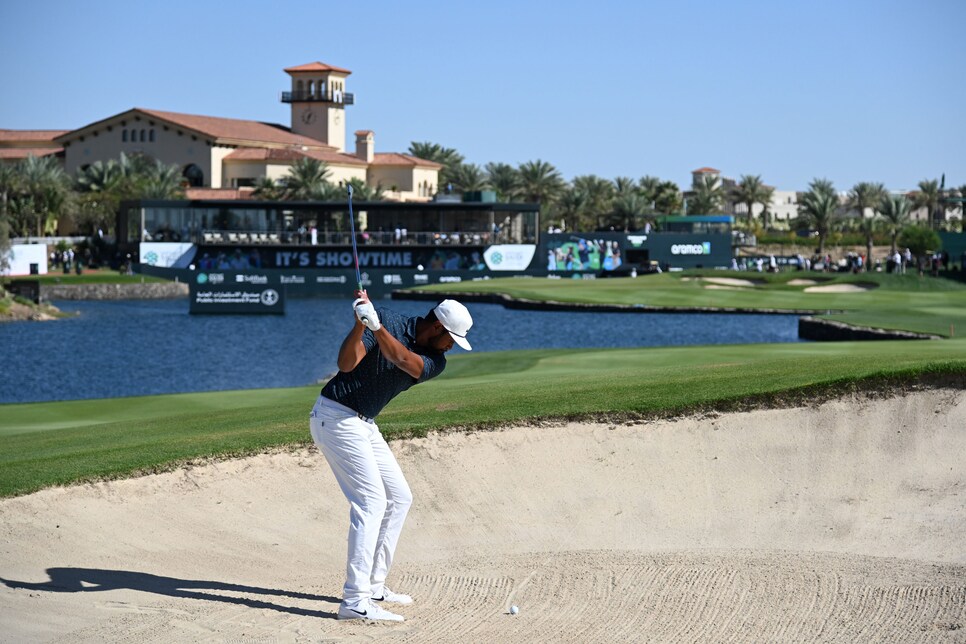 Tony Finau briefly tied Dustin Johnson on the back nine, but bogeys on the 16th and 17th holes cost him yet another chance at his first win since the 2016 Puerto Rico Open.
Ross Kinnaird
Adding to a by now common theme, Rose was also bemoaning putts missed. Despite compiling a bogey-free 65 that confirmed a welcome return to form for the 2013 U.S. Open champion, he pointed to the fact that the seven-footer he holed on the 16th green was his longest "make" of the final day.
"I've been working on a lot of stuff but really staying patient," Rose said. "I haven't been playing my best golf and it's been easy to get frustrated. This three-week trip has felt like slow going. My good golf hasn't been rewarded and I've made silly mistakes. Momentum hasn't quite been on my side yet. So to play a bogey-free 65 on a Sunday is something I can take to fuel the upcoming run."
The last words though, belong to Johnson, his message more than clear to those who might challenge his current supremacy.
"I come into every tournament looking to contend and I prepare as best I can," he said. "Obviously I've been playing some really good golf the last six months. Hopefully I'm going to continue to play this kind of golf. But I'm seeing a lot of the same things each and every week. I've got a great team around me that helps me perform at the highest level."
If he continues to do so, the rest, like Rose and Finau, are playing for second.