Pain.
Pray for this volunteer who got PLUNKED by a Dustin Johnson drive at the Saudi International
I've never been hit by a golf ball, but from what I've heard, the pain is unimaginable. If you're lucky (or smart), you'll never be in a position to get struck. Unfortunately, for those that have been, it's often a case of wrong place, wrong time.
A volunteer at the Saudi International learned this the hard way on Friday. Standing in the left rough at the par-4 10th, this poor dude was just minding his own business when suddenly ... PLUNK. Whose ball was it, you ask? It was Dustin Johnson's, which means it was likely coming in at absolute warp speed. Keep this guy in your thoughts and prayers:
Um, he is most definitely not fine. The guy went down like he'd been shot, which, for at least a brief moment, is probably what it felt like. This ain't like getting hit in another fairway by a pop-up from the 12-handicapper on another hole. This is the ball of the No. 1 player in the world, who averages 177.74 ball speed. Yeah, we're going to go ahead and assume that one hurt. You don't go down like that if it doesn't: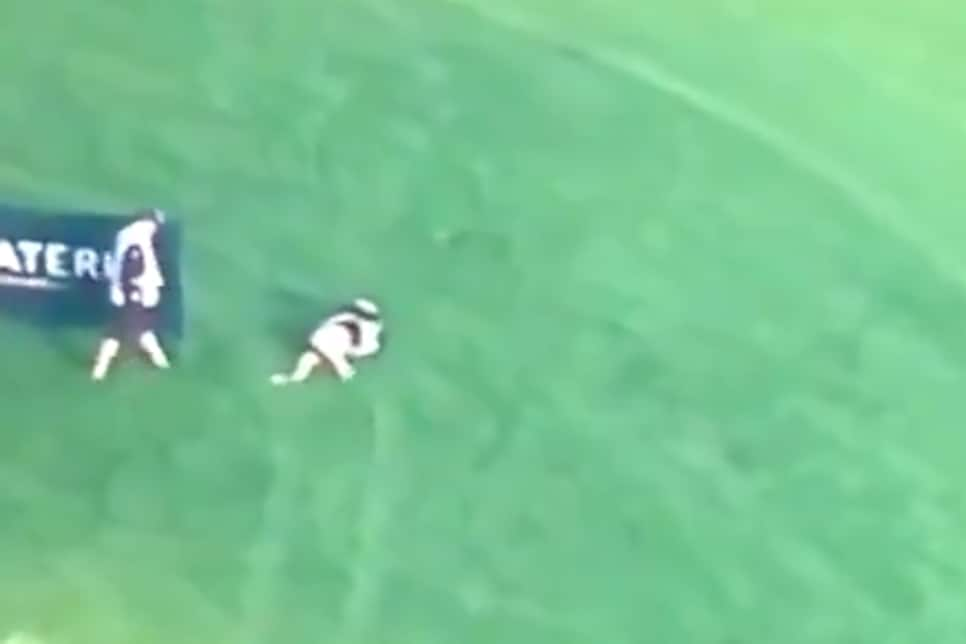 "I think it got him on the padding," says the commentator. Padding? The guy is wearing a caddie bib! We'll have whatever this guy is smoking.