Pointing The Finger
Sauce Gardner's excuse for liking a tweet bashing Zach Wilson is one of the great spin zones of all time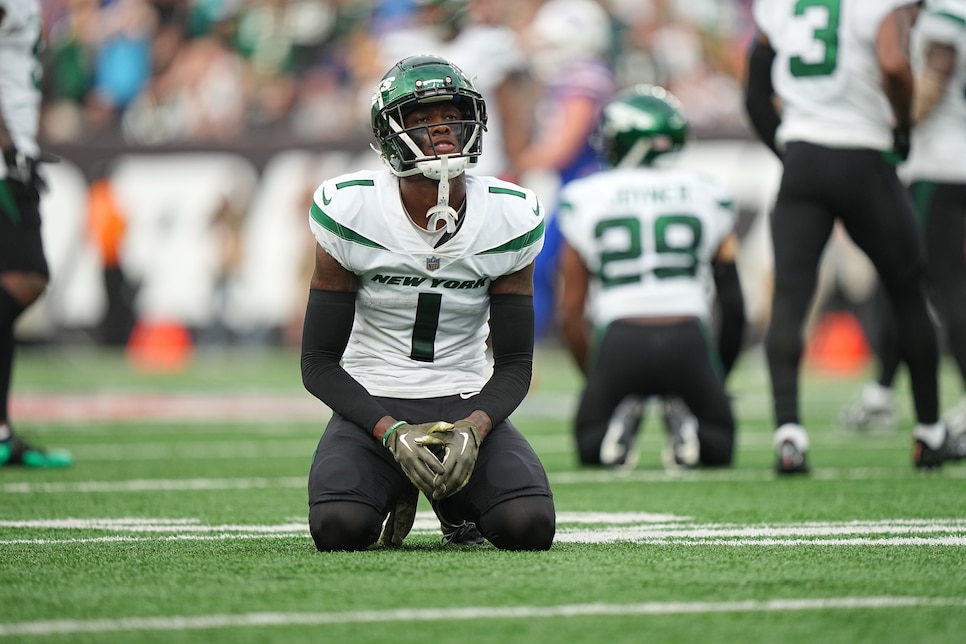 Despite having what is unquestionably the franchise's best season in over a decade (!), the New York Jets are still finding ways to be, well, the New York Jets. After winning what felt like a season- and program-altering game over the Buffalo Bills, which was followed by a much-needed bye week, Gang Green came crashing back down to earth on Sunday in New England, dropping their 14th straight to the Bill Belichick-led Patriots. That's seven consecutive season sweeps for the Pats over the Jets, for those keeping track.
And somehow, some way, this 14th straight L was the most painful of all the Ls. Remember, this is a collection of defeats that has included last season's 54-13 romp in Foxoboro, plus 41-3 and 38-3 blowouts from 2016 and 2018, AND the infamous Sam Darnold "seeing ghosts" Monday night game (NE won 33-0) in 2019. How could anything be worse than that?
Welp, Sunday was, not only for the way it ended on Marcus Jones' 84-yard punt return touchdown, but for the way the whole game played out, particularly the second half. As we already pointed out this morning here, the Zach Wilson-led Jet offense averaged 2.77 inches per play in the final two quarters. Yes, inches, not yards. INCHES WE TELL YOU!!
There's worse stats, too, like the Jets punting more times (10) than Wilson completed passes (nine). Or Joe Flacco still leading the team in touchdown passes with five to Wilson's four despite playing in four less games than Wilson. With all of these facts and figures making the rounds Monday, Wilson is now drawing comparisons to Johnny Manziel and JaMarcus Russell. Not sure if you guys are up on your NFL history, but those comps were not compliments:
Wilson is also being torn apart by many of the self-proclaimed film-watching experts of social media, though you don't need to be an expert in any field to point out how bad these two plays were:
Not great, Bob. Making matters infinitely worse is that Wilson didn't shoulder the blame during his postgame presser, which is usually a death knell for New York-based quarterbacks. New York fans understand when you simply do not possess the talent to hack it in that town, but what they do not stand for is a lack of effort and/or accountability as he displayed here:
A very simple "Yes. I sucked today" would have not only sufficed, it would have been applauded. There isn't an easier out in NY sports, and sports in general, than saying "that one's on me" and coming back the next week and winning (see: Allen, Josh).
If you're wondering how it could have gotten any worse for this 6-4 club, defensive players liking tweets bashing Wilson is exactly how! First up was defensive end John Franklin-Myers, who smashed like on a comparison between how Wilson and Allen have recently handled poor performances: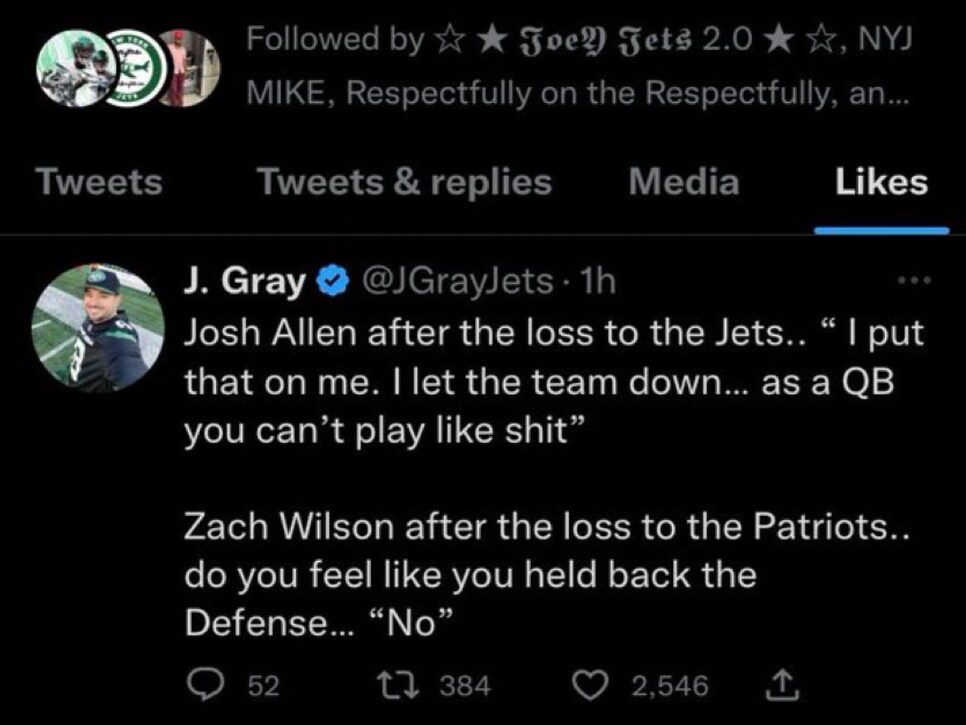 Sauce Gardner, the Jets' top overall pick from the 2022 NFL draft who appears to be a superstar in the making, also joined in on the fun:
Oof. Oof, oof, and a third major-league OOF. A 6-4, possibly playoff-bound team turning on their QB is a less-than-ideal situation, some would say. Don't worry though, guys. Sauce and JFM "didn't mean" to like those tweets. A total mistake. As Sauce puts it, it's actually the fans' fault for tagging him in it constantly:
Really guys? We're rolling with the "I didn't mean to do it" excuse? It'd be somewhat believable if it was just one of them, but two guys liking two separate tweets bashing the QB, and then trotting out the ol' "I didn't mean to!" and deflecting blame to the fans is a dead giveaway. Nice try, boys, but we know you think he sucks and is the reason you lost despite giving up only three points to the Pats' offense. Might be best to lay off Twitter for the rest of the week in case the fans force your thumbs to "accidentally" hit like on something again.