Podcasts
'Is this a trap game?': Danny Woodhead's wife told him the thing every golfer dreams of hearing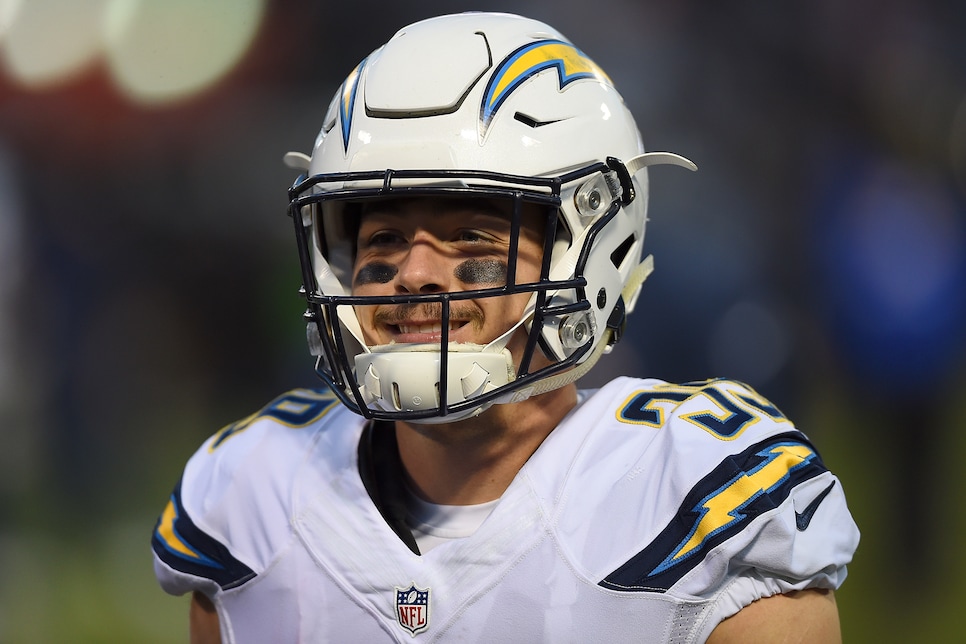 Danny Woodhead played nine seasons in the National Football League at the running back position, eight of them extremely productive ones. And while he did play at the Division II level, he's widely regarded as one of the greatest NCAA running backs of all time. Yet when you open up Woodhead's Wikipedia page it starts with "Danny Woodhead is an amateur golfer who has qualified for the United States Golf Association championship tournaments, and was a former American football running back."
While it is hilarious that his NFL career is now an afterthought, it is not by accident. Woodhead has gotten into plus-handicap territory in retirement, and, as his Wikipedia page says, he's already qualified for a number of USGA events. This past year, Woodhead made it to the Sectional Qualifying stage for the U.S. Open, a herculean feat for some of the top club pros and amateurs in the world let alone a running back who didn't get serious about golf until he hung up the cleats.
How has Woodhead gotten so good so fast? Look no further than his football career. Woodhead wasn't highly recruited in his home state of Nebraska, and he was always the smallest guy in the room. But he gritted and grinded his way to a nearly 10-year NFL career, so it should come as no surprise that he's found success on the golf course, too. Much of the credit, however, goes to Woodhead's amazing wife Stacia, who once told him the one thing every golfer dreams of hearing from their wife: get the hell out of the house.
"We retired, it was a couple months in, and she was like 'ya know, during the week, you really need to go golf or something," Woodhead said on this week's episode of The Loop podcast. "I looked at her and I was like, is this a trap game? When you have trap games in the NFL you are literally like 'is this a trap game?' I kind of looked at her and said 'Golf? Like you want me to play golf?' She had been running a house for that many years and me being home kind of interrupted it. She loves me, right? I love her. But it was kind of like, just get out of the house."
Luckily for Woodhead, it was not, in fact, a trap game. He and his wife came to an understanding that he'd be gone all week just like any other human would be for work, only he'd be grinding away on his game. Really, really good work if you can get it, we'd say.
"Usually I'm gone for awhile and then home around lunch, 2 p.m., so I'm still working less than 40 hours," he added. "I'm home much more than most dads. So she's incredible, she knows I need it as far as like competition goes. She's told people if Danny doesn't play golf he tries to compete at home, and that's not good. And I would agree, it's terrible."
While much of our conversation revolved around golf, including Woodhead's first foray into the Golf Digest Hot List where he was a club-tester last week, we did also get to chat a little football with the former New York Jet, New England Patriot, San Diego Charger and Baltimore Raven. He delivered an A+ Bill Belichick story, explained why he's unimpressed by Tom Brady and why another one of his former quarterbacks, Philip Rivers, is among his favorite guys to play with. Please have a listen to our full interview below, and like and subscribe to The Loop wherever you get your podcasts.