Sandy Tatum: He Never Surrendered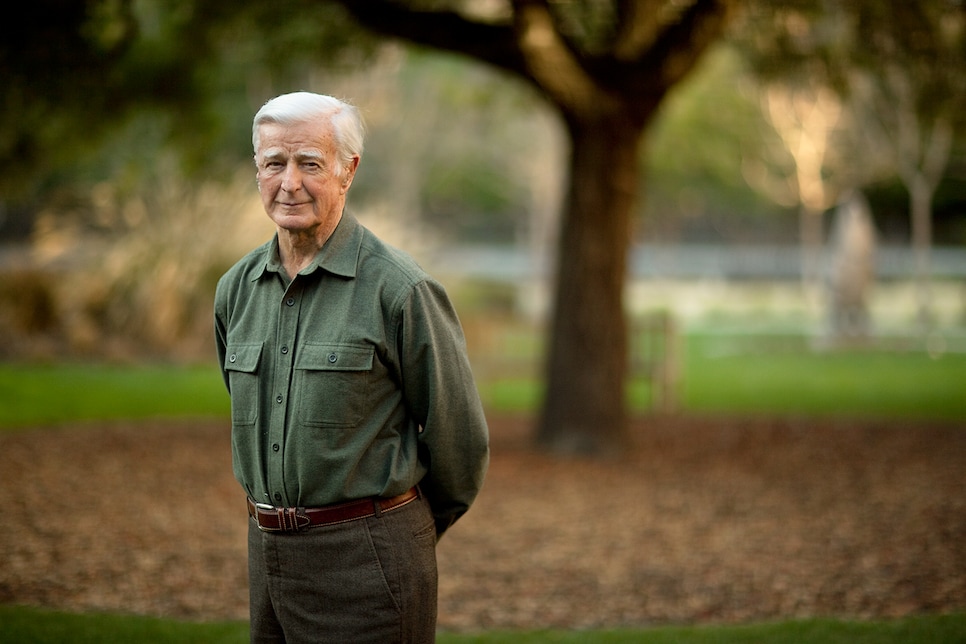 His only connection to the New York theme of this issue was that he uttered the most famous line ever associated with a USGA president, at Winged Foot, where seven over par won the 1974 U.S. Open: "We're not trying to embarrass the best players in the world; we're trying to identify them." It's the New Yorkiest line I ever heard, except maybe for Sinatra's "If you can play this town, you can play anywhere."
Sandy Tatum, the white-shoe lawyer from San Francisco by way of Stanford and Oxford, was as far from a New Yorker as you could be, but when he died at 96 this summer, I cleared my desk to compose a tribute to golf's unrequited lover.
First, some personal memories. A new member at Winged Foot during the inaugural U.S. Senior Open in 1980, I was volunteering in the press tent when word reached us that Sandy, playing in the event, had taken the first-round lead at one under through 10 holes on the East Course. I rushed out to watch him tee off on 11. It was the first time I'd seen him play, a thing to behold. At the top of his backswing, the club came to a complete stop, motionless for at least one full second, before his majestic downswing. The pause at the top remains just about the most amazing golf lesson I ever got.
Another time, he invited me for a game at Cypress Point, which he famously had named The Sistine Chapel of Golf. I was playing well above my head when we came to the oceanic par-3 16th hole, two over par, and just trying to break 80. I took out an iron to lay up. He scolded me. "You didn't come 3,000 miles to lay up at Cypress Point," he said. Reluctantly, I went back for my driver and hit two balls into the Pacific. There wasn't a malevolent bone in Tatum's body, but at that moment he had an unmistakable look of satisfaction.
The last time I saw him play was in an East-versus-West match. What I remember is the banker John McCoy stomping into the grillroom and muttering in mock disgust, "I just got my ass kicked by a 91-year-old walking 18 holes at Pine Valley!"
Sandy's first article for Golf Digest appeared in July 1982, "Irish Whisky, Scottish Gorse, Tom Watson and Me." It was about his "secret" trip to play golf on the Auld Sod with Watson, only at every stop hundreds of Irishmen showed up and shared a wee dram or two. "There's no way you can keep a secret in Ireland," a local told them. "You should have published it in the newspapers, and then nobody would have believed it!" But the trip became the basis of the Watson-Tatum friendship that endured as a symbol of passion for links golf. "Don't you ever get tired?" Watson asked.
"I certainly do," Tatum replied, "but put me vertical and give me the feel of seaside turf through my spikes, and I could go on forever." "Unrequited Love" (March 2006) was Tatum's last piece for us, at age 85. He looked like a distinguished Supreme Court justice in the accompanying picture, I told him. "I've learned your I.Q. goes up 10 points when you close your mouth," he replied. But the message of the piece was hauntingly about how his game had deteriorated with age. "I resorted to every conceivable approach to effect some sort of reconciliation," he wrote. "I now have to live with the reality that the game has left me for a younger player."
Over the years since, he'd write me an occasional update: "My 90th birthday took my golf game south without leaving a forwarding address." In an interview in 2012, he said: "Instead of worrying about what you no longer have, figure out what you still have left, and make that work as well as you possibly can." Two summers later he wrote: "As I ruminate about the life I've been so privileged to have lived, gratitude takes over."
Then a hand-scrawled letter in December 2014:
"As I have experienced it, unrequited love gets more unrequited as the years pile on! I compensate, at least to some extent, by recollecting how sensational the love affair was. My mantra continues to be, I will never surrender! Furthermore, at age 94 I could not be more grateful to be out there swinging at it regardless of where or how it goes."
His last email came a year later when he wrote about an interview I'd done with a mutual friend. The words became self-descriptive:
It was an extraordinarily effective exposition of a very special person, someone with a very distinctive combination of qualities. What a break it was for all of us who have known him.
P.S. I am moved to add that I appreciated being in contact with you.
Then, this past February, word again reached the press tent that his other true love, his wife of 67 years, Barbara, had passed away. Four months later, Sandy peacefully followed.
The passion for links golf, the friendships made along the way, the endless struggle to love a game that doesn't always love you back­—Sandy left that all behind for the rest of us to keep.