The Loop
The Padres whining about Brusdar Graterol spiking his glove after Cody Bellinger's home-run robbery is a pretty bad look for Slam Diego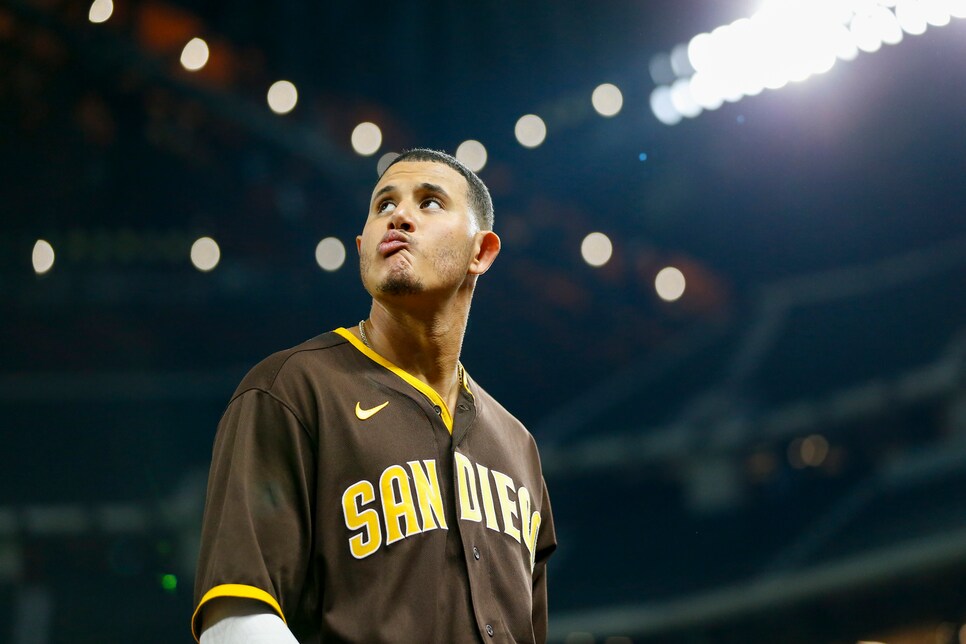 By now, you've probably seen the clip. Trailing by a run in the top of the seventh with a man on, the San Diego Padres' Fernando Tatis Jr.—AKA El Nino, AKA The Kid They Let Play—stepped to the plate with a man on. On the first pitch, a 99-mph sinker from the Dodgers' Brusdar Graterol, Tatis flicked it out to center. It kept going and going, and right about the time the world had come to terms wiith the fact the Padres were about to be leading the ballgame, Cody Bellinger, a FIRST BASEMAN by trade, leapt up and committed an act of baseball larceny that will be talked about for years to come. The cardboard cutouts exploded and some 340 feet away, Graterol went B-A-N-A-N-A-S, spiking his glove, throwing his hat like a frisbee, and crediting the heavens with what was clearly Bellinger's accomplishment.
But on his way back to Padres dugout, Manny Machado took issue with Graterol's admittedly absurd histrionics (especially when you consider that in 8.5 cases out 10 he would have just given up a go-ahead dinger.) The two got to jawing, as ballplayers do, ending with Graterol waving goodbye to Machado and blowing him a kiss, which just about made the whole powder keg go boom. Go ahead and dig in.
All good stuff to toss in the MLB postseason crockpot, but not a great look for "Slam Diego," who not only lost the game and now trail in the series 2-0, but have also built their ENTIRE brand stunting on fools. Hell, just last week, we covered the bat flip Bonnaroo they unleashed on the hapless Cardinals. You don't get to do this, and then turn around a few days later and whine when some bullpen guy struts on you. These aren't the rules of baseball. THEY'RE THE RULES OF EVERYWHERE. Do unto others. If you can't handle the heat, stay the hell out of the kitchen. So on. So forth. This is the shit you're supposed to learn in second grade, not the NLDS.
Now don't get us wrong, the Padres should be allowed to flip the batskis and swing on 3-0 regardless of the score. They can bloviate and celebrate and gyrate. If we wanted to watch a bunch of grown men act holier than thou for four interminable hours, we would go to church. What they can't do, however, is get in their little baby feelings when they get what they give. That is not how the deal they made with the devil works. So stop complaining, play ball, and, as always, stay classy Slam Diego.