WGC-Dell Match Play
Sam Burns captures WGC-Dell Match Play in rout as PGA Tour says goodbye to Austin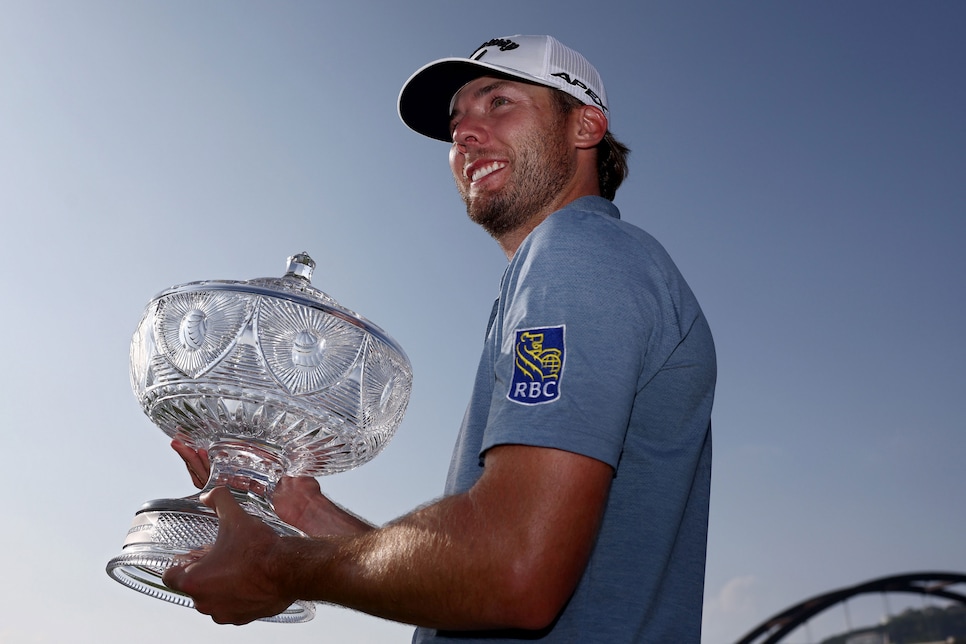 AUSTIN — If you win in the shadows, you still win, and you can bet Sam Burns wasn't bothered by the various narratives swirling around him as he took home the title in the final WGC-Dell Technologies Match Play with a 6-and-5 win over Cameron Young on a listless Sunday afternoon in the Texas capital. The glory, the $3.5 million prize money payout, the surprising shot of success in what has been a difficult year—all of it is sustenance transcending what everyone else might be thinking.
In other words, good for Burns. The highlight of his week came on Sunday morning, when the 26-year-old Louisiana native stared down his friend Scottie Scheffler, the No. 1 player in the world and the undisputed alpha of this event, in their semifinal clash. Burns survived a blown lead and a five-foot putt from Scheffler that would have relegated Burns to the consolation match, winning on the third extra hole with a gutsy putt. That sealed a date with Young, who also went to extra holes to defeat a juggernaut (Rory McIlroy). It was little surprise that both looked—and played—exhausted as the mercury rose at Austin Country Club.
Even the crowd, in full throat during the morning matches, seemed subdued. By his own admission Burns got off to a slow start with a bogey on 2. He was still 1 down two holes later, but then Burns brought the heat; if you thought the nifty 27 on the front-nine that Young posted earlier in the week against poor Davis Thompson was impressive, what Burns unleased was almost as devastating.
Starting with an iron to six feet on the par-3 fourth, Burns birdied eight of his next 10 holes in a display so dominant that Young, who tried his best to hold strong, was reduced to shouting expletives after an errant tee shot on 12, and pouring two balls into the water on 12 and 13 as the match came to an anticlimactic finish. There is a saying in recreational golf that if you're going to play poorly, at least play poorly fast. You could perhaps extend that metaphor to this match itself—it may have not lived up to what came before, but it had the courtesy to end early.
As for those shadows cast over Burns, the longest on Sunday was perhaps the anticipation of a McIlroy-Scheffler dream final turned not-much-consolation third-place match. As late as the 17th and 18th holes on Sunday morning, this outcome still seemed not just possible, but likely. Then Burns and Young turned things around completely, the action peaked in the extra holes, and everything that came after felt, almost by necessity, like denouement.
"This week is as mentally exhausting as it is physically," Burns said, who made an impressive 49 birdies over 119 holes. "I think after 10 holes this morning, my caddie, Travis [Perkins], kind of gave me a good kick in the butt and said, 'Come on man, let's go, you got this.' And I really needed it at the time. … I'm just so thankful that he was out there with me battling every step of the way and thankful that we were the last one standing."
That 10th hole, when Burns trailed Scheffler by two holes after leading early, was the low moment of his day, the nadir before the peaks to come. Burns' putting all week had been among the field's best, but he took it to a new level in the final, pouring in putts of 20 feet, 11 feet, and 20 feet again in his torrid birdie stretch. There is likely no opponent that could have stood up to him after Perkins lit the fire.
It's worth noting, speaking of caddies, that this was Young's first week with Paul Tesori, who formerly looped for Vijay Singh and Webb Simpson. Though Tesori is far more of a talker, Young said he enjoyed the dynamic, especially the fact that Tesori's frequent questions, in an effort to know his new player, also triggered some thoughts for Young himself about how he plays the game—a surprise kind of self-discovery that obviously worked well in their maiden outing.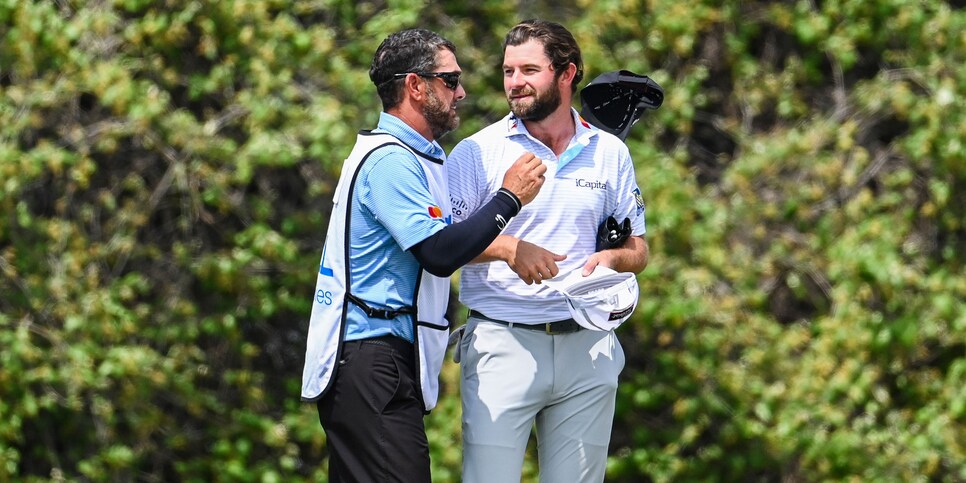 Young, 25 and still looking for his first PGA Tour win after now collecting a sixth runner-up finish, made no excuses and seemed to leave with no regrets. Still, he deserve some pity anyway—he was at the top of the strokes gained leaderboards all week, in every category, and didn't play badly against Burns. It's never fun to run into a buzzsaw, particularly when you're the one that had been chopping everybody else into bits all week. The words Young chose to describe what he faced in that last match were succinct but accurate: "a huge bummer."
"I think if it had been a stroke-play tournament, who knows," Young said. "You never know. Because I could have played totally differently. Maybe I start with a 31 and not a 27. So it's hard to say. I'm really happy with where my game's at and I'm just excited for the next couple weeks coming up to Augusta and then Hilton Head."
The odd dichotomy between these two players is that Young, despite being winless, has already had great early success in majors (two top-three finishes last year), while Burns, just a year older, has now won five times on tour but has yet to register anything better than a T-20 at majors. (When asked to explain his poor performance in the big four, Burns told the reporter how excited he was to go to Augusta, but declined to answer the question.)
As all thoughts turn now to Augusta, let's spare one last backward glance for Austin and the Austin Country Club, which has hosted the WGC-Match Play since 2016. It's unclear whether a match play event is coming back to the PGA Tour at any point, but we can be sure it won't be here. The club reportedly asked for more money from the tour at a point in the LIV crisis when the tour wasn't in the mood to negotiate. To some extent, it gave this week an air of nostalgia, melancholy or something in between, and it was possible to feel that energy on Sunday as the Austin era came to a close.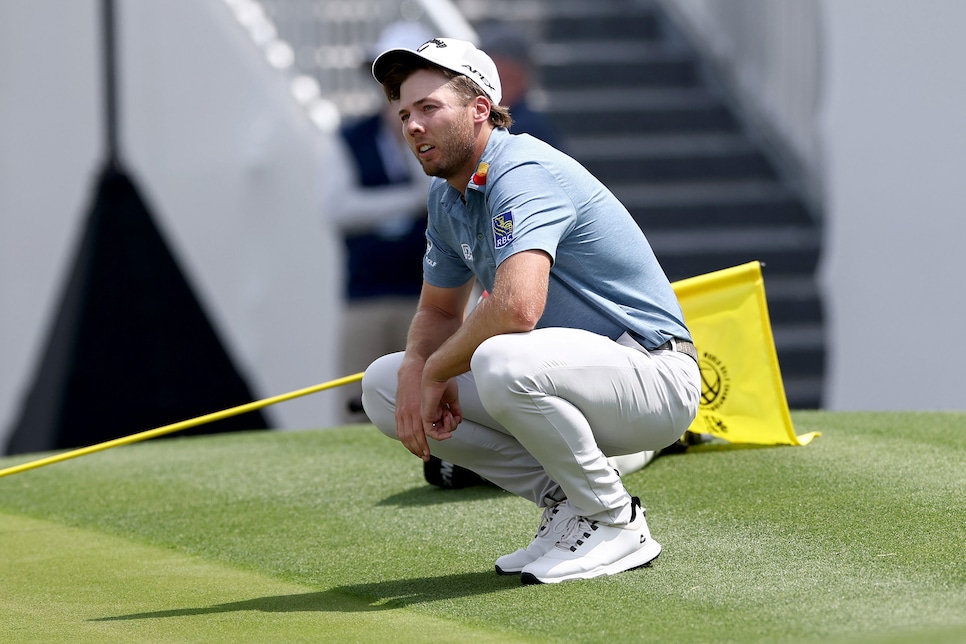 Credit where its due, though; this tournament gave us an exciting farewell, even with his anticlimactic finish, and the ending was appropriate in its way. If what the broader world desired most was Scheffler and McIlroy dueling it out as the last players in the very last match of the WGC-Match Play, they got exactly what they wanted. It just so happened to be the third-place bout, finishing on the 17th hole long after the championship had been decided … a kind of cosmic wink from a format, and a sport, that will almost always resist the perfect mano-a-mano duel.
Match play on the PGA Tour is a finicky beast; always seemingly on the verge of collapse, frequently maligned, yet routinely delivering far more than you expect. As the sun set on Austin this final Sunday, you had to wonder—at least for a moment—if it also had a sense of humor.