Valspar Championship
The scary thing about Sam Burns' torrid 10-month, three-win stretch, according to Sam Burns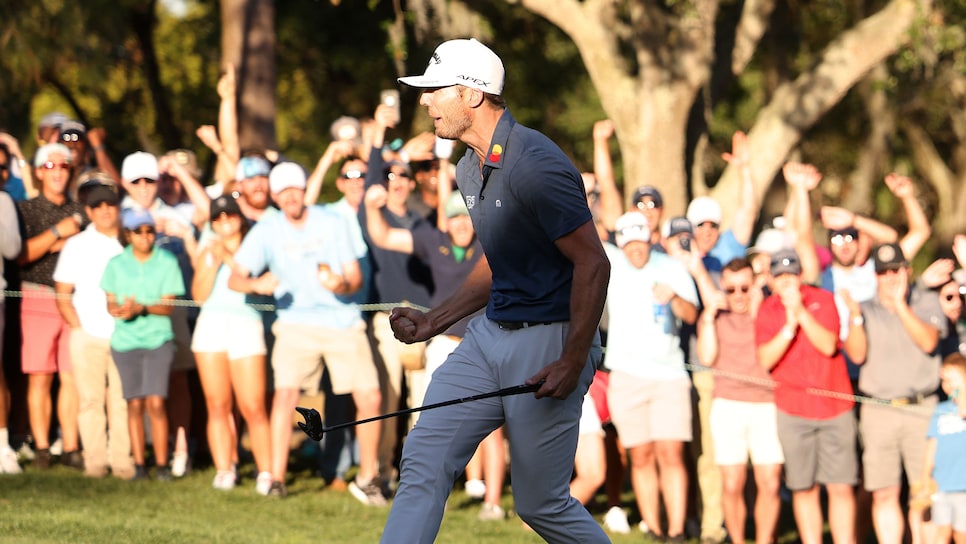 Photo By: Douglas P. DeFelice
Good golf, winning golf, takes long hours, a short memory and an even keel, which pretty much sums up Sam Burns in the last seven days. It also takes a clutch shot at the right time, and while a 32-footer for birdie on the second hole of a sudden-death playoff is definitely in the clutch category, there are usually another key moment or two in which a winner rises to the occasion.
Nursing a two-stroke lead Sunday on the penultimate hole of the Valspar Championship, Burns faced that moment when he chopped up the 198-yard par 3 and had a nine-footer for bogey. Miss it and he falls into a tie with Justin Thomas and Davis Riley. Make it and he keeps alive his hopes of successfully defending his title.
Well, of course he made it. Which was crucial when Riley birdied the same hole a few minutes later to tie him at 17 under par. Then Burns did his thing—which includes being one of the game's finest putters. With Riley sizing up a chip from just behind the green, Burns found enough of the left lip at the par-4 16th, the second playoff hole, to swirl in a birdie that proved to be the winner when Riley followed by rifling his pitch past the cup.
And that, ladies and gentlemen, is how Burns, after a final-round two-under 69, won for a second-straight time at the vaunted Copperhead Course at Innisbrook Resort in Palm Harbor, Fla., and claimed his third PGA Tour title in the last 10 months. No one has won more in that span, though, Patrick Cantlay owns three wins as well. Burns has had eight top-10s in his last 16 events, including another victory in the fall at the Sanderson Farms Championship.
If you haven't been impressed by the former college player of the year from LSU to this point, you can start now. Endearingly, he isn't all that impressed with himself.
"I don't feel special, but it feels special to do it," Burns said of winning back-to-back at a course that is among the more revered on tour.
But what about moving from 17th to 10th in the World Ranking? Again, that puts him in elite company.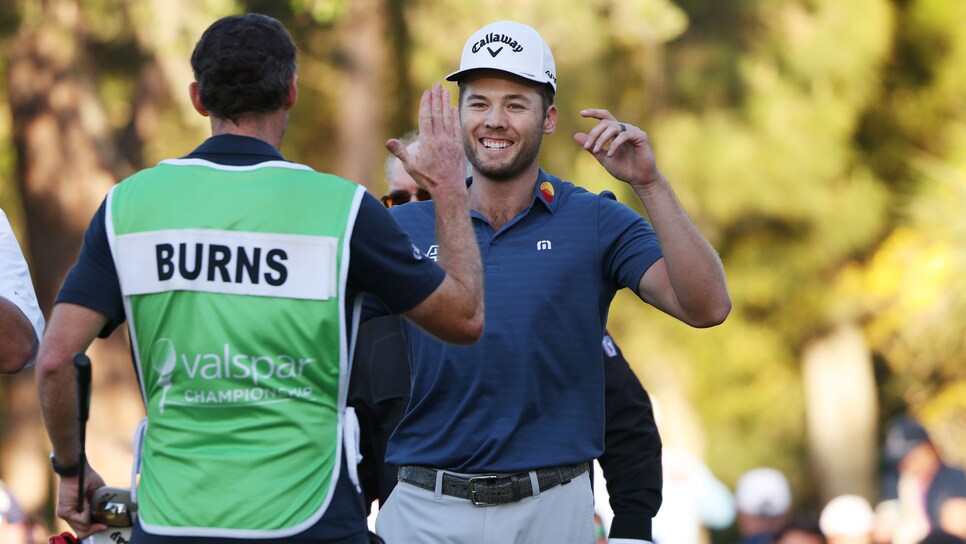 Burns is one of two golfers (along with Patrick Cantlay) with three PGA Tour wins in the last 10 months.
Douglas P. DeFelice
Let's back up for a minute. Burns had a chance to win the weather-plagued Players Championship on Monday, but his swing already was somewhere along Florida's I-4 and couldn't pick a lane. He shot 76 and knew he needed to call in his coach, fellow Louisianan Brad Pullin, who drove 12 hours to give Burns a tune-up.
Back on track, Burns entered the final round trailing Riley by three strokes. The two men, both 25 and hunting enthusiasts, are good friends who have competed against each other going back to their pre-teen AJGA days. It might not have been Burns' day had Riley not given three shots back in one hole with a triple bogey on the par-5 fifth that let in a slew of contenders, including playing partner Matthew NeSmith and Thomas.
Burns then nearly let it all slip away himself when he found the left greenside bunker at the 17th, blasted out poorly to the fringe, and then blitzed his par attempt, leaving him a nine-footer. "I just tried to read the putt to the best of my ability, and I just told myself, 'Just best stroke of the day, whatever happens, happens.'"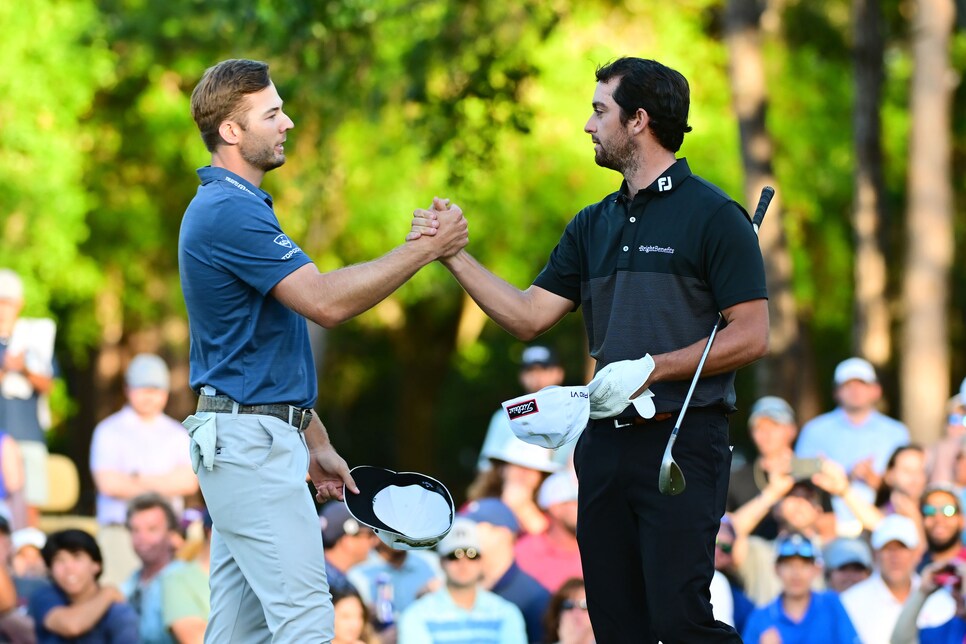 Bruns and Riley, both 25, have been rivals since their pre-teen days playing the AJGA junior circuit.
Julio Aguilar
Ranked 399th in the world, Riley, a Korn Ferry Tour graduate, battled back gamely from his massive misstep—it was the only triple bogey of the week from any player on a par-5 hole—but his one-over 72 tied for the highest final round among players who finished in the top 10. Even with his struggles, Riley gave himself a 15-foot birdie look on the 72nd hole to win it, but the Mississippi native missed on the low side to tie Burns at 17-under 267.
After the pair traded pars on the first playoff hole, Burns, who has led the tour in strokes gained/putting in Florida events since 2019 (and was eighth for the week at Innisbrook), holed his lengthy game-winner and reacted with a surge of energy and a few brisk fist pumps.
"I just think that after last week, the last couple weeks, I've tried to conserve as much energy as possible, and all through today just trying to make sure that I never got kind of too high or too low and just tried to stay kind of even-keeled," Burns said, explaining why he finally let loose after staying bottled up on a sunny and warm afternoon.
Riley, seeking his first tour win after two KFT titles last season, was hardly surprised. "He's been a very good putter for a long time, and yeah, that was a very good putt," Riley said after his career-best finish. "He made a big putt in a big moment and, yeah, it was really impressive and, yeah, he did what he needed to do."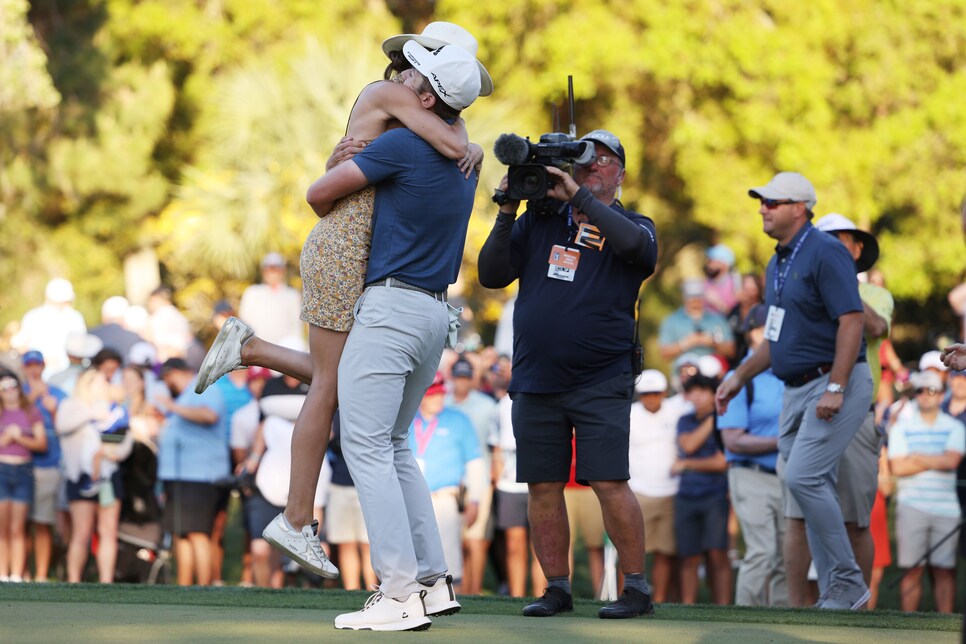 Burns hugs his wife, Caroline, after winning with a 32-foot birdie on the second playoff hole at Innisbrook.
Douglas P. DeFelice
And, yeah, Burns has to be in the conversation now as one of the favorites for the upcoming Masters, the year's first major. You know, because how well have players with good putting strokes fared at Augusta National?
But for now, he isn't thinking about anything but taking his game to another level. That is something winners usually do. The resting on laurels plan never works.
"I think, for me, I just try to put in hard work, just try to improve my game every year, every week, look at stats and see what areas I can get better at and then my team and I try to attack those areas," he said after improving in one area, his bank account, with a $1.404 million payday. "That's all I can control and so I mean, it's nice to see that those things are paying off, it gives us motivation that we're working on the right things. I want to just try to make things better. That's ultimately what I love to do."