Valspar Championship
'It was just kind of a cluster:' The triple-bogey 8 that cost Davis Riley his first PGA Tour title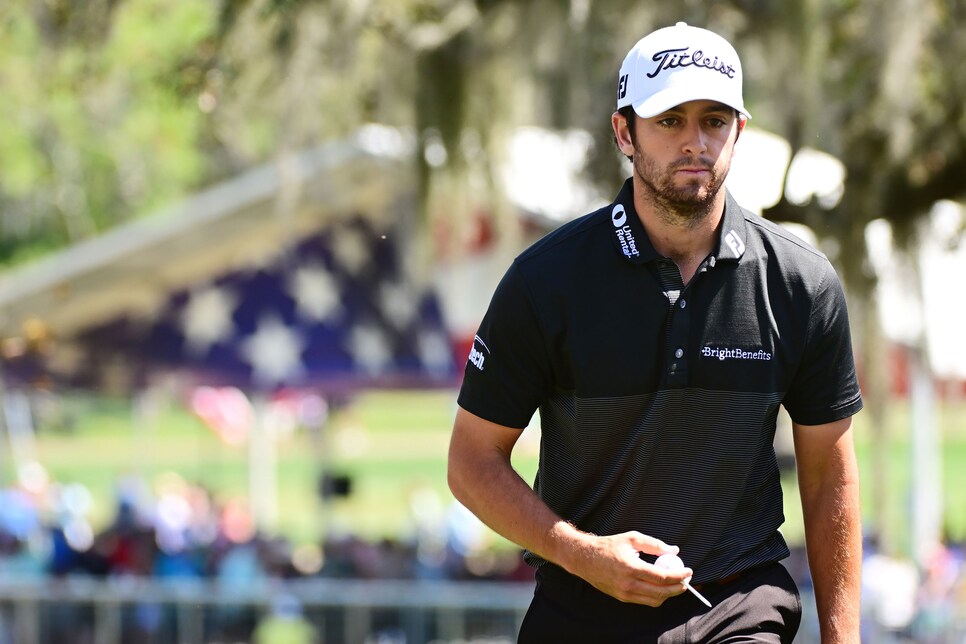 Davis Riley walks from the fourth green to the fifth tee during the final round of the Valspar Championship.
Julio Aguilar
His gaze was strong, his voice calm. Davis Riley met the media on Sunday after a harrowing day at the Valspar Championship, but from the 25-year-old PGA Tour rookie's demeanor, it wouldn't appear to have been a heartbreaking one.
Riley lost his chance to claim his maiden tour win when he couldn't follow up a Sam Burns 32-foot birdie on second playoff hole at the Copperhead Course at Innisbrook Resort. But that was something Riley could stomach.
"Sam's a hell of a player. And, yeah, I mean, any time you give someone like that who is playing well within 30 feet you always think there's a chance, so I kind of went into there thinking he was going to give it a really good run," Riley said. "He's been a very good putter for a long time, and yeah, that was a very good putt."
Go back and look at Riley's round, however, and it's obvious where he will say he truly lost the tournament. No golfer had made a triple-bogey 8 on any of Innisbrook's par 5s all week. But Riley did just that on the fifth hole Sunday, squandering the 54-hole lead he carried into the round.
"Yeah, I just hit a bad tee shot and then from there it was just kind of a cluster," Riley said.
Indeed, his drive went way left of the fairway, all the way to the left side of the adjacent sixth hole. His second shot wasn't much better, ending up near the tee box on the eighth hole.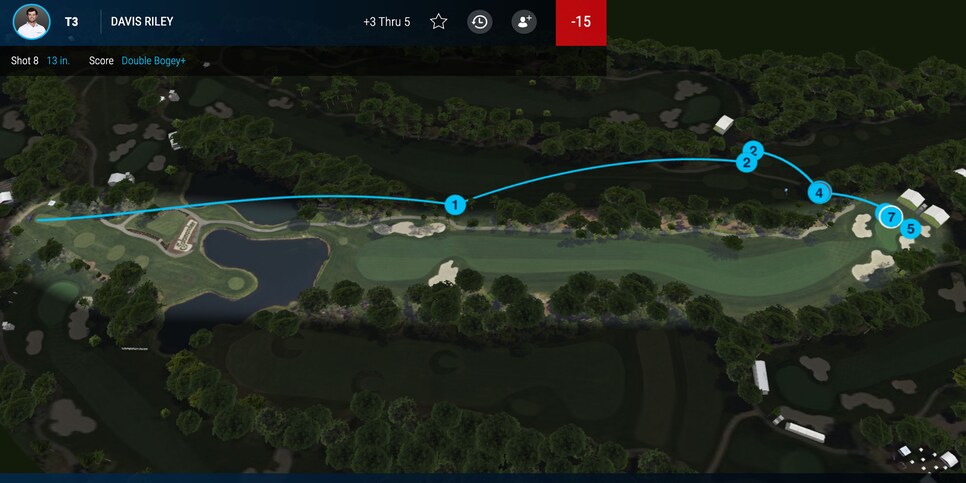 Riley got relief from the signage on the tee, but he proceeded to hit his third shot chunky, the ball coming to rest against a tree still some 70 yards from the hole. The only way he could play the shot was flipping a club and hitting the ball left-handed, which Riley decided against and instead took an unplayable lie.
Now hitting five, his punch shot went over the green and then his chip dashed through to the other side. Two down from the fringe got him his 8.
"Honestly, I think where it went wrong was after I dropped, got the relief from the tee box, the tee marker, yeah, it was just sandy, kind of weird grass over there, and maybe I just tried to hit too much of a perfect shot instead of making sure I blast it over the green and give myself just an up and in at par.
"Then I just kind of, I don't know, it was just a tough shot. It's just so sandy over there and it's thin. You really have to make perfect contact to even get the ball that far. But if I had to do it over again maybe just make sure I get it long instead of trying to get it on the green, almost just take long and try to get up-and-down."
To Riley's credit, he hung tough despite the big number. Remember this is a player who had never been better than T-15 entering the final round in his 24 previous PGA Tour starts.Yes, he won twice on the Korn Ferry Tour and was an All-American at Alabama, but playing for a PGA Tour title is different. And from that point out, Riley made three birdies and just one bogey, closing out a one-over 72 to force the playoff at 17-under 267.
He even had a chance to win in regulation, missing a 15-foot effort on the par-4 18th after making a birdie to tie things up on the 17th.
"Yeah, walking off the green, I told [my caddie], 'There's a lot of golf left. Like, I'm playing good,'" Riley said. "And fortunately I had a little bit of cushion up until that mistake, so I was still in it. It was not like I really shot myself out of it. I knew if I played solid golf that I could play this course three, four, five under coming in and I knew that would probably be enough to win.
"But I just had to hit the reset button and just go shot by shot and I felt like I did a really good job of that today."
Despite losing, Riley posted the best finish of his young PGA Tour career, topping his T-7 at the Butterfield Bermuda Championship last October. His $850,200 runner-up check also was more than four times bigger than the previous best payday on tour ($190,775 in Bermuda).
More importantly, there was no head hanging on Sunday night at Innisbrook. Disappointment, perhaps, but Riley walked away knowing full well it was one bad hole that cost him.