Takeaways
Sam Burns' latest big chance, Dustin Johnson's struggles continue, and one of the most random low rounds of the season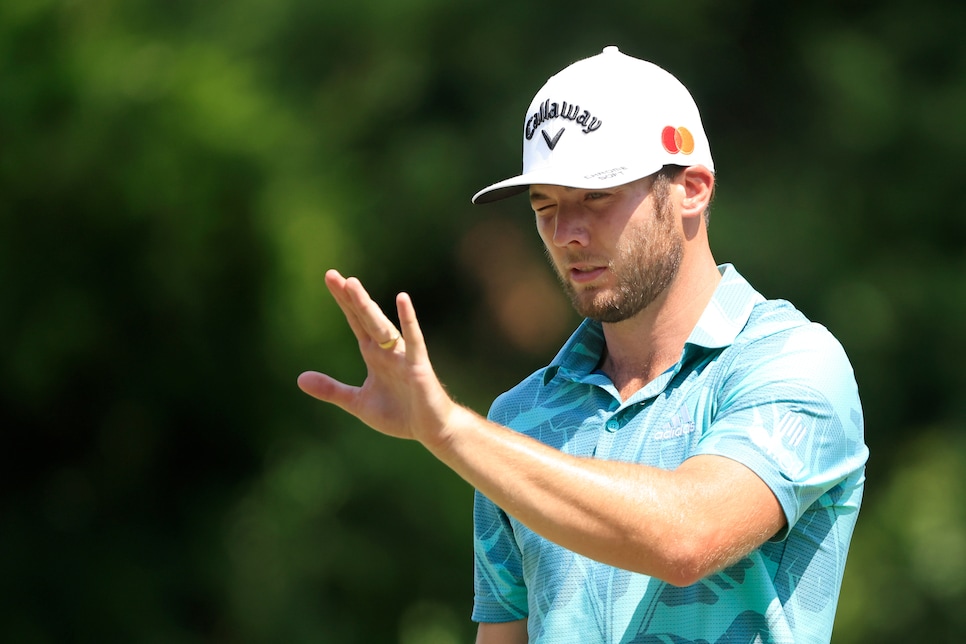 Max Homa produced one of the more memorable wins of the PGA Tour season in February when he won at his favorite golf course, Riviera, just 30 miles from where he grew up. But earlier that day it seemed like another golfer was going to author his own storybook finish in Hollywood.
Golf fans—especially those who like making wagers—have been waiting for Sam Burns to break through at the game's highest level, and he had one hand on the Genesis Open trophy that final round. Following a brilliant front nine, the talented LSU product held a three-shot lead, but couldn't close.
He'll get another crack at earning his maiden PGA Tour title on Sunday. And once again, he'll have to watch out for Homa tracking him down. After a third-round 69 to grab a share of the 54-hole lead, Burns was asked about what happened at Riviera.
"Well, I wouldn't really say that was a failure," Burns told reporters after his round. "For me personally I think every opportunity is something you can learn from and so I think for me it's not a matter of winning or losing, it's a matter of going out there and seeing what the golf course is going to teach me that day, see what golf is going to teach me that day. So I think for me it's just taking a little more time in those moments and really talk through the shot and really have a clear plan of what I'm trying to do."
He's certainly piling up the opportunities. Burns has now led or co-led at the conclusion of a round eight times this season, two more than anyone else. But again, he still doesn't have a trophy to show for it. When was the last time he won?
"I'm not really sure," he responded.
Don't forget about Keegan Bradley
Not that anyone would, considering he shares that 54-hole lead with Burns, but we didn't want you to think it was only a two-man race between Burns and Homa entering Sunday's final round. A 36-hole leader with Burns, Bradley wasn't doing much at Innisbrook on Saturday until he pulled off this difficult eagle chip to perfection:
"Yeah, I mean, it was just—I hit a terrible second shot in there and I got lucky to get down to where it was and we were thrilled where the ball was," Bradley said of his shot of the day. "And I had to land it in that fairway area and it landed and it was going right at it and hit the pin and went in. And it just gave me a little bolt of energy, which was fun, it's so great to have the fans out here, you can feel it again and it's a fun time to be out here playing."
Bradley didn't have as much luck from a bunker on the 18th hole as he and playing partner Burns both bogeyed the closing par 4 to remain tied. Hopefully, that's not a preview of what we'll see tomorrow when they're paired together again.
Max Homa's putter stays hot
As mentioned, Max is in the mix once again—thanks in large part to making two 30-footers over his final four holes of the third round, including this birdie bomb from the fringe on 18 that had him pretty fired up:
Homa is tied for fifth in strokes gained putting this week, but as 15th Club's Justin Ray points out, it was a career effort with his irons that helped him most as he shot 66 to move within one of the leaders.
Of course, holing out from 140 yards like he did on the sixth hole doesn't hurt. In any event, the SoCal golfer didn't grow up anywhere around the Tampa area, but he'd still love to hoist another trophy on Sunday.
Big Saturday surges are common on the PGA Tour—after all, it is moving day—but Ted Potter Jr. probably would have been the last person you would have expected it from. The 37-year-old journeyman, however, matched the low round of the tournament thus far with a 63 while matching the second-lowest round of his career.
If it feels like you haven't seen Potter's name on leader boards too much, that's because you haven't. Ranked 172nd in the FedEx Cup standings, his one top 10 this season came at an opposite-field event, and he arrived this week ranked 404th in the world and having missed the cut in 18 of his last 23 starts.
But as Jim Nantz noted during the broadcast, when the man known as "The Wizard" appears, he usually winds up winning. The only two times Potter has finished higher than his current position of T-4 in a PGA Tour event, he hoisted the trophy on Sunday with victories at The Greenbrier in 2012 and Pebble Beach in 2018. So, yeah, watch out for THE WIZARD.
Dustin Johnson's struggles continue
Dustin Johnson will comfortably remain the World No. 1 following this tournament, but that has little to do with what he's done in 2021. Since a T-8 at Riviera in February, the two-time major champ's name has scarcely been seen on a leader board and Sunday at Innisbrook will be no different after a Saturday 74 dropped DJ to near the bottom of those who made the cut this week.
Johnson recorded a T-13 at Hilton Head last week, but has nothing better than a T-48 in three other stroke-play events since that most recent top 10 at the Genesis and he also failed to make it out of his group at the WGC-Match Play. He double bogeyed two of his final three holes in the third round due to bunker problems, but it's been the putter that's plagued him most.
After entering this event ranked 112th in strokes gained putting—a stat he was 48th in last season—Johnson is 61st out of the 69 players who made the cut in the stat this week. That includes losing more than two strokes to the field on the greens on Saturday alone.
This mini-slump isn't reason to be too concerned yet, but clearly, Johnson isn't as sharp as he was during last season's Player of the Year campaign that was followed up by a five-shot win at the Masters in November. Of course, few golfers have ever looked that sharp. So, again, we're not too concerned. Yet.