U.S. Amateur
U.S. Amateur finalist Sam Bennett has that dog in him (his opponent does, too)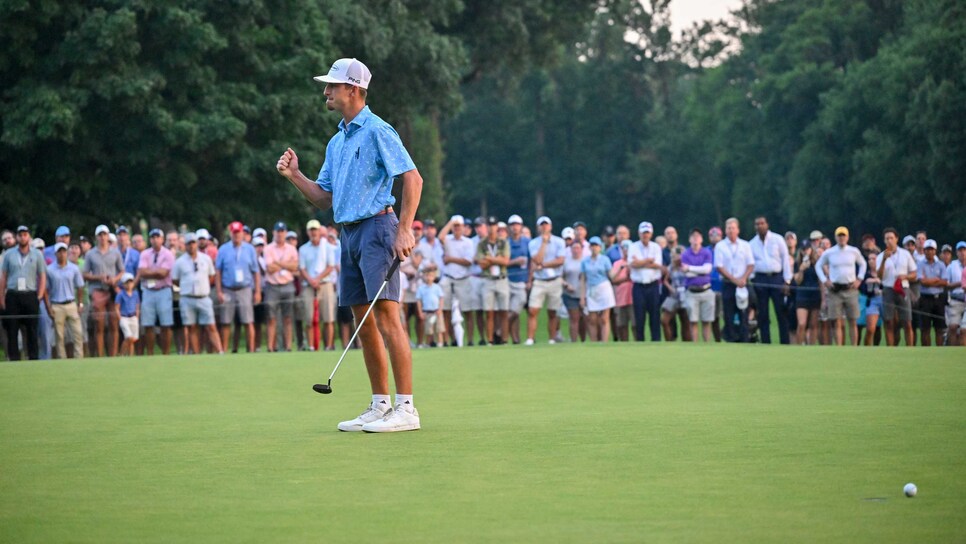 Sam Bennett reacts to making his putt on 18th hole to win semifinal match 1-up at the 2022 U.S. Amateur.
Grant Halverson
PARAMUS, N.J. — Sam Bennett was in jail. Actually, being behind bars might have been preferable. In full control of his semifinal match against Dylan Menante at the U.S. Amateur, Bennett suddenly found himself tied on the 17th hole at Ridgewood Country Club when his tee shot came to rest in some fescue, directly behind a tree. Menante, meanwhile, was safely in the fairway, threatening to pull off an all-time theft that would have earned him a spot in Sunday's final.
For Bennett, though, this was just another one of those chip-on-your-shoulder situations, the type the 22-year-old from Madisonville, Texas, clearly thrives in. The No. 3 player in the World Amateur Golf Ranking has spoken numerous times this week about feeling slighted. He's asked why no one was talking about him in the leadup to the event. On Friday, following his 3-and-2 win over Stewart Hagestad, who was the fourth player inside the top 27 in WAGR who Bennett had beaten this week, the fifth-year Texas A&M senior referred to himself as "the dog" in this race.
That dog came out on 17, where Bennett settled in after a lengthy discussion with his caddie and head coach Brian Kortan and played a dangerous snap hook through the trees that found the fairway bunker up the left side of the par 5. Menante launched his second about 40 yards short of the green, setting up what appeared to be an up-and-down birdie that would win the hole. Bennett, deliberate as ever, assessed the situation with Kortan again and hit a perfect 7-iron that took the slope and left him with an uphill, right-to-left look at birdie that changed everything.
Menante, the eighth-ranked amateur in the world and a nine-shot winner at the Northeast Amateur in June, followed with a pitch he'd like to have back ("I just kind of choked," he later said), his ball failing to roll back toward the hole off the slope on the back of the green. It left him with a tricky 18-footer that never had a chance. Bennett's birdie putt was in the hole all the way. A vicious, well-earned fist pump followed. From jail to 1 up with one to play.
"That's why we play, to be in situations like that," Bennett said afterward. "I had the mindset, it's nothing to lose, everything to gain. I'm in this situation tied. It was tough, but I was able to pull off a few good shots to close it out."
Kortan served as the calming voice, allowing Bennett to see the shot, pull it off, and flip a match that had gotten away from them back in their favor.
"I just had to calm him down so he could see the shot he was capable of hitting" Kortan said. "He had to hit the shot. It was just a matter of him calming down a little bit and understanding that, hey, this is OK. We can manage this. And once I got him calmed down to see it, he hits all the shots. I'm just there to talk him through some stuff. Just calming him down so that he could see the window, see the opportunity, and then execute."
Two more good shots, Bennett told Kortan, was all they needed. He executed the first off the 18th tee, pounding a fade up the right side that found the fairway. Menante lost his to the right, and Bennett's flushed 7-iron acted as the final nail. Menante hit a heroic approach through the trees that at least allowed him a chance to chip in and force Bennett to make, but his third wouldn't fall. Two putts for Bennett sealed the match, setting up a 36-hole championship duel with Georgia Southern's Ben Carr.
"Dude's a competitor," Kortan said of Bennett. "He's very self-aware. He doesn't play some of the events these other guys play. He rested this summer, so people didn't talk about him much, and that's OK. He doesn't need people to talk about him. He played well at the U.S. Open, he's here in the finals, kid's a competitive player. Competes his tail off. What more can you ask?"
Bennett and Carr have that in common, both displaying fiercely competitive qualities throughout the week that have led to this meeting. They also have something else in common, too, an unknown, shared bond that should make for an incredibly emotional Sunday at Ridgewood.
It's the type of stuff that you, quite literally, cannot script.
"I did not know that," Carr said. "I'd love to talk to him about that. I know his dad's watching, and I hope his dad and my dad are watching together. That's just, that's really cool. That takes away a lot of the result aspect of tomorrow's match. I don't care what happens, I don't. At all. I really don't care. Enough has happened this week and there have been enough signs to allow me to go out there tomorrow, especially after knowing that, to just play golf."
Of course, with both Bennett and Carr earning exemptions into next year's U.S. Open and a likely invitation to the Masters next April as well, it does feel like a job well done already. But nothing about the way either of them have played and acted this week would lead you to believe that they feel the job is finished. They're both playing for some hardware, their both playing for history, and, most importantly, their both playing for their dads.
"I want to win it all," Bennett said. "It's going to be a fun day, 36 holes. I saw Ben won. He's been playing good, too, so it should be a good match tomorrow."