DUBAI — There are 8,109 miles between Madisonville, Texas (population 4,653) and the United Arab Emirate of Dubai (population 3.33 million). Indeed, they might as well be on different planets. One boasts 26 restaurants; the other has more than 20,000 places where food can be purchased. One has yet to see its first skyscraper—and probably never will; the other is a sea of buildings reaching for the heavens.
So moving between the two inevitably requires adjustment, even if, at its core, the game of golf is the same, no matter the host venue. That last fact is one Sam Bennett will be relying on this week. The Texas A&M senior and Madisonville native finds himself in Dubai to play on a sponsor's exemption (courtesy of topping the PGA Tour University Velocity Global ranking in the fall) at the eponymous Desert Classic at the Emirates Golf Club.
"It's been a great experience so far," says Bennett, a 21-year-old sport management major. "I grew up in a little town, but I knew what I was coming to. I've watched a lot of Dubai on YouTube. But I must admit it does feel as if I'm living in a movie at the moment. It's pretty surreal."
Which is not to say Bennett hasn't experienced pro golf before now. Last year he played in the Valero Texas Open on the PGA Tour, shooting 80-72 to miss the cut by six shots.
"I picked up a lot from that event," he said, after playing nine holes at the Emirates in the company if three Scots, David Drysdale, Marc Warren and David Law. "I was poor on Day 1. My game was ready, but the nerves got me. It was nothing I could prepare for. I could barely get the ball on the tee on the first hole. But I got to see the best in the world at work. They just practice non-stop. Phil Mickelson missed the cut, but he was hitting balls afterwards. Jordan Spieth had a late tee time one day, but he was practicing at 8 a.m. Playing the tour is a real job.
"I also noticed that none of the players really cared who I was," he continued. "Not at all. They were out there to make a living. So everyone is on his own. You just have to make the best of it. It's a hard school."
So much remains for Bennett to learn about the game at the highest level.
"I assume Sam's dream is to be a professional golfer," says Paul Casey, the defending champion in Dubai. "So how cool is this? Not only is this a pro tournament, it is one of the best, a Rolex Series event. He'll have to cope with that knowledge, as well as all the build-up, the crowds and the massive grandstands. There's a lot of 'noise' around."
Bennett is ready though. Or at least it sounds as if he is. To be sure, he is making positive noises two days before he hits a ball in the DP World Tour competition.
"Every time I tee it up, I'm trying to win," he says. "I'm not coming here trying to make the cut or finish in the top 20. The Texas Open last spring was a good experience. And I've won four college events since then. So I feel like I belong. I'll be playing to win this week. Trying just to make the cut is setting yourself up for failure. I'm never going to do that. I'll just do the best I can and see where that takes me. I'm feeling good about my game. I've had a good little off-season. And two weeks ago, I started hitting the range pretty hard. I'm ready for this week."
Fighting talk indeed. But perhaps time too for some words of caution.
"When you're an amateur competing against professionals, especially something like this, a Rolex Series Event, you're playing in a big worldwide tournament," says Open champion Collin Morikawa, who played in two PGA Tour events before turning pro. "So it's about learning and getting comfortable in the situation. He's going to see players out here that he's probably never played against. He's going to see names that he's admired for a long, long time. And it's about getting comfortable in that situation.
"Sam is going to notice some guys do this really well, some guys do that well," Morikawa continues. "But the biggest thing is sticking to what he does well. Don't change your game plan would be my message. You hear that from every guy out here, of course. 'Stick to who you are, stick to what you do.' It is really hard to do that because you see so many guys out here. There are temptations."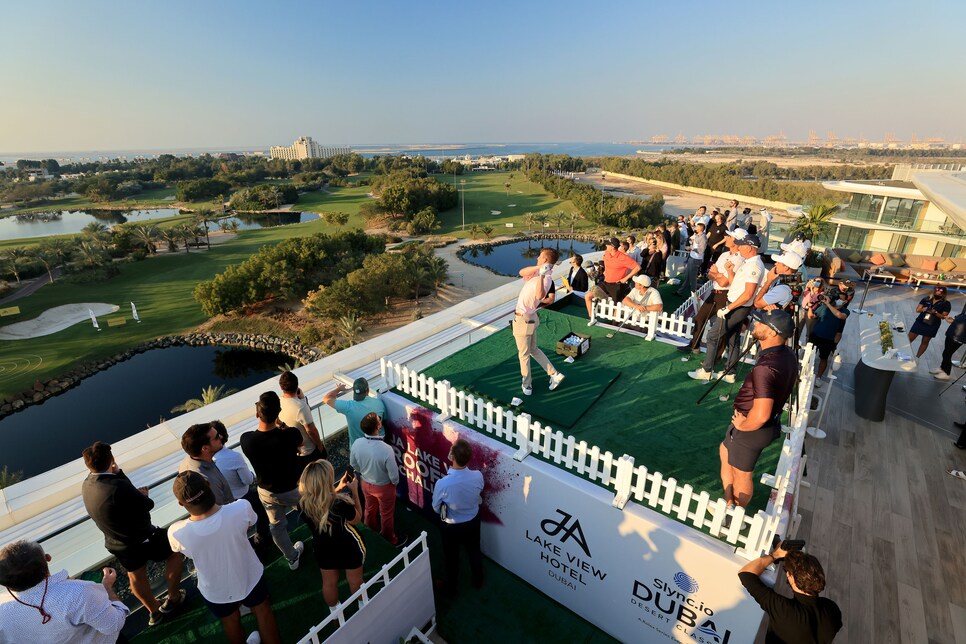 Bennett joined the likes of Henrik Stenson, Paul Casey and Danny Willett, among others, in a pre-tournament roof-top challenge high over Dubai.
David Cannon
In a more light-hearted way, that is certainly true in Dubai. While he is here in the "City of Gold," Bennett and his girlfriend are hoping to take in some of the sights and sounds on offer.
"I want to go sky-diving," he says. "I want to go skiing on the indoor slope at the mall. I want to go to the top of the tallest building in the world [the Burj Khalifa]. We've got some things to get through."
Back at the golf, Bennett will be drawing inspiration from his late father. In June 2021, Mark Bennett lost a seven-year battle with early onset Alzheimer's. Sadly, by Sam's senior year of high school, his father hardly knew who he and his older brothers were.
"I really struggled for maybe a year before my dad passed," he says. "It was nothing golf-related. But I was feeling anxious and depressed. I had some other stuff going on in my life, too. Anyway, he just told me, 'Don't wait to do something.' I wasn't quite sure what he meant, but it stuck with me. He wrote it out, letter by letter. It took him maybe 15 minutes. So my tattoo is in his hand-writing. I like tattoos. I have others. But my dad's words used to be part of my pre-shot routine. I'd look at my forearm just before I hit. It seemed to make sense."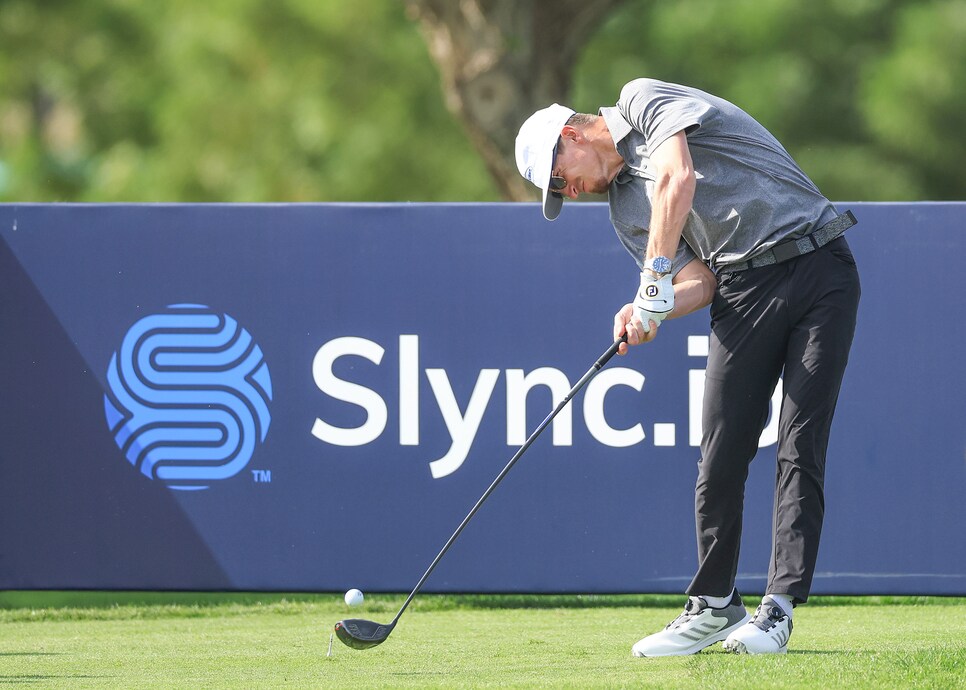 Bennett has four college wins to lean on as he tries to glean as much experience as possible from his start overseas.
David Cannon
That is also true of Bennett's plan to follow Morikawa's advice and play to his strengths—straight driving and precise short-iron play—on the 7,301-yard Majlis course.
"I don't miss many fairways," he says. "I don't bang it out there 310 on average either, of course. But give me a wedge in my hands and I'd say the shot is going to be pretty tight. I was never a great putter growing up. I played on a course where the greens were never great, which was why, during my freshman and sophomore years in college, I had a lot of top-10s and top-20s. But I found it hard to win. Everyone in college hits it good. The guy who wins is the one who makes the most putts. Over the past year I've been winning because I'm making 10- to 15-footers more often. But the strength of my game remains driving the ball in play.
"Yes, the top guys hit the ball better than I do," he continues. "Their shots have a different sound to them. They know how to get the ball in the hole. But so do I. I've never had a swing coach or a lesson. I grew up on a nine-hole course, and I'm here in Dubai competing with some of the best players in the world. I'd say I know how to score pretty well."
Alrighty. Get to it young man. Make your dad—and Madisonville—proud.