Friday foursomes
American rookies notch stunning blowout of Europe stars McIlroy and Poulter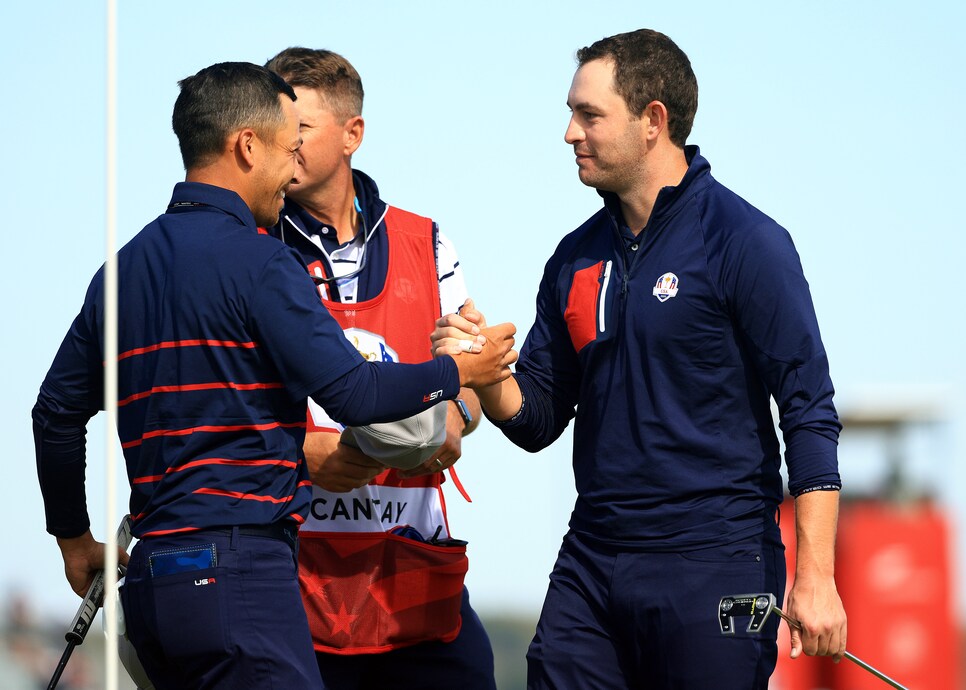 Americans Xander Schauffele and Patrick Cantlay shake hands after their victory.
Mike Ehrmann
HAVEN, Wis. – There's a reason that the USA and Europe each assembled one of its strongest pairings in Friday morning's final foursomes match. It has been a bellwether. In the last 10 Ryder Cup editions, the winning side captured the final match of the opening session six times and halved another.
Padraig Harrington had to feel good leaving it in the hands of veterans Rory McIlroy and Ian Poulter, especially given Poulter's reputation. So just imagine his apoplexy when the pair lost the first five holes to U.S. rookies Patrick Cantlay and Xander Schauffele. A small rally was inevitable, and one materialized, briefly. But in the end the young Californians delivered a 5-and-3 beatdown that could well have implications for the rest of the week, given the above statistical trend.
It was the largest margin of defeat either McIlroy or Poulter has suffered in the Ryder Cup. It also was the largest margin of any final match of the opening session since 1999, surpassing the previous biggest win, a 5-and-4 thrashing of Thomas Pieters and Lee Westwood at the hands of Dustin Johnson and Matt Kuchar to end the morning foursomes session in 2016.
Which the U.S. went on to win handily.
"Yeah, it was exactly what we wanted," said Cantlay, coming off his FedEx Cup title and vote as the PGA Tour Player of the Year. "Making birdie on the first … dream start and Xander hit a great shot in there and the way we won 2 was big for momentum and birdie 3. Best start I could imagine, and Xander rolled in that putt on 5 and then we were rolling. A start like that, I'm really glad we kept our nerve and kept our foot down and really pleased them out early."
The American pair, who went 2-2 together in their Presidents Cup debut in 2019 in Australia, could not have set a better tone for a team that has won only three times in the last 10 Ryder Cups. Hammering one of Europe's supposedly strongest pairs bodes well.
Of course, the U.S. can't get ahead of itself. It led 3-1 after the first session in 2018, and in fact won the first three matches. But Europe's "Moliwood" pairing of Francesco Molinari and Tommy Fleetwood took that last match and then Europe reeled off a perfect 4-0 afternoon in Paris and never looked back.
Granted, that was abroad.
The American pair combined for seven birdies, including a big one at the opening hole and on each of the last four holes. Europe helped in that early five-hole stretch with two bogeys.
"A shame, because we actually played quite well," Poulter, 45, one of four players in their 40s on Europe's squad. "You know, they have played exceptionally good golf in foursomes. It's not nice to get off to the start 5-down through five. Not easy to come back, and they finished the match off."
Poulter's aforementioned reputation as a Yankee slayer was cemented in 2012 when he carried McIlroy to that late afternoon Saturday four-ball victory that kept Europe within the four-point hailing distance it needed to pull off their remarkable comeback. He ended the week 4-0-0, prompting the remark among Euro circles that Poults had to be a pick on any upcoming teams.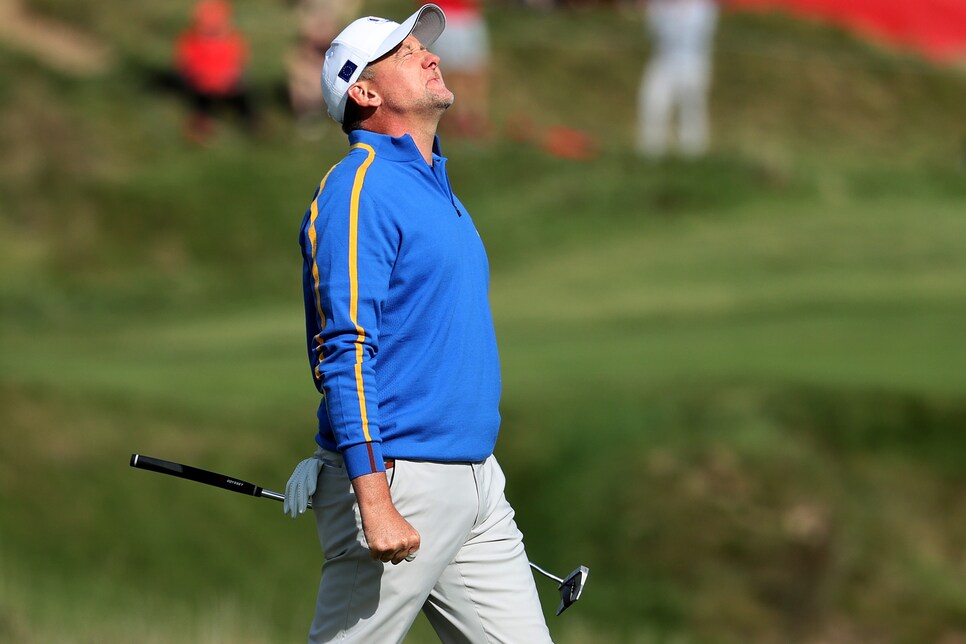 Ian Poulter reacts after missing a putt on the ninth green.
Warren Little
But since then, the fiery Englishman has been far from bulletproof. Though Friday's loss with McIlroy was their first together after combining for a 3-0-1 mark previously, Poulter individually fell to 2-5-1 since Medinah.
Poulter, to be fair, struck the ball decently. But with the Americans off to a solid start, he did little to pick McIlroy, and he converted only one putt of consequence outside of four feet–that for a halve at the 12th.
He was sitting for afternoon four-ball Friday, not so much an indictment of his play as it is likely consideration for his age. And with age comes a bit of zip off the fastball. It will be worth watching if Poults rebounds to become a factor the rest of this Ryder Cup. He has to deliver results. No longer can he live off his reputation.
MORE RYDER CUP PREVIEW STORIES FROM GOLF DIGEST