The Wink Is Back
Ryder Cup 2021: The sneaky best video from the Ryder Cup is Xander Schauffele's cigar puff wink combination
When it comes to content, the U.S. Ryder Cup team's victory press conference on Sunday night provided it in abundnace. A decidedly drunk Dustin Johnson was the clear star, which was always going to be the outcome after the former World No. 1 posted a 5-0-0 record at Whistling Straits. This man was feeling no pain:
Safe to say Deej is going to wake up with a solid headache this morning, an ailment that could be fixed by keeping the party going, which is a distinct possibility for this crew.
While Johnson did put on a virtuoso partying performance, the key moment of the press conference may belong to Xander Schauffele, who finished the week 3-1-0 after a hard-fought singles loss to Rory McIlroy. Does this look like a man who just lost a match to you?
All that's missing from this is the sunglasses sliding on and this becomes the greatest "DEAL WITH IT" GIF in golf history. Poor Tony Finau wants no part of the cigar smoke coming back directly in his face. Please, can someone ask Xander if he cares: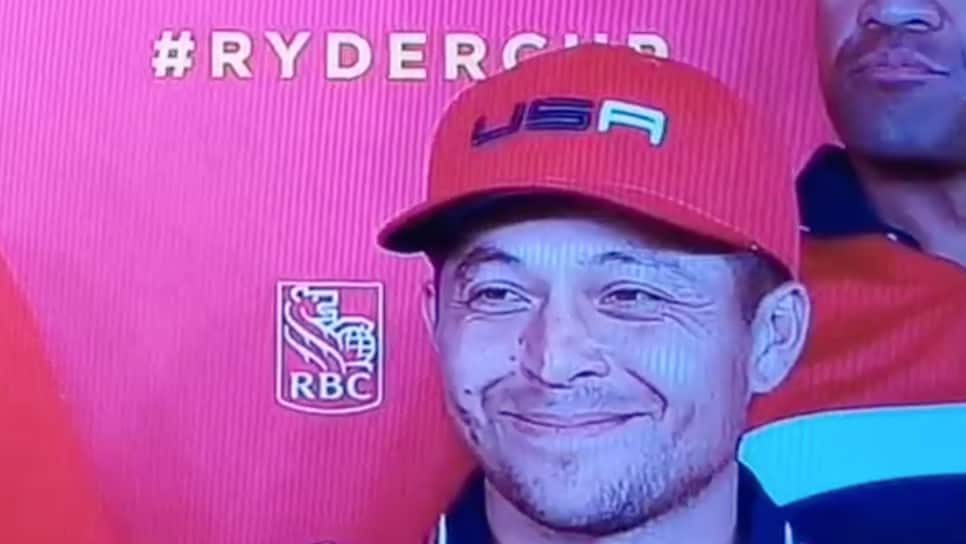 The answer is no, no he does not. He just went stogie puff, wink and Grinch smile all in the span of 10 seconds. A complete and total savage.