Victory tour
The Ryder Cup is such a mystical trophy it can appear in two places at once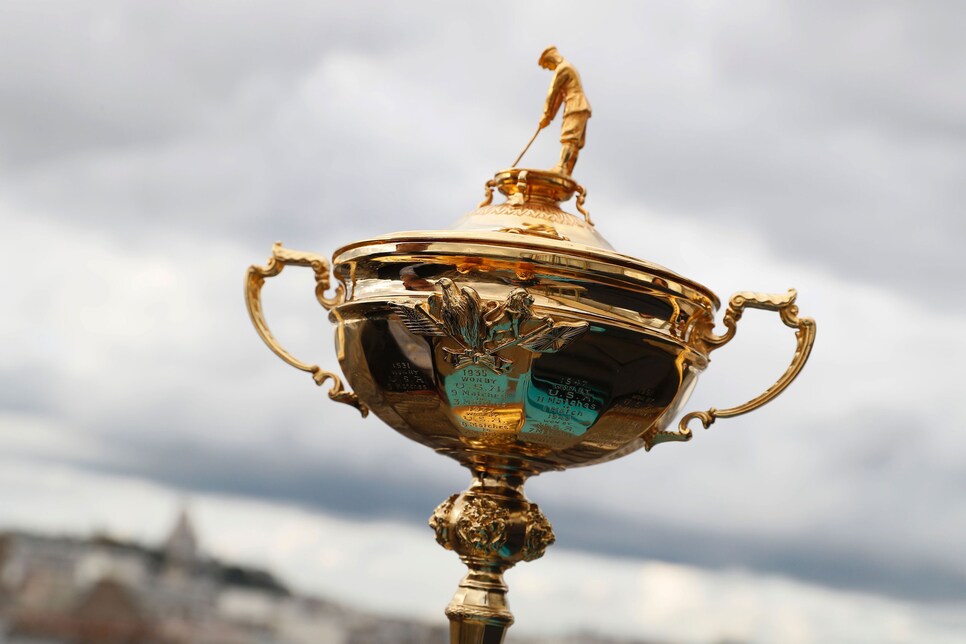 Yet while the players themselves laid low, the Ryder Cup itself, the 17-inch-tall, four-pound trophy, was hard at work enjoying a victory lap on Saturday. On the set of ESPN's "College GameDay" in Athens, Ga., ahead of the University of Georgia's game against Arkansas, U.S. team member and Bulldog alum Harris English was honored as the guest picker at the end of the show. His appearance was first pumped up by other members of Team USA.
And then when English came on, he didn't disappoint with this cool flex.
Yep, pretty sweet. And you thought English was a mild-mannered tour pro.
Less than an hour later, the Ryder Cup made yet another appearance in a college football setting. In Madison, Wis., only two hours from Whistling Straits, U.S. captain Steve Stricker showed off the trophy at Camp Randall Stadium during the Badgers football game with Michigan. He made and appearance on the field with his wife (and Wisconsin alum) Nicki and then posted this image during the game.
The fact that Athens, Ga., and Madison, Wis., are separated by roughly 925 miles brings up the obvious question: Is there more than one Ryder Cup out there? Or is the Ryder Cup a mystical device that can teleport through space and time?
We're still too pumped from last week's victory to want to burst any bubbles or be the spoiler about big-time golf trophies. Let's all just revel in the fact that the Ryder Cup was able to get so much love in football land and call it a day.
UPDATE, Monday, Oct. 4, 10 a.m. — The spoiler we refer to above is that the are replica trophies the governing bodies use from time to time as well as those made/puchased by players and captains. In this instance, English borrowed a replica owned by Davis Love III that he got after being the victorious U.S. captain in 2016. Stricker had the real deal in Wisconsin.