News
Ryder Cup pairings: Tiger Woods, Patrick Reed paired for opening four-ball session; Phil Mickelson sitting out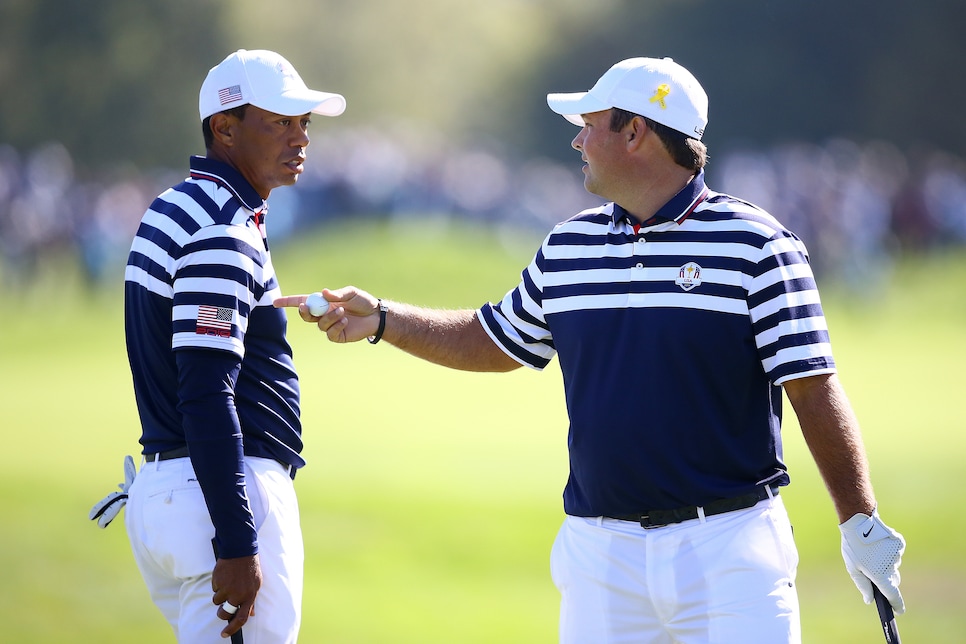 Gareth Fuller - PA Images
Patrick Reed has spent the past two Ryder Cups earning the nickname "Captain America" as Team USA's on-course leader. To start this year's event, though, he's going to share the spotlight with the sport's biggest name.
Tiger Woods will play with Reed in Friday morning's four-ball session to begin the 2018 Ryder Cup. Here's a look at the week's first round of Ryder Cup pairings:
Match 1: Brooks Koepka/Tony Finau (USA) vs. Justin Rose/Jon Rahm (EUR)
Match 2: Dustin Johnson/Rickie Fowler (USA) vs. Rory McIlroy/Thorbjorn Olesen (EUR)
Match 3: Jordan Spieth/Justin Thomas (USA) vs. Paul Casey/Tyrrell Hatton (EUR)
Match 4: Patrick Reed/Tiger Woods (USA) vs. Francesco Molinari/Tommy Fleetwood (EUR)
Four-ball matches begin on Friday at 8:10 a.m. local time (2:10 a.m. ET) with 15-minute intervals. They will be followed by four foursomes matches starting at 1:50 p.m.
Noticeably absent from Team USA's Friday morning lineup is Phil Mickelson. The 48-year-old captain's pick, Bryson DeChambeau, Bubba Watson and Webb Simpson will all sit out the first session for the U.S., while Sergio Garcia, Henrik Stenson, Ian Poulter, and Alex Noren will start on the bench for captain Thomas Bjorn.
U.S. captain Jim Furyk's boldest move is breaking up one of America's all-time most successful pairings. Reed had previously played his first seven team Ryder Cup matches with Jordan Spieth with the two compiling a 4-1-2 record in 2014 and 2016. They also went 3-0-1 together at last year's Presidents Cup.