GLENEAGLES, Scotland — It is, to use an old Scottish phrase, "the talk of the steamie." In other words, in the wake of Henrik Stenson's controversial removal from the post of European Ryder Cup captain, the identity of the Swede's successor is the No. 1 topic of conversation at the Senior British Open. Which makes sense. As many as 20 members of the 144-strong field here at Gleneagles have represented the Old World in the biennial contest. And eight of those have gone on to fill the role Stenson vacated.
At first, the chitter-chatter centered on the rights and wrongs of this unfortunate affair. Predictably, Stenson's actions are receiving widespread condemnation and have provoked a mixture of anger and sadness amongst DP World Tour players and staff. Famous for their closeness and camaraderie over the years, the vast majority of the 50-somethings gathered in the shadow of the Ochil Hills see the five-time Ryder Cupper's decision to join the LIV Golf extravaganza as nothing short of betrayal of what has always been portrayed as a united cause.
Still, things move on. And gossip is no exception. Now that Stenson has been shown the exit, speculation is rife over just who will lead the European side in Italy in September 2023 and how the decision will be reached.
"We don't have as many options as we had a few months ago," says Jose Maria Olazabal, who skippered Europe to famous victory at Medinah in 2012. "So many of the potential candidates are already on the LIV Tour. I think we are down to three possibilities: Paul Lawrie, Luke Donald and Thomas Bjorn."
A seven-time Ryder Cup player, Olazabal contends that Donald of the three is more suited to a match in the U.S. "He makes his home and his life there," Olazabal says. "Travelling to the site would be easy for him." That leaves in his mind Lawrie and Bjorn for Rome in 14 months. "Both would be good. Thomas has experience. He did a great job in 2018. But Paul has played enough times to know what the job entails. I would not be unhappy if he got the job."
As to just how the final decision should be arrived at, Ian Woosnam, European captain at the K Club in 2006, keeps things characteristically simple. The wee Welshman thinks as quickly as he plays.
"For me, they should just go through the process again," he says. "I don't think they should do anything different. That would be the fairest way. It's not as if it's going to take long. One meeting would be enough."
Anyway, let's take a close look at the most prominent names in the frame, with one addition to Olazabal's list of contenders.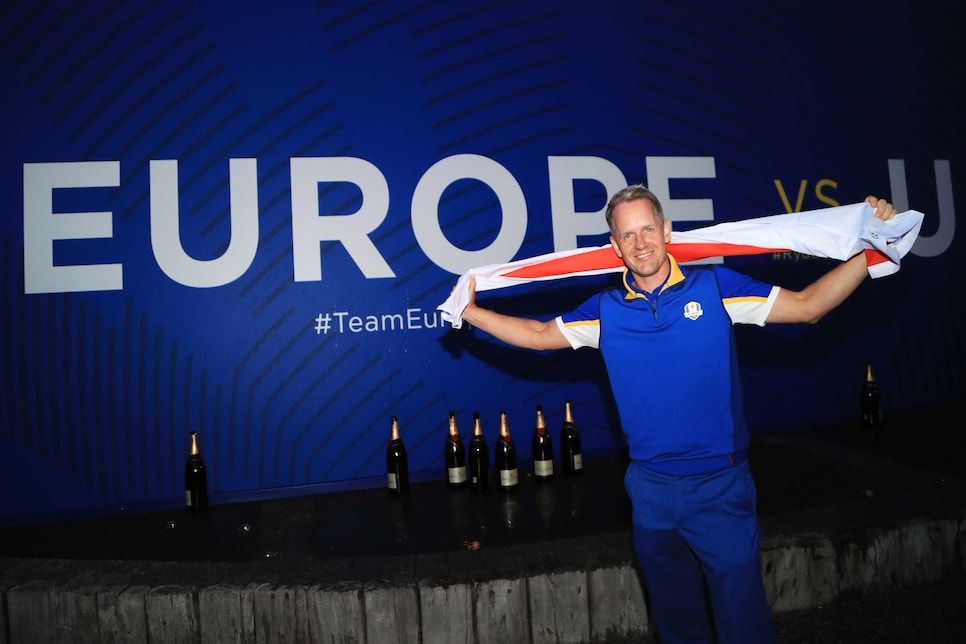 By all accounts, the former World No. 1 was more than a little miffed that he did not get the job first time round. And, to an extent, Donald had a point. Even in March this year Stenson's appointment was seen as a little "iffy," his name having cropped up often enough whenever LIV Golf was mentioned.
By that measure alone, Donald must be seen as a favorite. The 44-year-old Englishman has played in four (winning) Ryder Cups with some distinction, his 10-4-1 record an obvious reason for pride. And he has twice served as an assistant, to Bjorn in 2018 at Le Golf National and again under Padraig Harrington in 2021 at Whistling Straits. Perhaps the only slight knock on his candidacy is that he has hardly been an avid supporter of his home circuit. Over the course of his 21-year professional career, Donald has played in only a relatively paltry 183 European/DP World Tour events.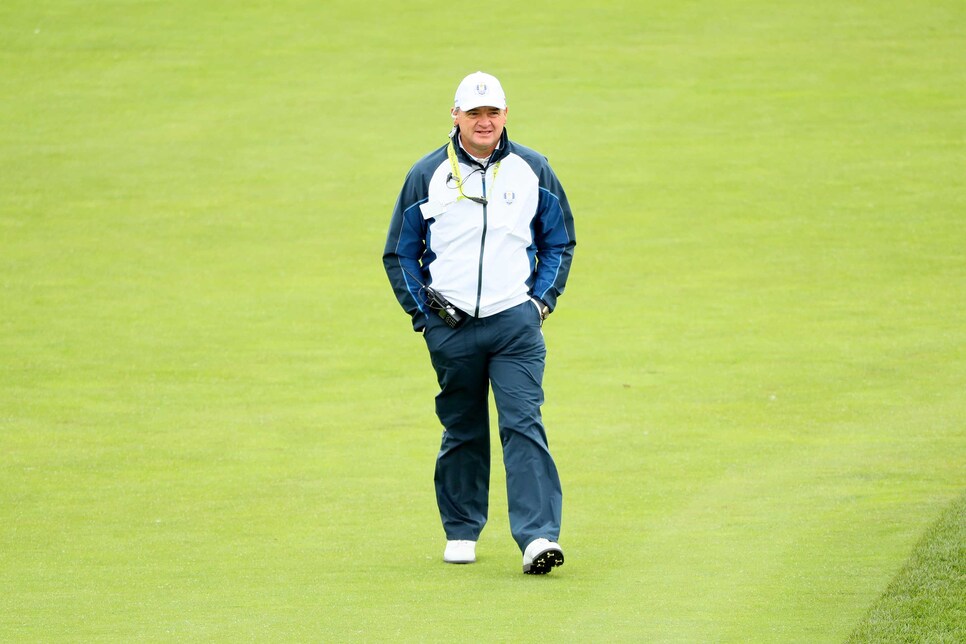 Lawrie has never hidden his interest in being European captain. More than once the 53-year-old has stuck his hand in the air. But each time he has done so he has gone away disappointed, which is odd. A major champion and respected by all for both the undoubted quality of his game and his work away from the tour (his eponymous junior foundation in the north-east of Scotland has introduced golf to thousands of youngsters), Lawrie, a veteran of 621 European/DP World tour events, ticks many Ryder Cup boxes.
"I'd like to see Paul get the job," says Peter Baker, a Ryder Cup player in 1993 and an assistant to Woosnam 16 years ago. "He absolutely deserves it. He'd be a really good captain. And, apart from anything else, he has done so much for the game."
Lawrie has another supporter in former U.S. Senior Open and PGA champion, Roger Chapman.
"I really think Paul is worth a shot," says the Englishman. "I'm not sure he'll get it though. Thomas will be promoting himself. No question. But I would go for Paul. He would be a bloody good captain."
Twice a player in European colors (13 years apart in 1999 and 2012), Lawrie compiled a commendable record of 4-3-1 despite never playing in a home match. An assistant to Darren Clarke in the 2016 matches at Hazeltine National, the former Open champion has been strangely (and perhaps significantly) overlooked since, something that clearly rankles.
Speaking to The Scotsman newspaper this week, Lawrie was quick to point out that the upcoming selection process should follow the same path as the original. In other words, only he, Karlsson and Donald should be interviewed. And the final decision should be made by the same five-strong panel that includes the three most recent past-captains - Harrington, Bjorn and Clarke - DP World Tour chief executive Keith Pelley and David Howell, chairman of the tour's tournament committee.
"If that's not the case then it's a joke, to be honest," said Lawrie. "It has to be the same way as it was before. You're still trying to appoint the captain for a role, you're not looking for something different."
Whether or not going public with that outspoken view proves to be the right thing to do remains to be seen.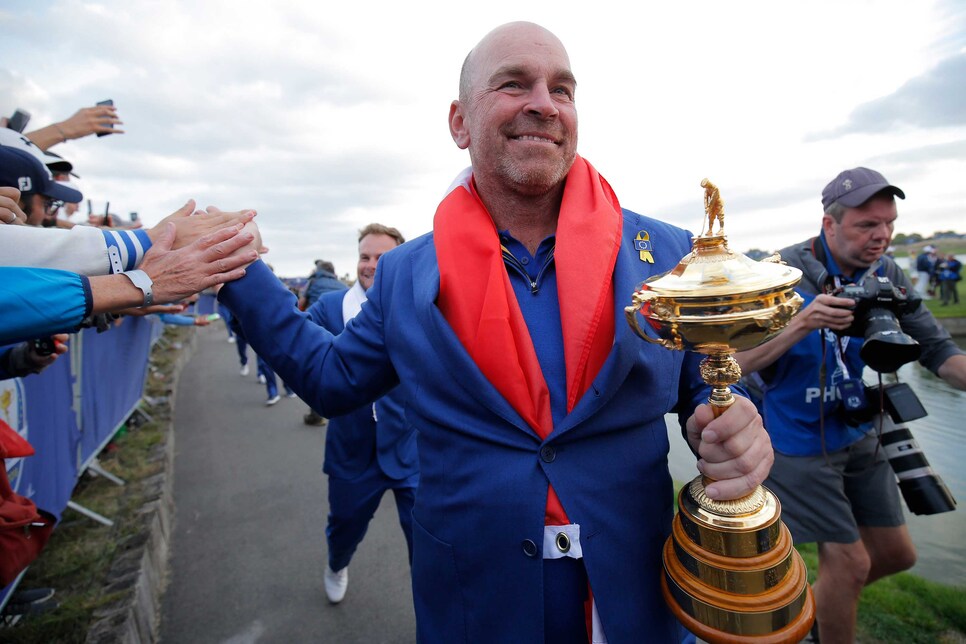 The 51-year-old is seen by many as a safe pair of hands in this unprecedented situation, Bjorn's captaincy of the winning 2018 European side in France was widely applauded. Unlike his American counterpart, Jim Furyk, the Dane arrived at Le Golf National armed with a team well suited to the straight-hitting demands of the course. Bjorn had clearly done his homework and planned meticulously.
Still, as Lawrie pointed out this week, it would be odd indeed if a man involved in the selection process were to be appointed to a role that is not only prestigious, but highly lucrative. So if Bjorn is to be a candidate, he would surely recuse himself from the aforementioned five-strong committee.
Regardless, Bjorn just might get the job if past (and winning) experience is, as Olazabal pointed out, seen as a vital part of the transition from controversy to calm.
There's another side to this though. More than one player asked for anonymity when espousing the cynical view that Bjorn (a past chairman of the tour's tournament committee and now a member of the board of directors) will ultimately benefit most from his establishment credentials.
"It's a done deal," says one, summing up the prevailing sentiment. "Thomas will be looked after."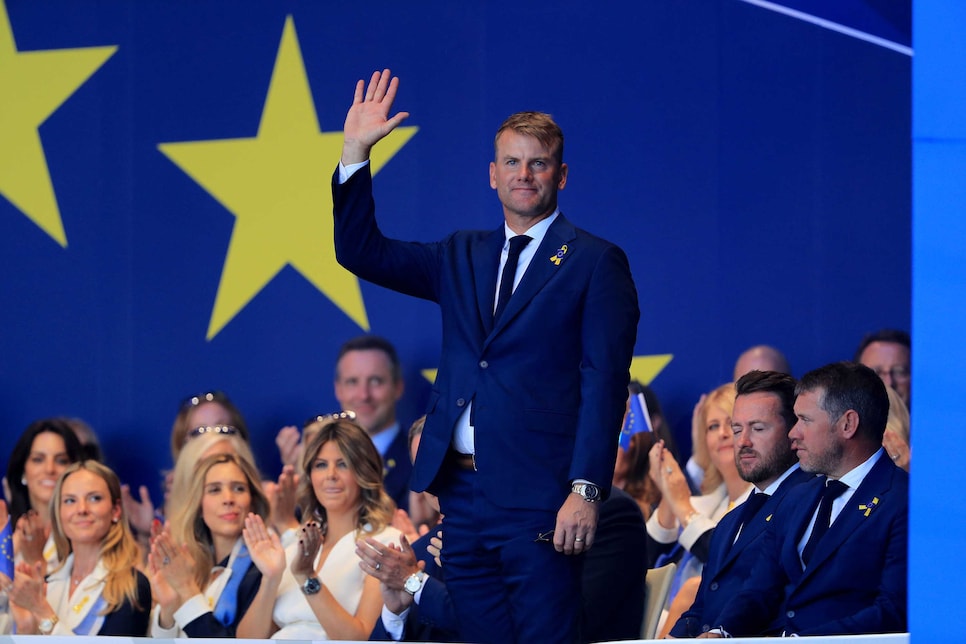 The lanky Swede is a long-shot this time round for a couple of reasons. First, rightly or wrongly, his nationality will be seen by many as hardly an asset in the current climate. And second, Karlsson, 52, is playing most of his golf on the PGA Tour Champions these days, not exactly the best way to stay on top of all things DP World Tour.
Still, by all accounts he was a stand-out assistant at the last two Ryder Cups. Look for him to possibly make it a hat-trick of back-up roles in Italy, particularly if Bjorn gets the top job.