Ryder Cup
Ryder Cup 2021: How practice rounds are (possibly) telegraphing United States pairings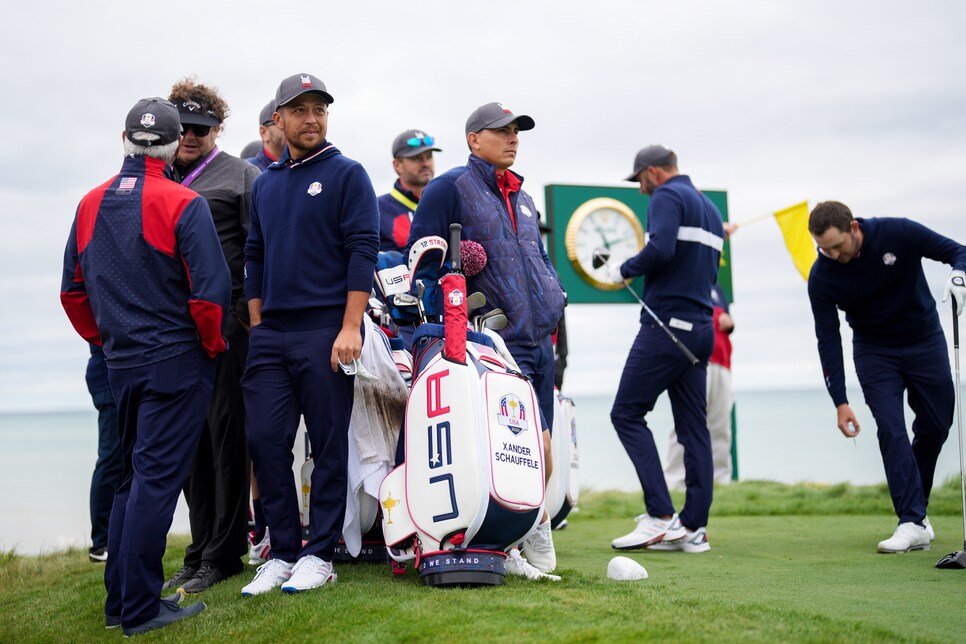 Darren Carroll/PGA of America
HAVEN, Wisc.—The rodeo remains two days away. But with months of game planning—to say nothing of the extra year offered by the pandemic—to try and tame the elusive bull that is victory in the Ryder Cup, the American strategy is mostly in place. Wednesday's practice round pairings give hint on how the United States will put that strategy into play.
Going off the 10th tee Wednesday will be:
Patrick Cantlay, Xander Schauffele, Jordan Spieth, Justin Thomas
Bryson DeChambeau, Harris English, Dustin Johnson, Collin Morikawa
Daniel Berger, Tony Finau, Brooks Koepka, Scottie Scheffler
Though one has to be careful of deriving definitives from practice rounds, you don't have to squint too hard to see what pairings may materialize for the Americans.
Spieth and Thomas, Schauffele and Cantlay, Johnson and Morikawa, and Koepka and Berger are playing together for the second consecutive day at Whistling Straits. The first three are considered marquee duos for the red, white and blue, and what team insiders have telegraphed as likely pairings for weeks heading into Wisconsin. Spieth and Thomas are the least surprising of the groups; the two went 3-1 together in Paris at the 2018 Ryder Cup, and are candidates to play all four team sessions this week.
"Yeah, you've got to be prepared to play them all, but expect to be watching as well and trusting they want people rested for Sunday," Spieth said on Tuesday. "We know the Euros typically have a different strategy. They're going to play probably four or five guys five matches regardless and some of the other guys will probably play two or three, and you expect to see the same guys out that we've seen for a number of years now five times. That's probably -- we've got a lot of depth -- well, both teams have a lot of depth, but I think we're going to rely on the youth and our depth to potentially strategize a bit."
Though Schauffele is a Ryder Cup rookie, he teamed with Cantlay at the 2019 Presidents Cup for four matches, and with games and styles that are both compatible and complementary, they could also see four matches together this week. Morikawa's recent struggles make him a bit of an X-factor and he too is making his Ryder Cup debut. Yet the American brass see Johnson's even demeanor and explosive game as the perfect vessel to bring Morikawa into the event.
Koepka and Berger is an interesting wrinkle. The two have an unspoken history together, and though Koepka says he's fine his health remains a question mark. However, that they are playing together for the second day signals they are potential teammates for both fourball and foursomes.
Wednesday did feature two new pairings—DeChambeau and English and Finau and Scheffler. On the latter front … boy, is that a lot of fire power and birdie-making ability. But Finau and Scheffler are a bit of a liability when it comes to putting (Finau was 91st in SG/putting, Scheffler 107th) meaning the two may make more sense as fourball partners. As for DeChambeau and English, it's been widely assumed that DeChambeau's unique game would make him a non-starter for foursomes. When speaking to the media Tuesday, DeChambeau said he's up for both formats.
"I'd say first off I feel like I'm a player that can adapt to anything if I have to, and I feel like there are certain players on our team that can mesh really, really well with my game, and you guys could probably figure that out," DeChambeau said. "But there are certain players that will be a nice fit to the puzzle, if you would like to say that. I could comfortably say that I have no issue playing either format. I think best ball has its benefits to my style of play, and alternate-shot with the right person can be pretty deadly."
English would be a curious teammate for DeChambeau. He has the temerity and maturity to handle the circus that will inevitably follow Bryson this week, and his lights-out short game is an asset no matter the format. In that same breath, should DeChambeau be deployed in alternate shot, ideally he'd be paired with a good second-shot player. That is not English, who ranked 86th in SG/approach and was particularly bad inside 125 yards (199th in 50-125 yard shots).
Pairings for Friday's first session will be announced during Thursday's opening ceremonies.
MORE RYDER CUP PREVIEW STORIES FROM GOLF DIGEST