Texts from Tiger
Ryder Cup 2021: Tiger Woods apparently sent a helluva text message to Team USA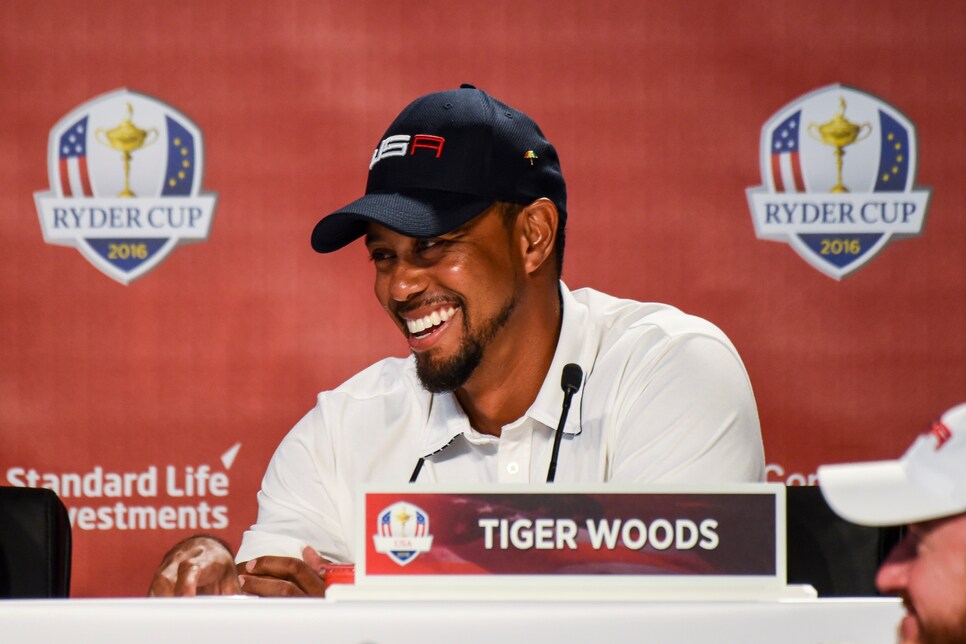 HAVEN, Wis. — Tiger Woods once seemed pretty apathetic about the Ryder Cup, but he's wholeheartedly embraced Team Golf as he's moved into his 40s. It began at Hazeltine National in 2016, when he was particularly involved in the Ryder Cup as a vice captain, and it continued with his well-received captaincy at the 2019 Presidents Cup. Woods is all-in on these things, which is why Steve Stricker initlally planned on having him as a vice captain for the match at Whistling Straits.
Unfortunately, Woods is unable to be in Wisconsin this week as he continues to recover from a February car accident. He is, however, finding a way to impact this team from his home in Florida.
"We had a nice message from Tiger last night," said Xander Schauffele, who teamed with Patrick Cantlay in foursomes to make seven birdies in 15 holes and wax Rory McIlroy and Ian Poulter, 5 and 3. "Obviously not going to reveal what it said, but Pat and I knew. We referred to it a few times a day, and we knew what we needed to do.
"We knew he was fist pumping from the couch. Whether he was on crutches or not, he was—he's as fired up as any back at home. So it's nice to have his support."
"No better role model and no better leader, and just somebody that you can always learn from," he said. "So I saw him last week at home, and just picked his brain on Ryder Cup and applied some of that here today."
We'd pay a large sum to know the content of that text message—because whatever it was, it worked. Schauffele and Cantlay were virtually untouchable on Friday morning.
"I don't know if anyone could have beat Xander and Patrick today," McIlroy said. "They played really good, four birdies in a row. Geez, yeah, they played great. They were a great pairing today, and all you can do is praise them for the way they played."
Schauffele and Cantlay weren't the only ones—the U.S. finished the foursomes session with a 3-1 lead, an ideal start as they seek to bring the cup back to the United States.
So what was in the message. U.S. captain Steve Stricker at least gave a little info.
"The overall picture was just wishing the guys good luck and congratulations for making the team, and a few personal things from Tiger himself,'' Stricker said. "He's a friend of a lot of these guys and these guys look up to him, and I lean on him a lot throughout this whole process. So it was great to hear from him and provide some words of encouragement to these guys.''
MORE RYDER CUP STORIES FROM GOLF DIGEST