Bombs Aways
Ryder Cup 2021: Bryson DeChambeau's long-ball legend grows—to the fans delight—at Whistling Straits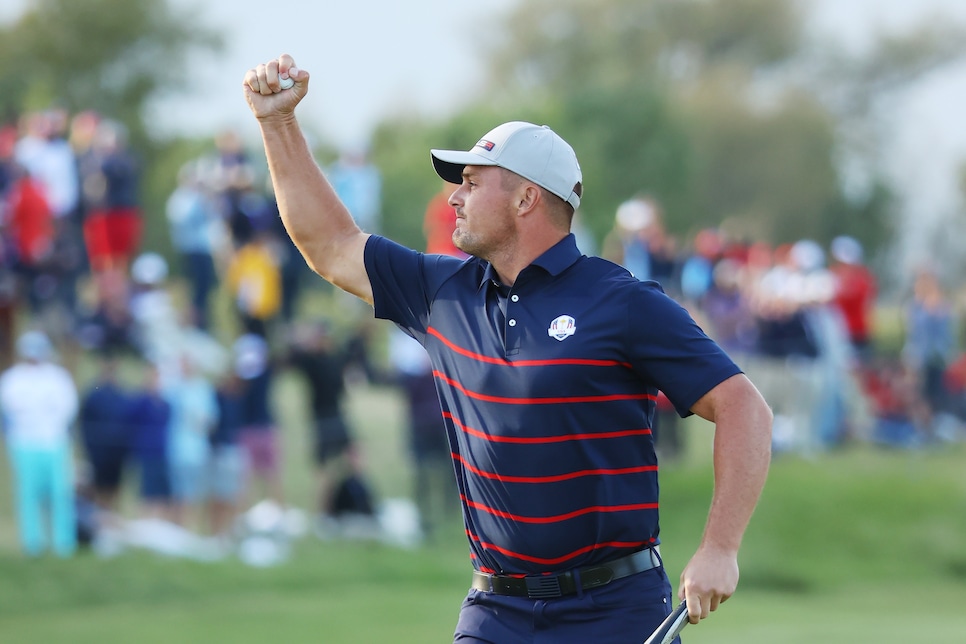 HAVEN, Wis. — With Phil Mickelson whispering in his ear and cheers from the swollen American crowds ringing in both of them, Bryson DeChambeau had himself arguably the most enjoyable day on the golf course in more than a year Friday at Whistling Straits.
Delivering the most memorable stroke of the opening day of the 43rd Ryder Cup—an insane 417-yard drive at the par-5 fifth hole (that television somehow missed live, even though he called the shot three days earlier in his press conference)—DeChambeau gave the rowdy galleries exactly what they clamored for.
He swung for the fences … sometimes, it seemed, the ones at American Family Field in Milwaukee, home of the Brewers, about an hour south. He played solidly and sometimes spectacularly. And he won his first point in the Ryder Cup (well, a half-point anyway) in his second appearance for the United States. DeChambeau and Scottie Scheffler tied with Jon Rahm and Tyrell Hatton in afternoon four-ball.
The Ryder Cup is such great theater regardless of the actors, but the bulky Dallas golfer commands a unique spotlight.
Winner of the 2020 U.S. Open last September at Winged Foot, DeChambeau has encountered some trying times since. His high-wire act is must-see TV— even when TV is slow to let you see it. Regularly, however, a smattering of boorish hecklers is sprinkled among all the curiosity seekers and golf aficionados in his galleries. They try to get his goat, sometimes successfully, with taunts of "Brooksy" a reference to his rival and social media tormenter Brooks Koepka.
This week, however, Bryson gets to wear the white hat, which goes rather nicely with red and blue.
Black and blue was another color combo in his repertoire, applying that to his golf ball. That tee shot at the fifth, playing downwind 581 yards, was directed on a ridiculous line, basically at the green and over water, dunes, bunkers and cheeseheads. "Unique," was the author's simple description of it. DeChambeau was left with a 73-yard flip wedge that he feathered to four feet for an eagle he damn well knew he better convert.
"I didn't want to make par, because if I did, I would be walking home," he deadpanned.
"I was jacked up for him as well," Scheffler said. "I think he pushed it a little bit, but he smashed it. It was great. That was a good spark for us and good momentum for the rest of the day."
It's difficult to assess the value of Mickelson, a first-time assistant captain after 12 straight Ryder Cup starts, following DeChambeau every step of the way and occasionally offering an insight or word of encouragement. The two paired together in foursomes three years ago in Paris with disastrous results, losing 5 and 4 to Sergio Garcia and Alex Noren as part of DeChambeau's desultory 0-3-0 Ryder Cup baptism by founder.
In an obvious attempt to gain favor with the cheeseheads, DeChambeau was demonstrative throughout the windy afternoon, but he stayed in control of his game throughout. Guess where he learned to do that?
"I was able to get back in my bubble for the next shot. Something I learned from Phil," he said.
Scheffler having his back on a few holes didn't hurt. Tends to free you up.
But make no mistake, DeChambeau was the show, as he is at every tour event he enters. And he provided more than just breathtaking bombs, too. The lob wedge that he spun to within 19 inches of the hole at the par-3 12th to cancel World No. 1 Rahm's own kick-in was inspired. And clutch. It kept the slugfest with Rahm and Hatton tied.
At the following hole, he busted a tee shot yonder on the par-4 that traveled 392 yards into the left greenside bunker. Pin high. He chased after the shot by swinging his driver over his head with a chopping motion like he was wielding an axe. He didn't win the hole, but he continued winning over the partisans.
His five-footer for par at the 15th put the Americans ahead, but Hatton birdied the 18th to steal a tie. Nevertheless, it was a winning day for the embattled Texan. "I'm glad I got something for the team," he said.
He also got something else, which he hadn't received much of lately. Adulation.