News
Ryder Cup 2018: What you missed from Day 2 at Le Golf National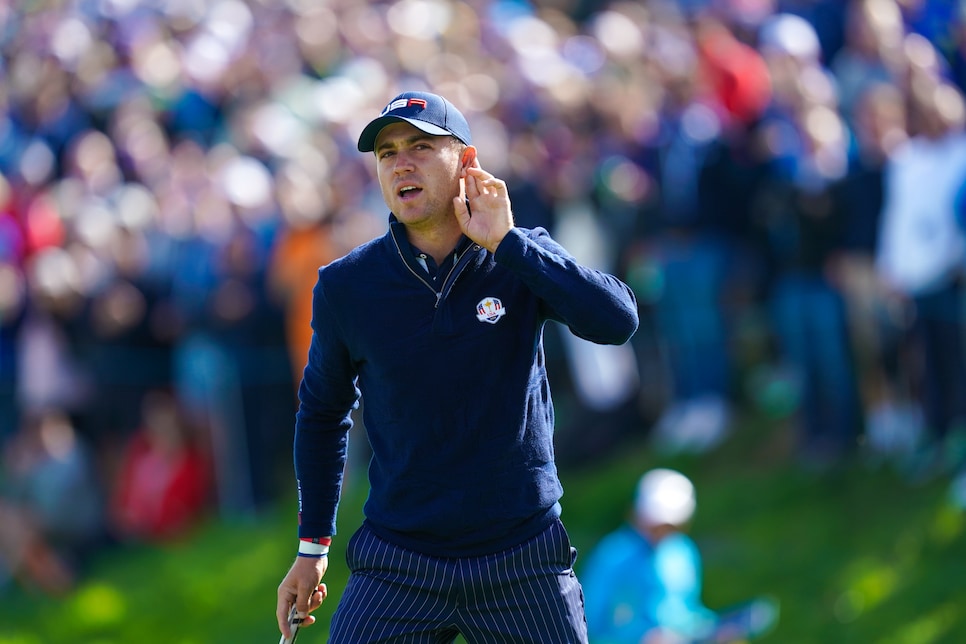 American fans that hoped for a U.S. comeback awoke Saturday morning to see their prayers unanswered. Team Europe, which swept the U.S. in foursomes Friday afternoon for the first time in Ryder Cup history, continued to lay the hammer down, winning the first three matches for eight consecutive wins. Only Jordan Spieth and Justin Thomas staved off a consecutive sweep, and it got late early for the red, white and blue.
The U.S. somewhat bounced back in the afternoon by splitting the four matches, but faces a 10-6 deficit heading into Sunday's singles play. Perhaps most astonishing is the way Europe has mounted this lead, with Jon Rahm contributing zero points, Ian Poulter going 1-for-3 and Rory McIlroy not having his "A" game. Of course, those potential woes are negated by Tommy Fleetwood and Francesco Molinari turning into human torches, the duo single-handedly dusting the Americans with a peerless 4-0 mark on the weekend. Throw in steady showings from Henrik Stenson and Justin Rose—combined with no-shows from Patrick Reed, Tiger Woods and Bryson DeChambeau—you wonder how the Americans even have six on the board.
As the Americans proved in 1999, and the Europeans in 2012, 10-6 is not a safe lead. Still, the Americans have a major hurdle to overcome, and will need all their pistons firing come Sunday. From the "Moliwood" supergroup to the shortcomings of U.S. captain's picks, here is what you missed from Day 2 at the Ryder Cup.
Best duo: Francesco Molinari & Tommy Fleetwood
On Friday, they impressed. By Saturday afternoon, they had their own celebrity couple nickname. Molinari and Fleetwood won both their matches for a second consecutive day to become the first-ever European duo to win all four of their matches in a single Ryder Cup. Larry Nelson and Lanny Wadkins in 1979 are the only other team to do pull off the feat, but we're guessing they weren't called anything as cool as "MOLIWOOD."
These two won't get to terrorize the U.S. as a team on Sunday, but with a claret jug and a final-round 63 at a U.S. Open between them this year, they're pretty decent on their own as well. -- Alex Myers
Best debut: Justin Thomas
Want to know just how good the Moliwood duo is? They are the only ones who could tame Spieth and Thomas, who have won all three of their other matches as a team. Spieth has looked good, but it's been Thomas who has shined in his Ryder Cup debut, enough for social media to designate him as the new "Captain America." Apparently, all you have to do is play with Spieth to earn the title. -- Christopher Powers
Biggest surprise: Bubba Watson and Webb Simpson
Bubba was 1-7 on foreign soil, not in good form coming into Paris and battling a cold. On top of that, the duo got smoked 4&2 on Friday afternoon. Matched up against a rejuvenated Sergio Garcia and Alex Noren (who won the French Open at Le Golf National), most fans—at least those on Twitter—penciled in the Simpson/Watson pair for a loss. Putting two shots into the drink on the second hole didn't alleviate those worries. Yet timely shot-making and steady putting turned in the upset of the day, as the major winners wiped Garcia and Noren off the course to the tune of 3&2. The win not only kept the Euros from running away with the competition; it gave the U.S. slim hope that a comeback is not be out of reach. -- Joel Beall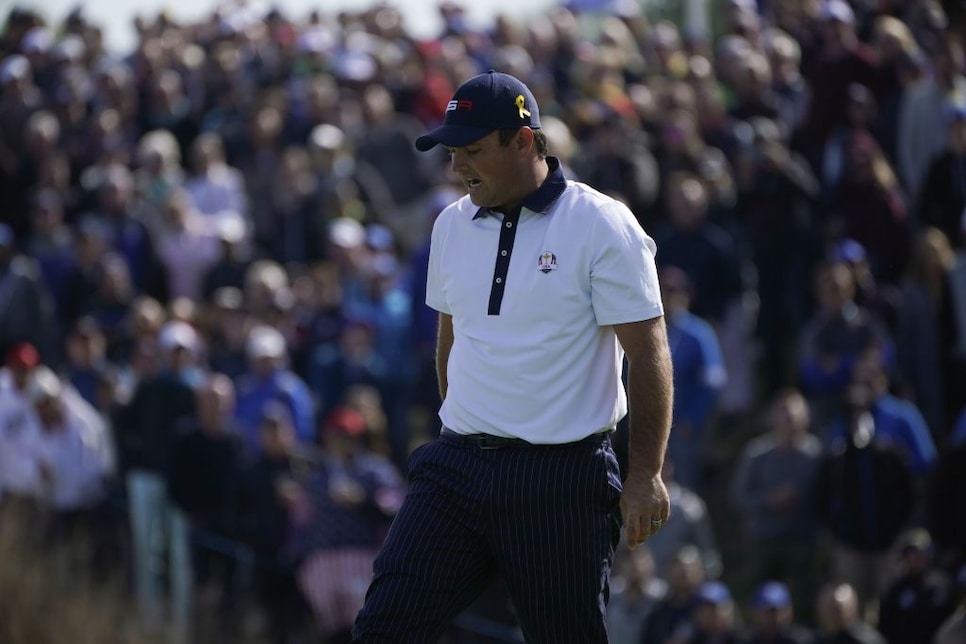 Biggest disappointment: Patrick Reed
Are we really removing the "Captain America" tag from Reed already? After Saturday's performance, the answer is an unequivocal yes. The man could not hit a fairway, make a putt or do anything worthy of one of his patented crowd shushes. Yet he pulled one out anyway after making his only birdie of the day at the ninth before getting thumped 4&3 at the hands of Moliwood. Let's hope he salvages the week in Sunday singles, because it's been an ugly one. -- CP
Best dagger: Edoardo Molinari
It's becoming a Ryder Cup tradition that a European player's brother will ruffle some feathers. But unlike P.J. Wilett in 2016, Edoardo is a former Ryder Cupper himself. And instead of taking a shot at America's crowds, he took dead aim at "Captain America" with this tweet during a match between Patrick Reed and Francesco Molinari:
To be fair to Reed, he went 3-1 as a Ryder Cup rookie playing abroad at Gleneagles in 2014. And would any American have had a chance against MOLIWOOD this week? -- AM
Biggest X-factor: Captain's picks
Thomas Bjorn was knocked for picking veterans over players with better 2018 resumes, while Jim Furyk's selections were met were universal approval. Through two days, Bjorn's wildcards are running laps around the U.S., racking up a combined 6-4 record. On the opposite end of that spectrum are the marks of Woods, DeChambeau, Phil Mickelson and Tony Finau, who have been drubbed to the tune of 1-7. Just spitballin', but maybe in 2020 we wait until after the match before ridiculing a captain. -- JB
Best source of unintentional comedy: Johnny Miller
Let's be frank: this Ryder Cup has been a tough swallow. So when Miller entered the booth on Saturday afternoon and took a flamethrower to anyone and everyone—exasperating at bad shots, ripping Tiger's Ryder Cup record, questioning the American's strategy and heart—it was much-needed comic relief. This is likely Miller's last Ryder Cup, and if that proves to be true, Oakmont Johnny went out like Kobe Bryant: Taking shot after shot after shot after shot, and not giving a damn about anyone. The broadcast was better off for it. -- JB